I cannot believe our baby boy is already 2 years old! Like HOW?! Sometimes I wish time would just slow down for a bit because I am seriously loving this age SO much.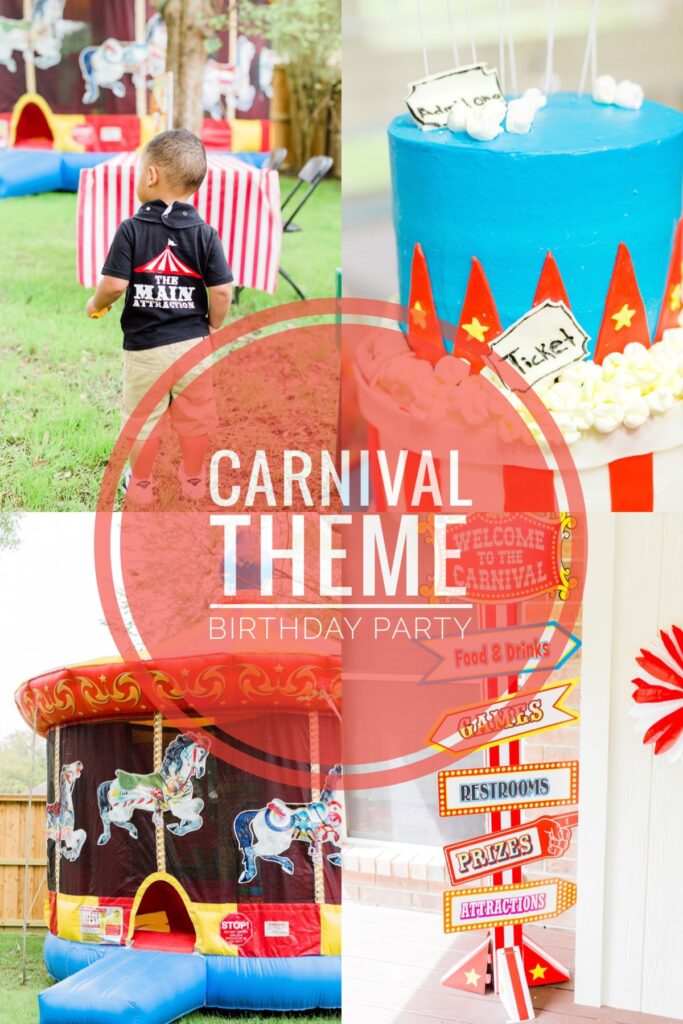 Our hearts are so full after being able to celebrate another birthday with our sweet friends and family but this year was extra special because baby Weaver's Papa & Lola (my Mom and Dad) were in town for his actual birthday and his birthday party. My Dad being the amazing cook he is, made 90% of the food and my Mom was up late with me the night before the birthday party setting up all the decorations. Having them in town from California along with our closest friends and family is what really made this birthday so special. I am so grateful.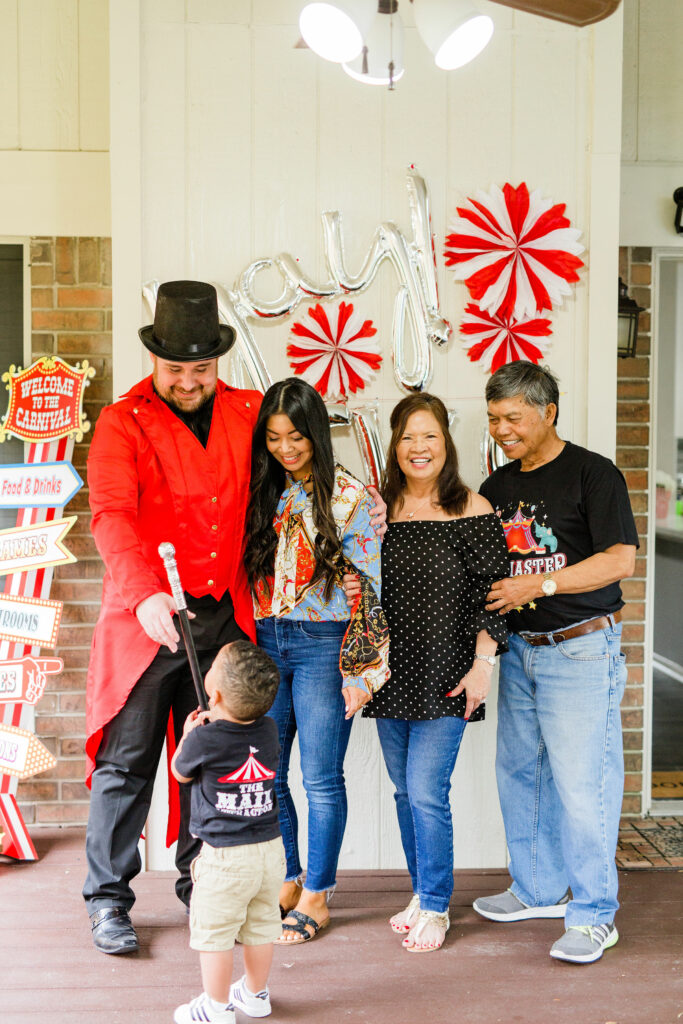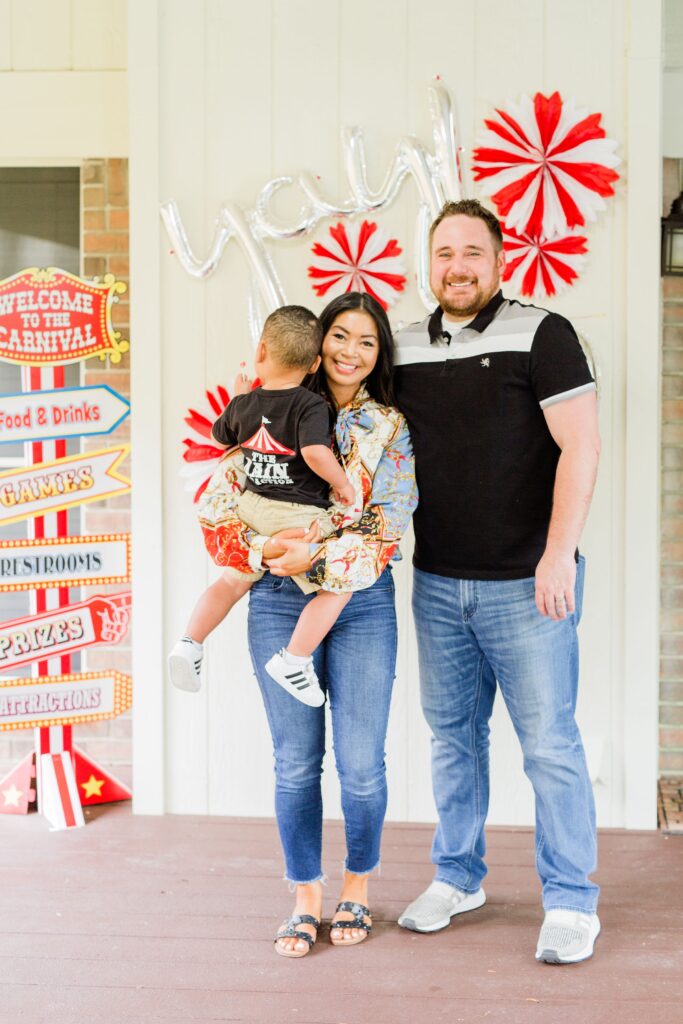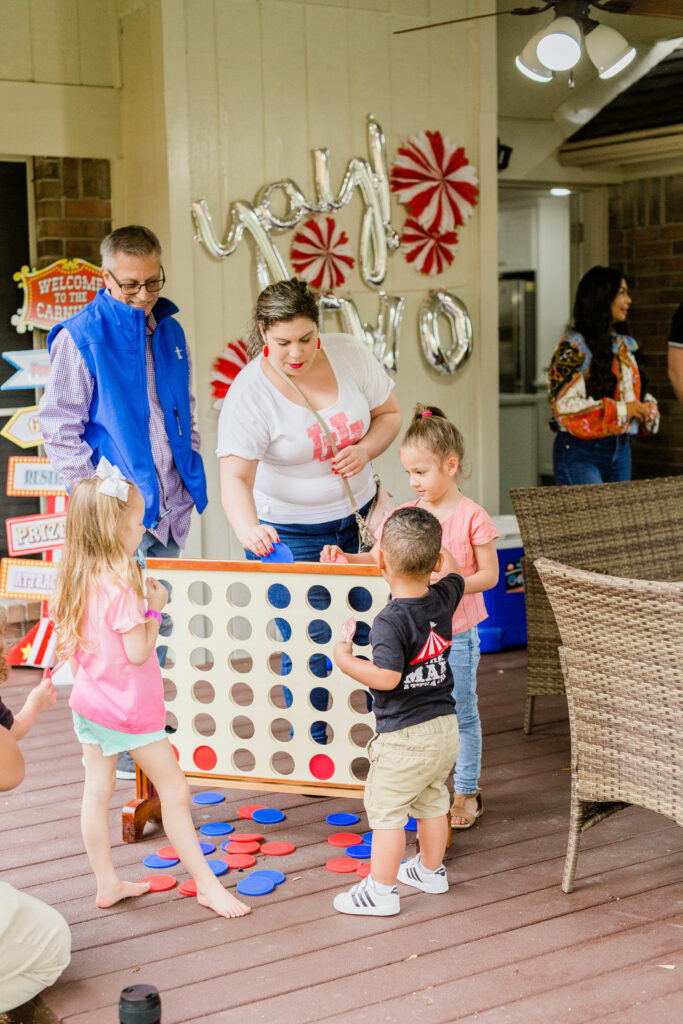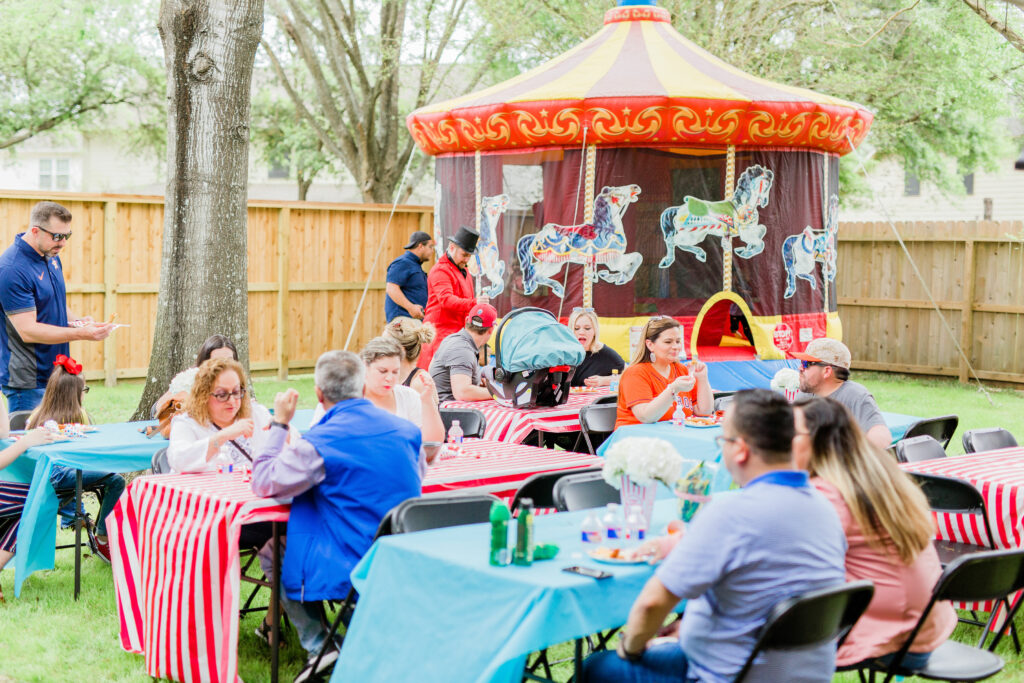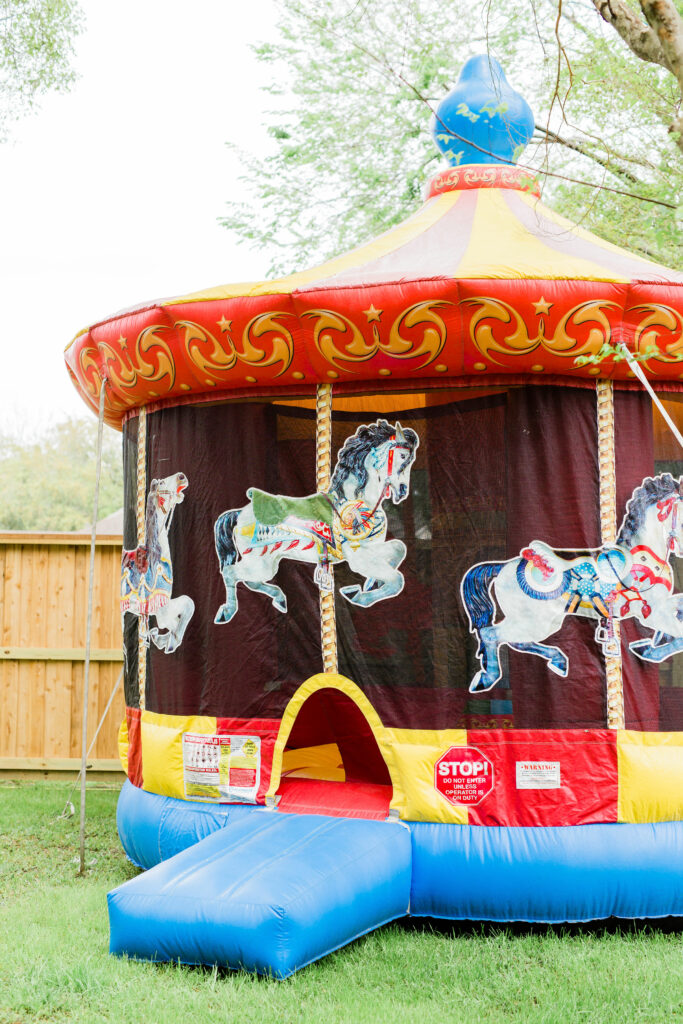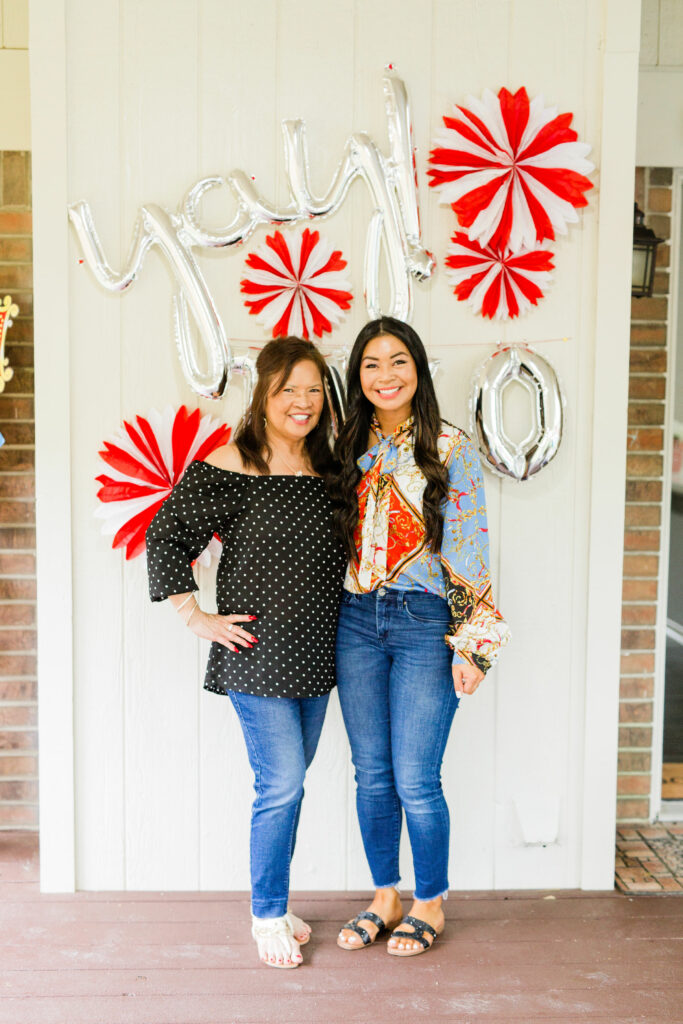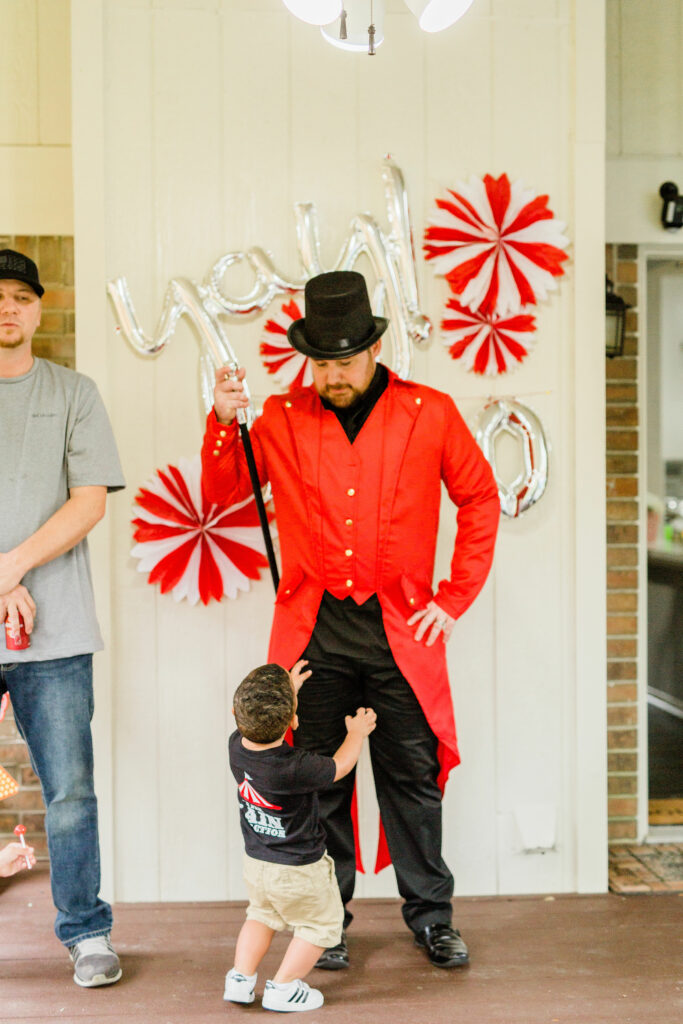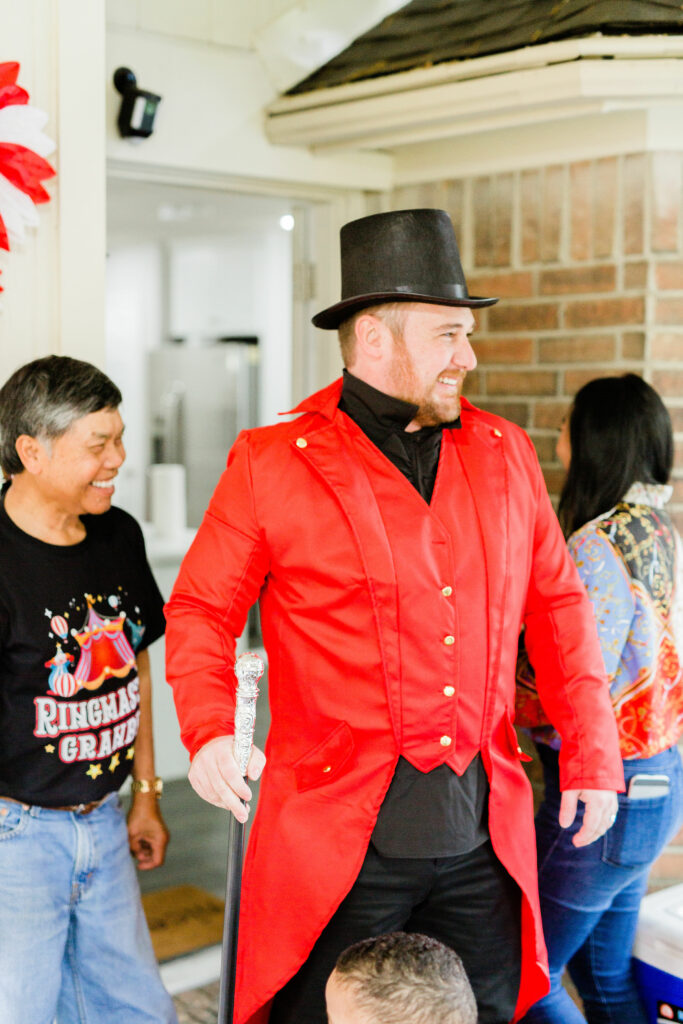 Seriously Dad of the year coming out in this outfit!! He did that all on his own you guys! He honestly wasn't even into my theme at first but clearly it rubbed off on him! 🙂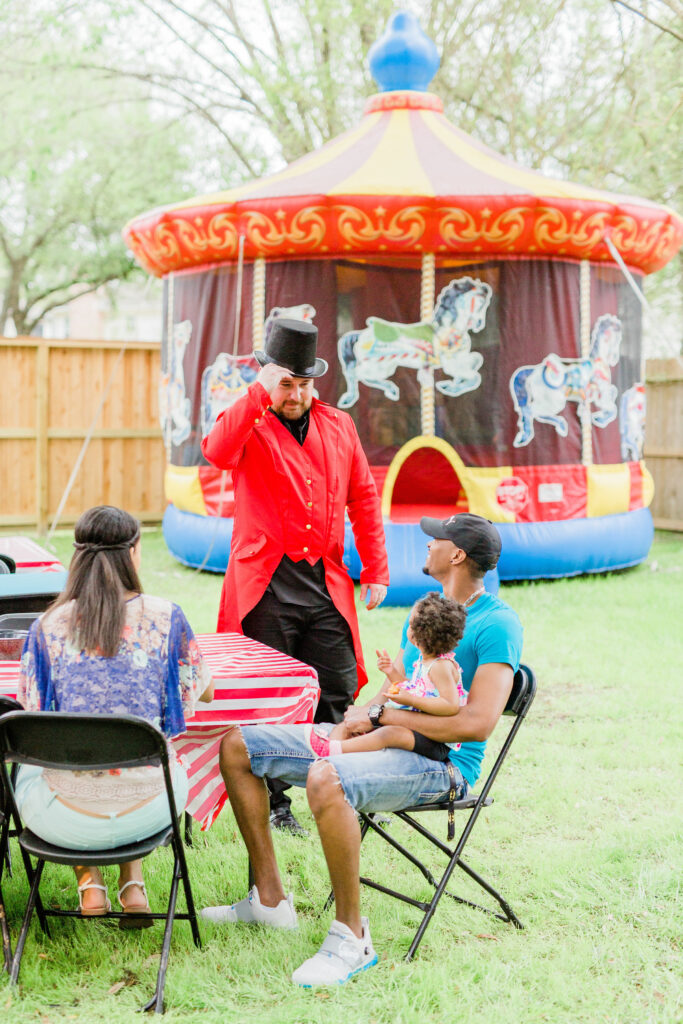 This year we decided to do a carnival theme and I when I say we, I mean me 🙂 but I am so glad we did 🙂 It was actually super easy to find the carnival decorations and my friends at Sky High Party Rentals really helped bring the party together with the perfect carousel bounce house and backyard carnival games!
Bounce House, Carnival Games & Balloon Artist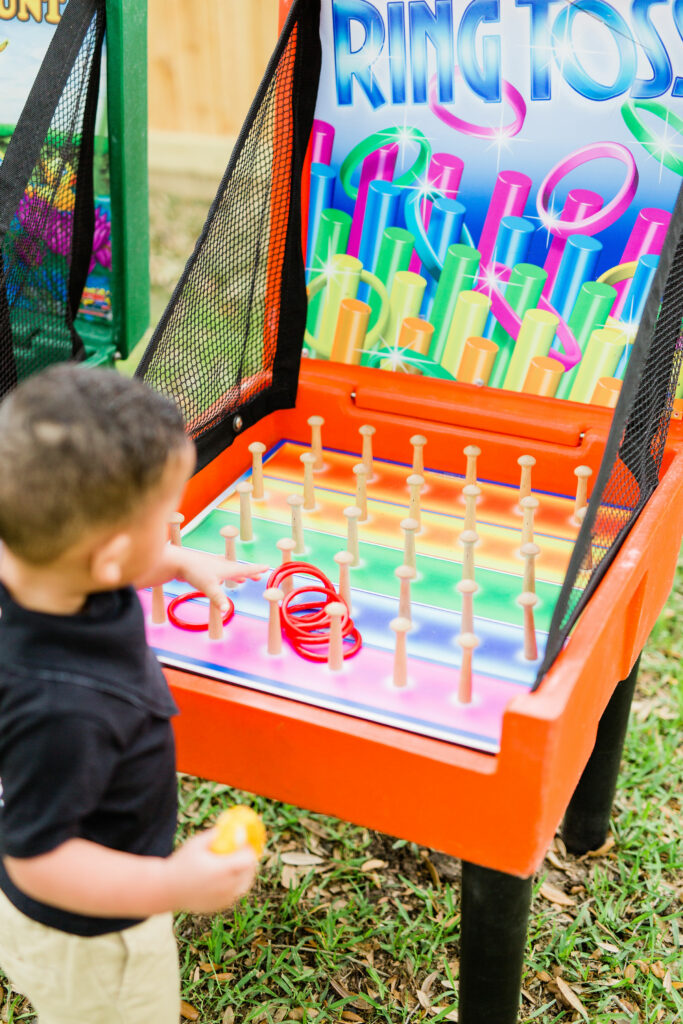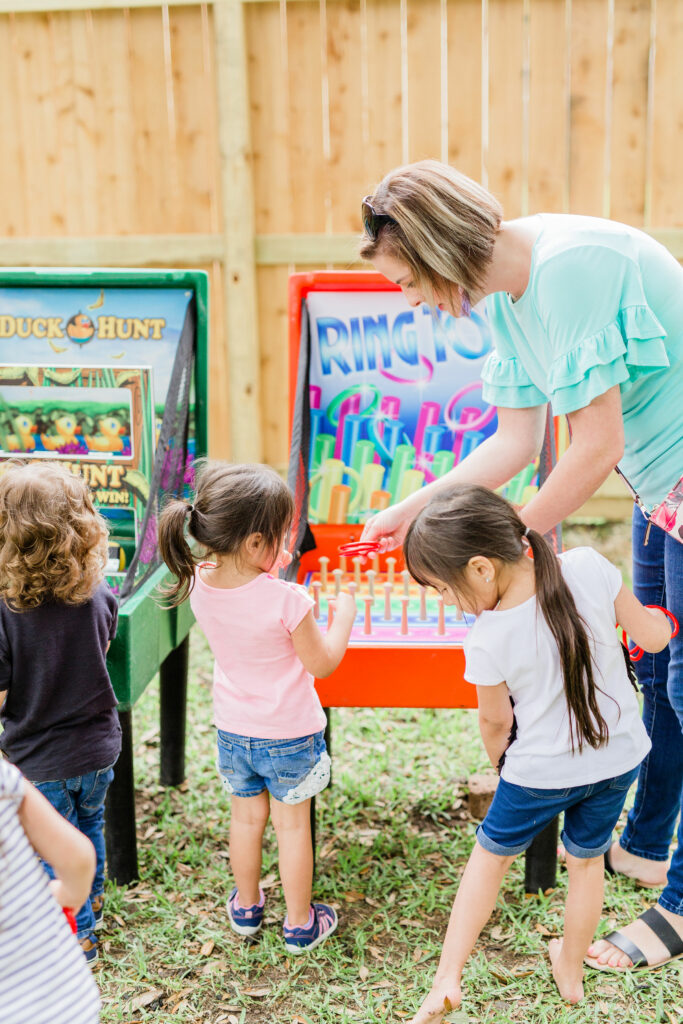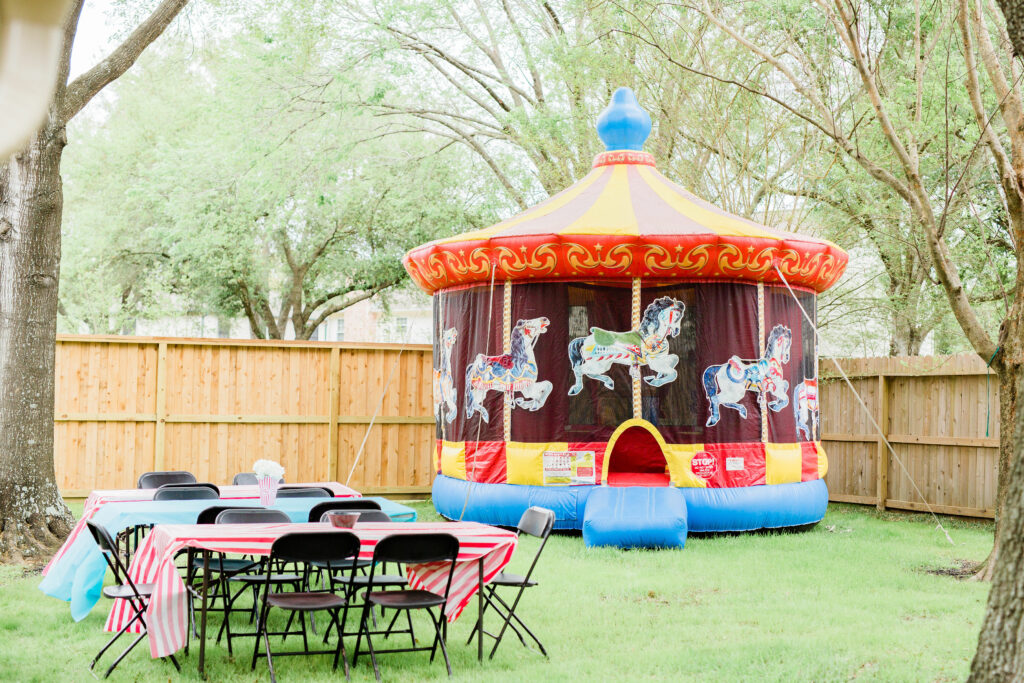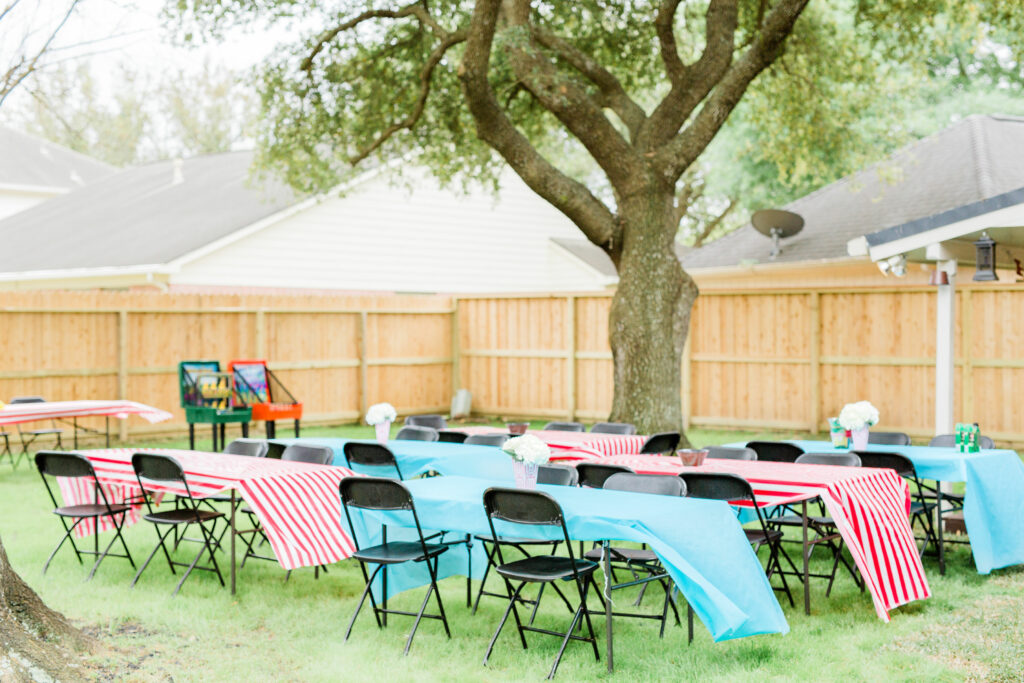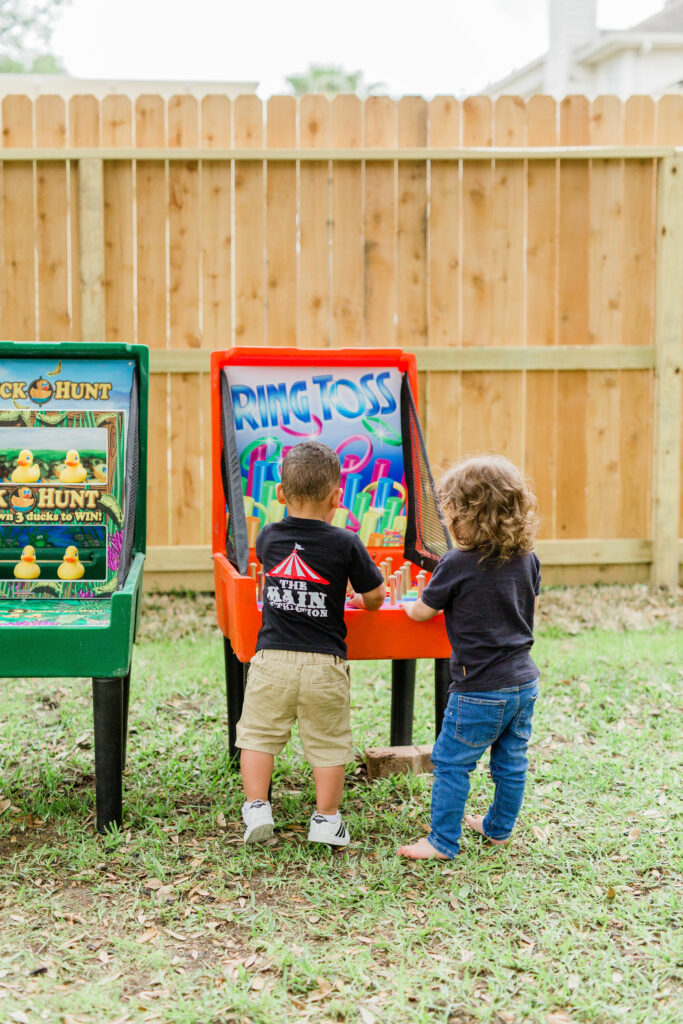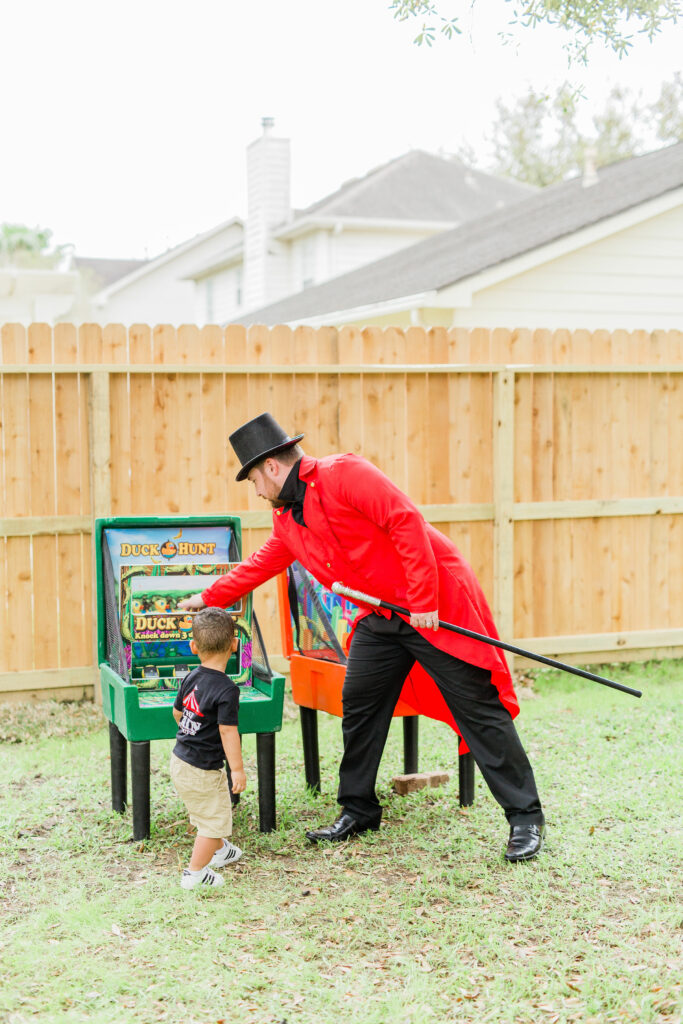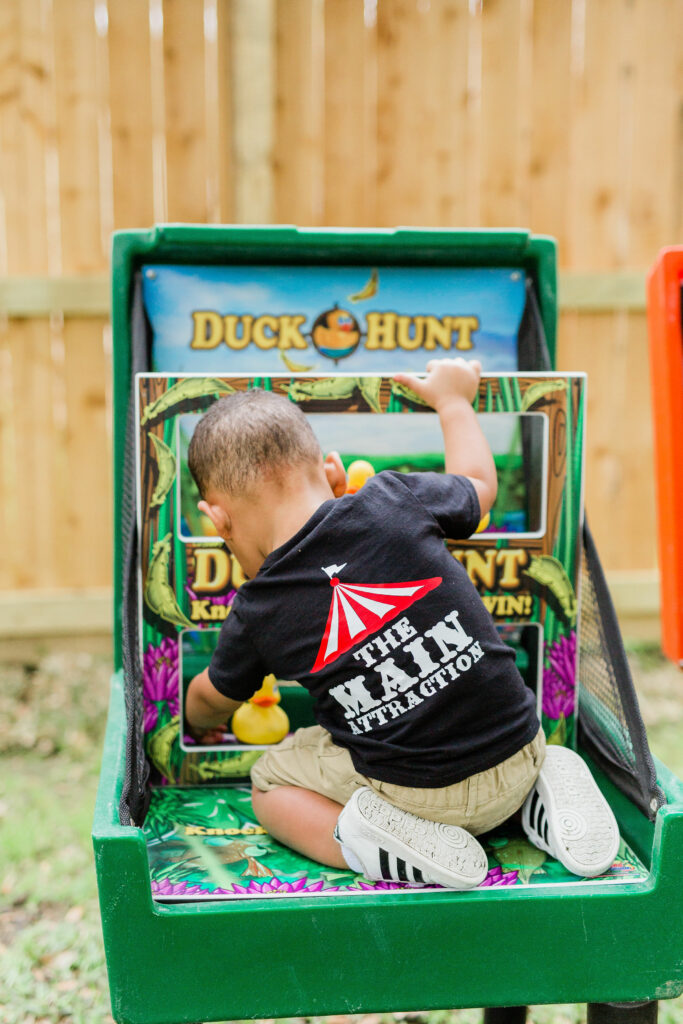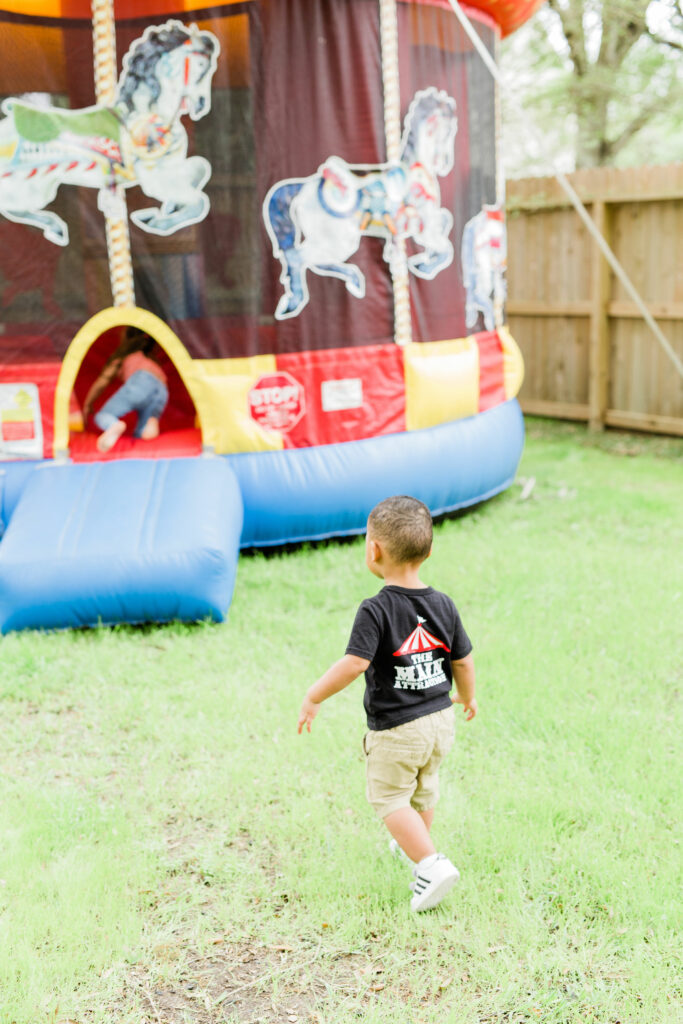 So many of our friends asked if I based the theme of the party around the carousel bounce house and the answer is no! Haha! But I am thankful that Sky High Party Rentals has the most amazing, unique bounce houses that really helped take our carnival party theme to the next level! Last year, we did a Candy Shop party theme and Sky High Rentals ended up having a candy land bounce house! I mean how perfect! You can check that post out here.
This year I had my mind set on the carnival theme but I figured any color bounce house would go with my theme and when I started searching the Sky High Party Rentals website I saw the carousel one and almost fell out of my chair, it was so perfect! Not only do they do bounce houses but we also were able to rent the carnival games, balloon artist, table and chairs through them too! It is a one stop shop for all you busy party planning mama's out there! They also rent out popcorn, snow cone and cotton candy machines which also would have been perfect with our carnival theme but I told Brandon I didn't want to go overboard. After boxes and boxes of decor he asked "your definition of overboard is 5 times beyond a normal person's overboard, just saying".. LOL I guess I can't disagree..but anyway I cannot say enough good things about Sky High Rentals. They have such a great variety of party rentals and they also have really great service which is the most important. We have used them for 2 years now and they always deliver earlier than planned which is awesome because I hate setting up last minute and feeling frazzled as guests arrive.
Decorations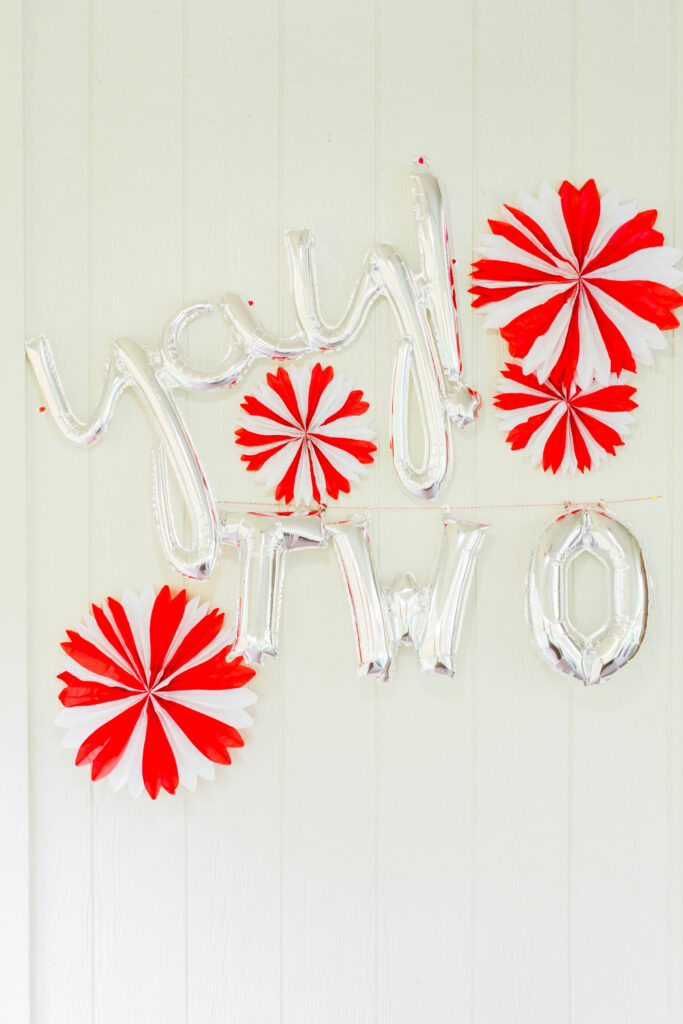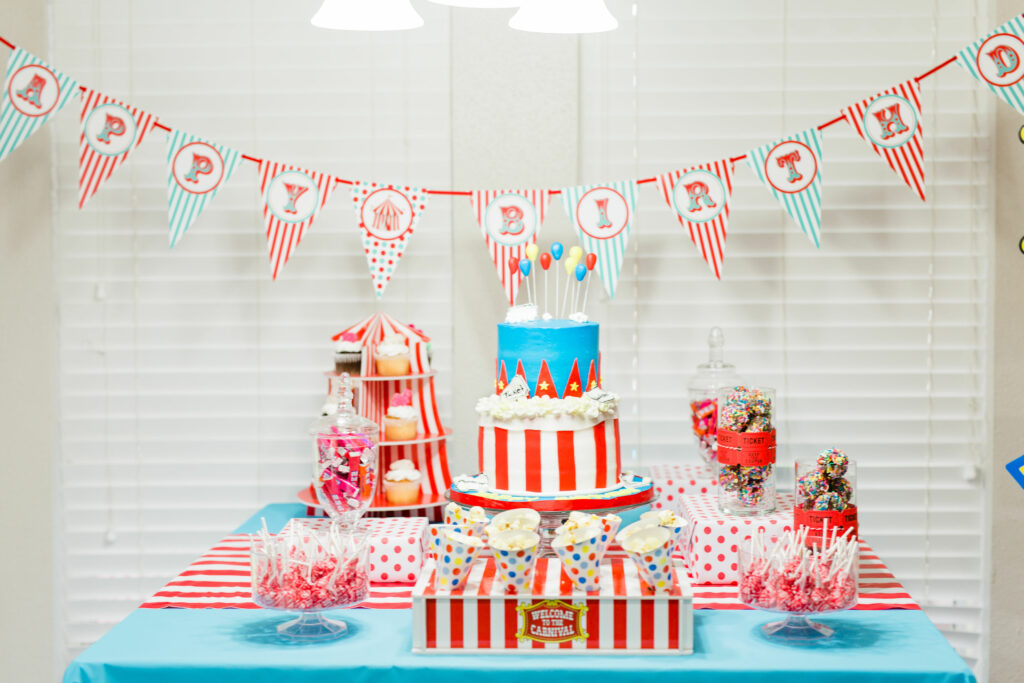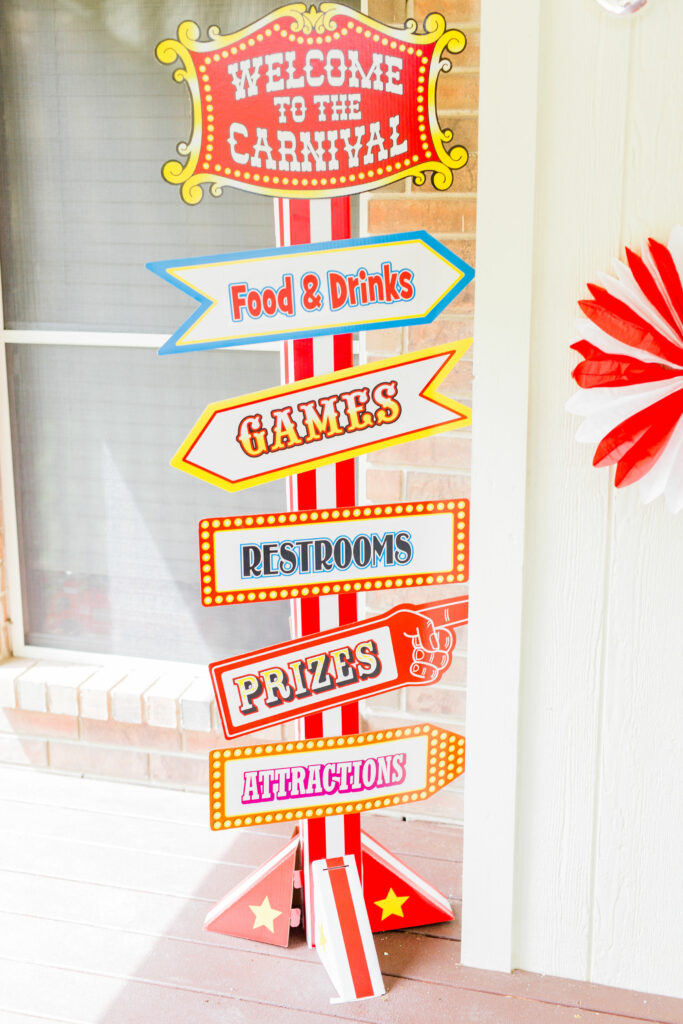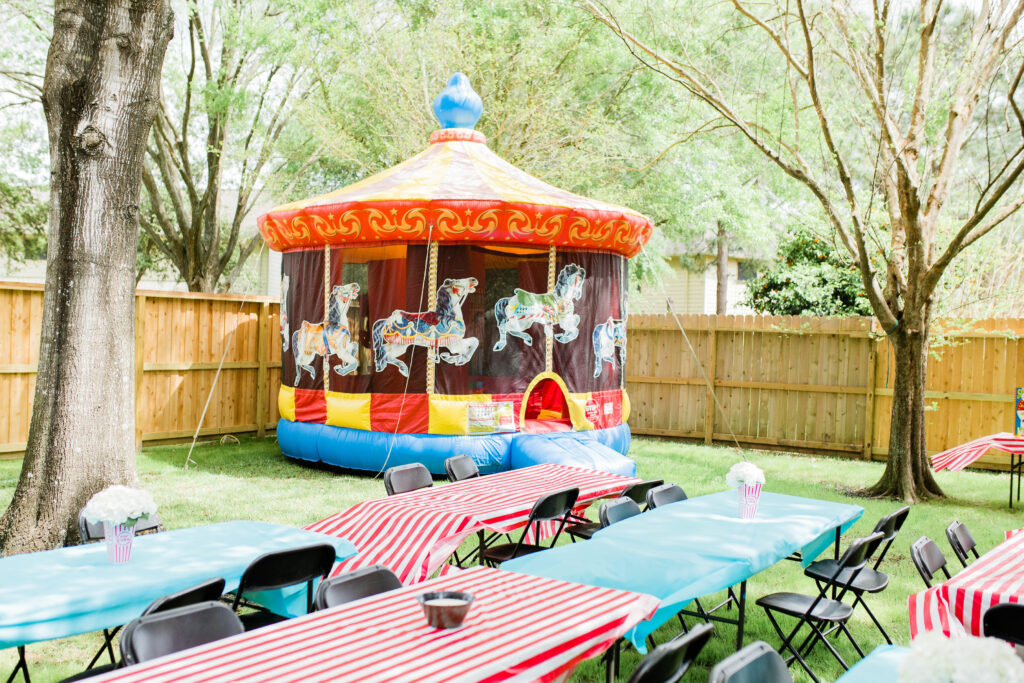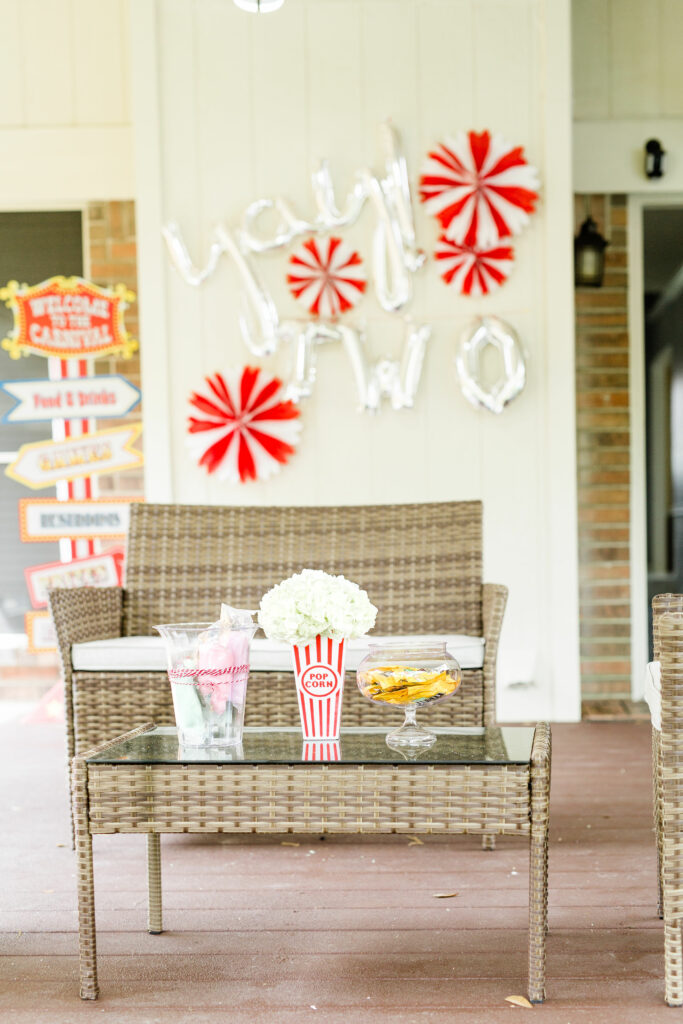 Carnival Banner | Directional Sign Cardboard Stand Up (super easy to assemble) | Plates | Napkins | Prize Wheel Game (this was such a cute decoration item but if you are going to truly use it as a game I would not recommend it. All of the tiny yellow pieces broke off by the end of the afternoon) | Treat Stand Holder | Tablecloth (both them in stripes and teal) | Table Skirt | Ferris Wheel Cupcake Holder (also another cute decor item but I wouldn't recommend putting anything heavy on them.) Maybe I just didn't put it together correctly but mine could not withstand holding cupcakes lol. I ended up putting small bags of cotton candy in the caddy's and that worked fine. |Hats (that I forgot to pass out lol) Popcorn Containers (filled them with fresh flowers) | Cupcake Stand | Birthday Banner
Food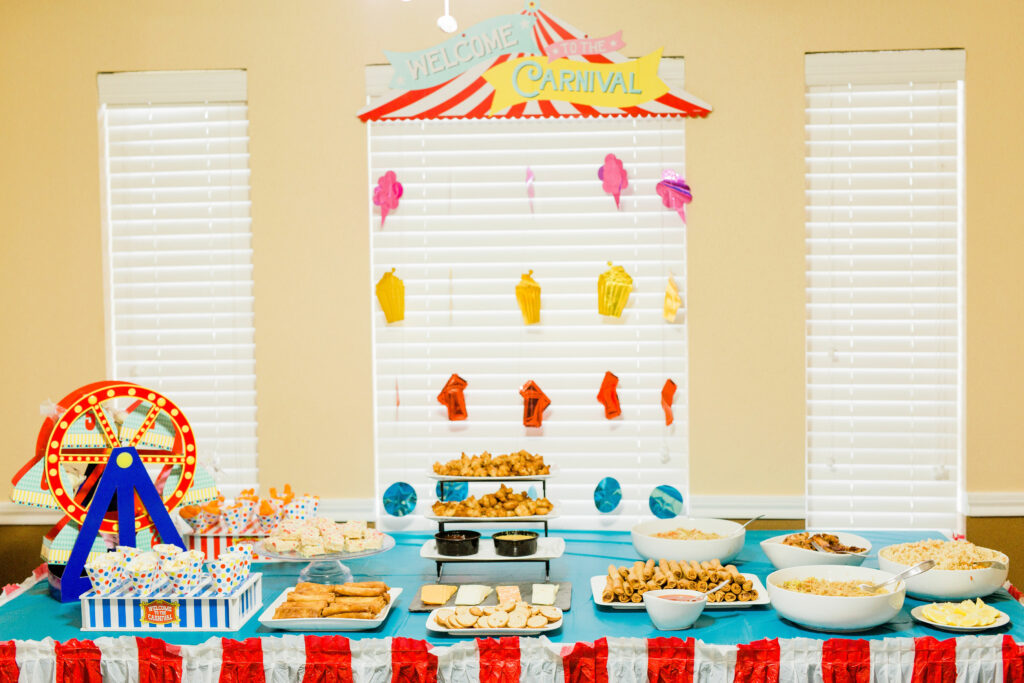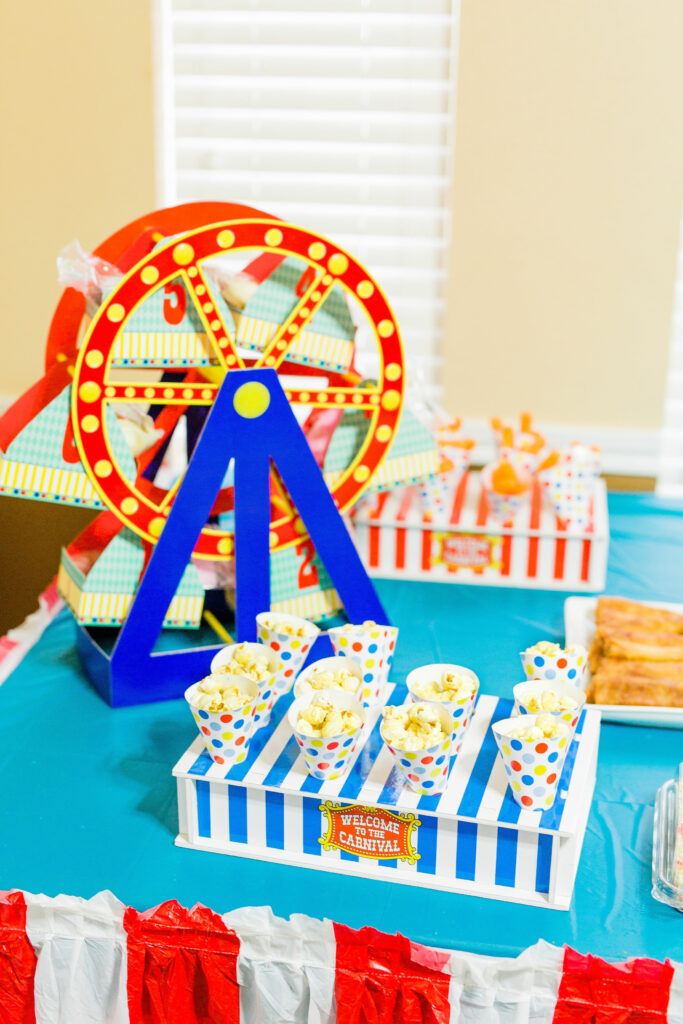 To me, food is basically the most important thing about a gathering aside from the birthday celebrant! I'm so happy the chef of the family, my Dad, wanted to cook everything for the party! We had all of our favorite Filipino dishes; fried rice, chicken pancit, lumpia and my personal fave chicken tocino. We also had chips, Chic-fil-A nuggets and cheese and crackers. After the party my Dad told me he ended up frying 500 lumpia's and there were only like 7 left so needless to say I think that was a crowd favorite!
Dessert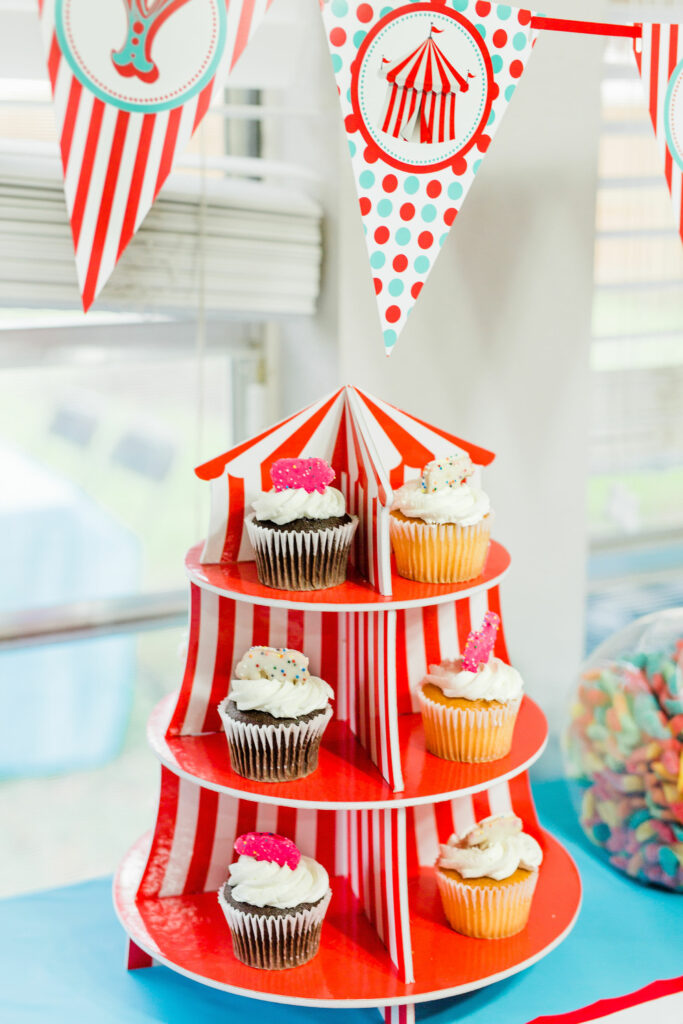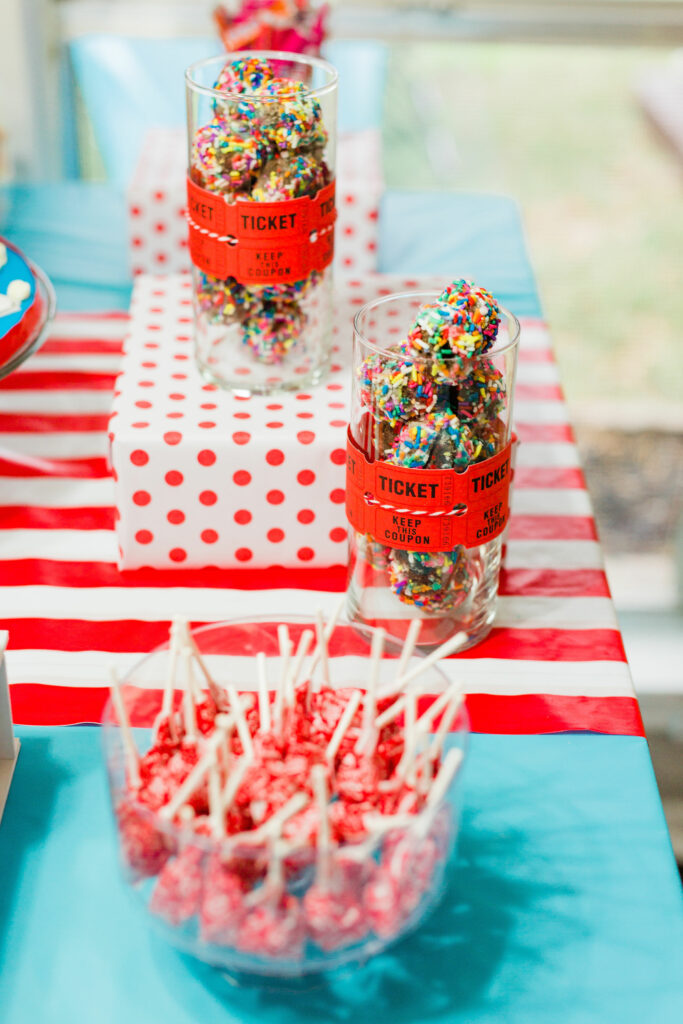 Well, let's just say we had a sweet treat about everywhere you turned. Our mama friends were thanking me all week for the candy that their kids left with LOL. I also bought sprinkle covered donut holes from the grocery store and plain cupcakes and topped them off with animal crackers. Getting them store bought and adding the animal crackers for the custom touch was such a great, less expensive option to stay on theme with the cupcakes. You could also get inexpensive carnival themes cupcake toppers like these.
Birthday Cake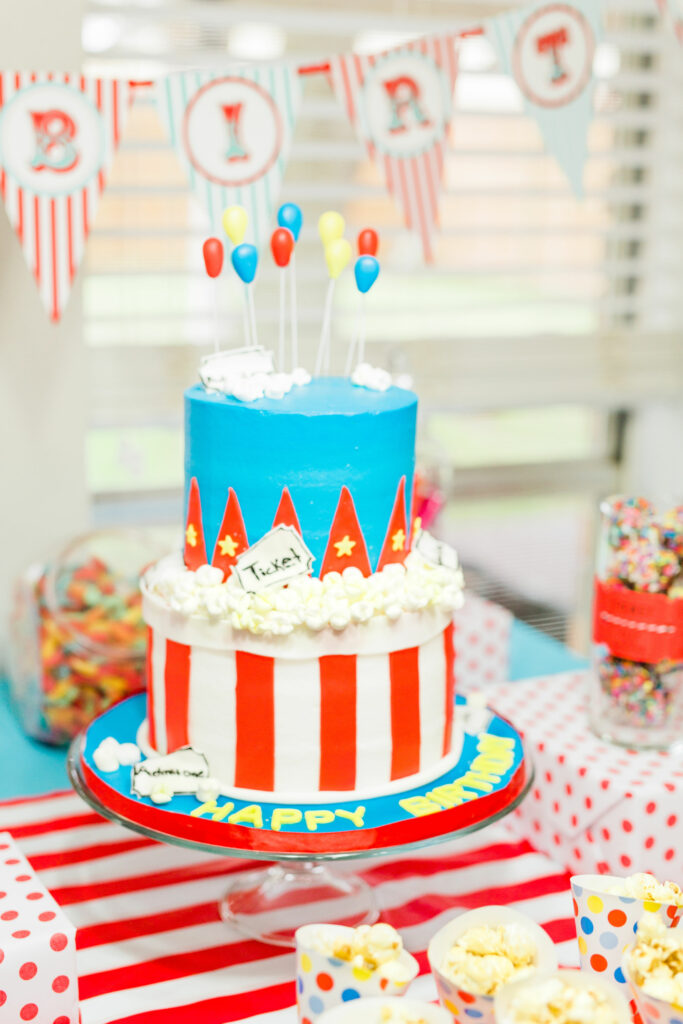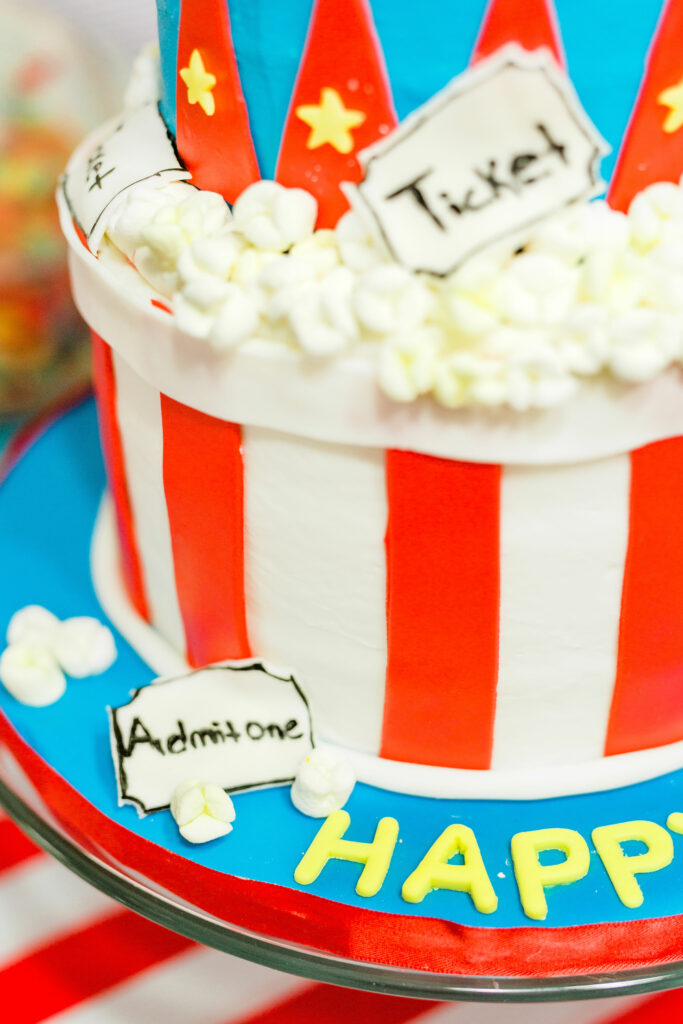 I know technically this should fall under the dessert section of the blog post but this beauty of a cake deserves a section of its own. Ummm….HELLO how cute is it?! Gali's Goodies is local to Pasadena residents and pastry chefs are Cindy's aunt and cousin . I sent over my Pinterest inspiration and her aunt killed it! I mean look at that marshmellow popcorn detail! But wait, the inside of the cake ya'll! NEAPOLITAN! What?! It was as delicious as it was cute! I would highly recommend her. I know i will be ordering from her again. Like I'm really trying to find any reason to get another cake made, haha! She's also reasonably priced! Check out her Facebook page here and their Instagram page here.
Thank you all for letting me share our sweet boy's special day with you. And a trillion thank you's to our sweet friends and family who came to celebrate our sweet 2 year old!!
I know a few of you were wanting to do a carnival theme party too and had some questions about where we got everything so I hope I covered it all in today's post. If I missed anything please feel free to comment below or email me, info@roselynweaver.com.