Landon had no idea what a Power Ranger was until we came across some Power Ranger reruns when we were at my parents in December. He has been obsessed every since LOL
In February he started counting down the weeks to his birthday and asked for a Power Ranger party. We knew we would celebrate big no matter what but he was even more excited when we decided to invite friends over for the celebration too!
Today I am sharing the 5 things that really made his Power Ranger birthday party extra special!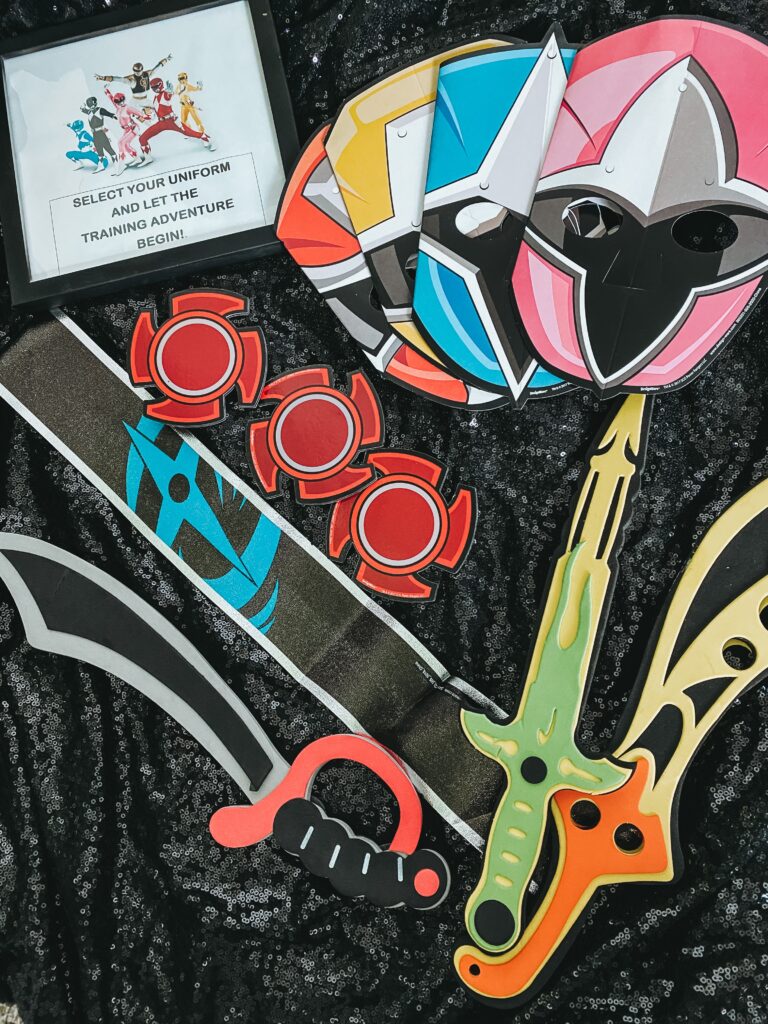 5 Must Haves For The Perfect Power Ranger Party
Special appearance from a Power Ranger – OMG, we literally could have done nothing else and his day would have been made! I am so excited we were able to find a Power Ranger character at the last minute. We booked through Kids Party Experts. We had a slight mishap at the beginning of the week where I did not think they were going to be able to make it but it ended up working out and I am so glad it did! We booked him for 45 minutes and he "trained" all of the kiddos with fun activities and stayed to take a few pics with Landon's "team". It was so cute!
Colorful Balloon Backdrop – Honestly, the best statement piece you can add to any party. I love that they can customize sizes and colors to your decor. Posh Pop Balloons is a woman-owned business in the Houston area and they both are so talented! I highly recommend for your next celebration! They also did the balloons for Brandon's party too.
"Power Table" – I set up a table with foam swords, ninja stars, superhero sashes, power ranger masks and bracelets so that the kids could "choose their training gear!". It was a big hit with the kids!
Power Ranger Bounce House– We always use Sky High Rentals when needing to rent bounce houses. We have used them for all of his birthdays now and even a few other times for "Sunday Funday". They truly have the best selection for kids birthday parties! I was so excited to see they had this Power Ranger one.
Dessert & Treat Table – Every year we do a little treat table for the kids to fill their bags with sweets and goodies as a take home gift. I try to make the candy match whatever theme we are doing that year. You can see our Candy Shop party here and our Carnival Party here. This year I did the Power Ranger colors but made sure they were individually wrapped candies.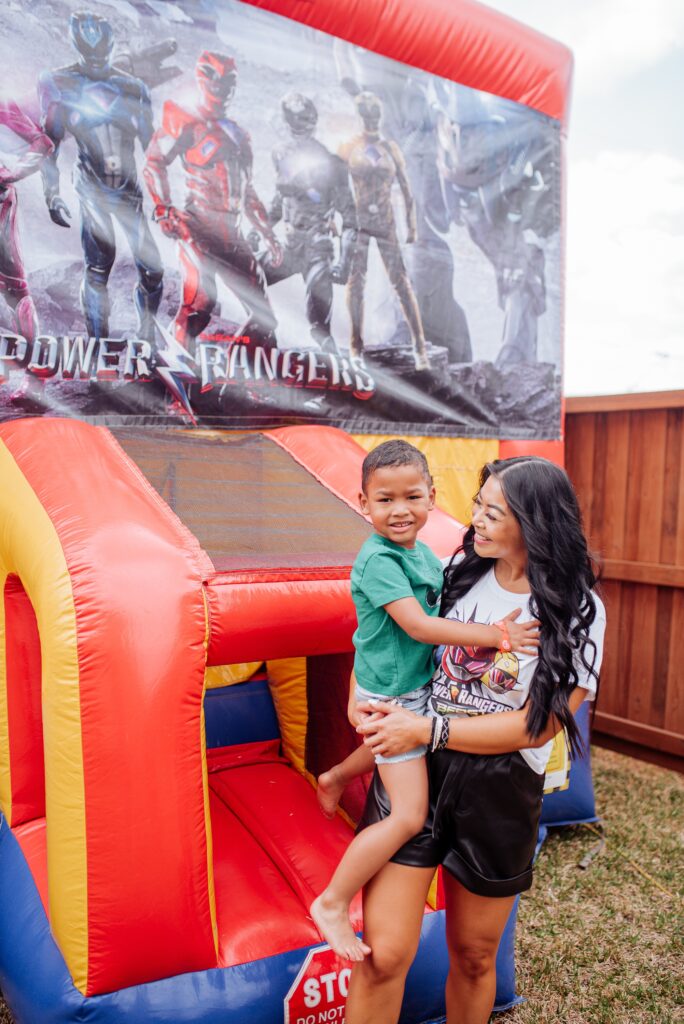 As I mentioned, we always use Sky High Rentals for Landon's parties. We rent bounce houses, tables, and chairs and we even rented a bunch of carnival-like games for Landon's 2nd birthday which was carnival themed. You can check out that post here. They have the best selection of bounce houses and water slides.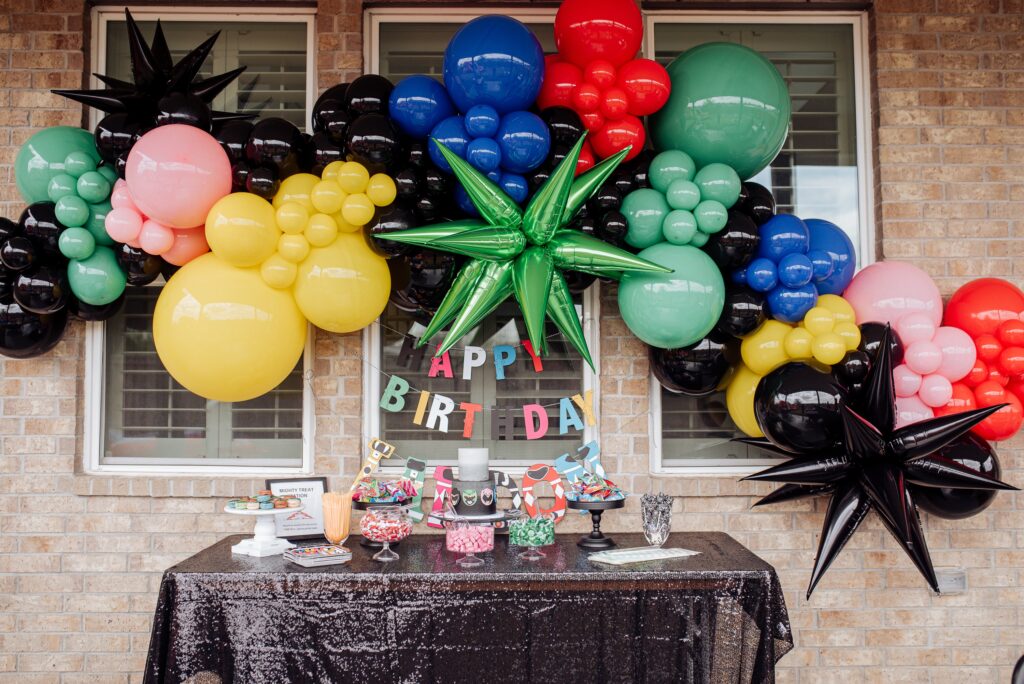 Posh Pop Balloons brought the balloon magic with this colorful balloon banner! It was the perfect backdrop for the cake and treat table!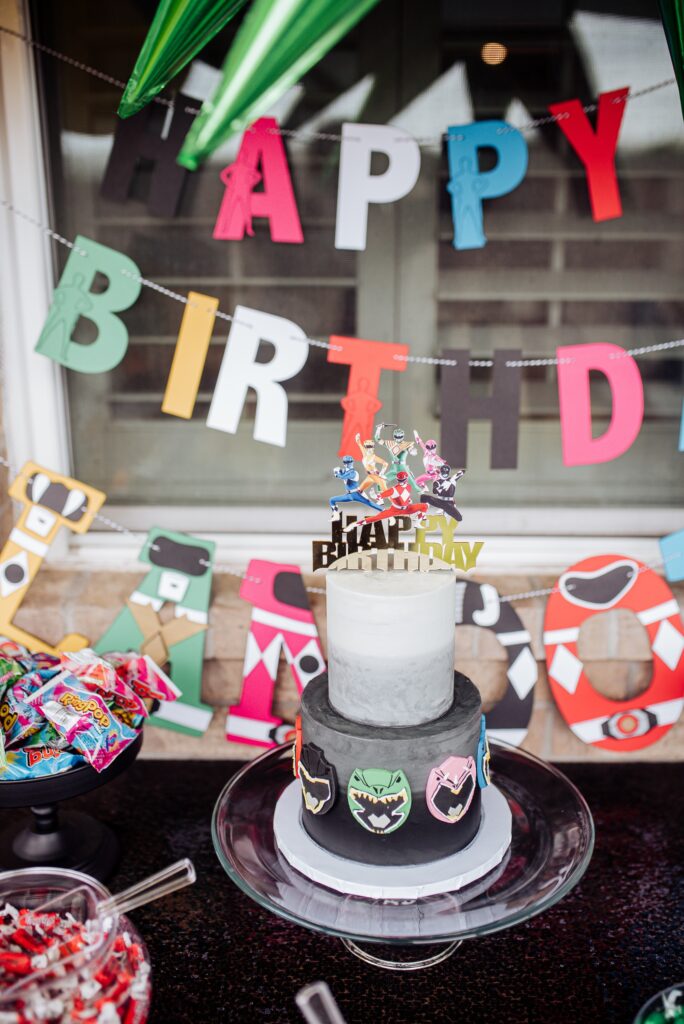 I am so happy with how his ombre cake turned out! I asked Erica for a black, gray, and white ombre cake with the Power Ranger helmets and she nailed it! I wanted to keep the top tier simple since we found this cool cake topper!
Also, how cute is the Power Ranger birthday banner?! Live Laugh Scrap can customize these banners for you! She also did Landon's superhero name decor for his room.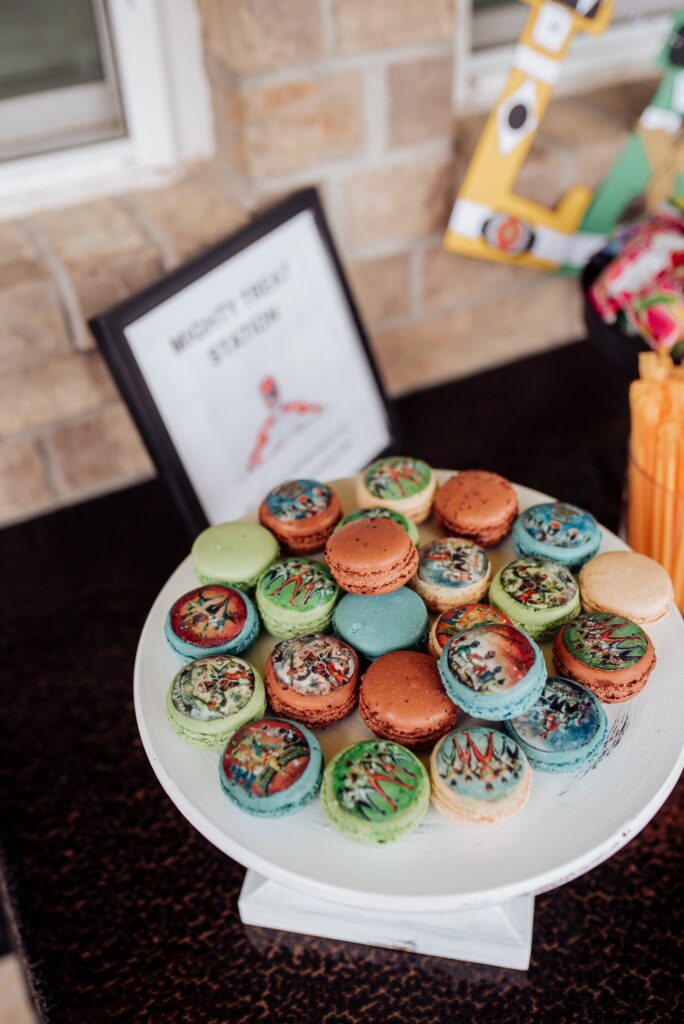 I ended up putting the edible toppers on the macaroons myself. It wasn't hard at all but patience is definitely needed LOL.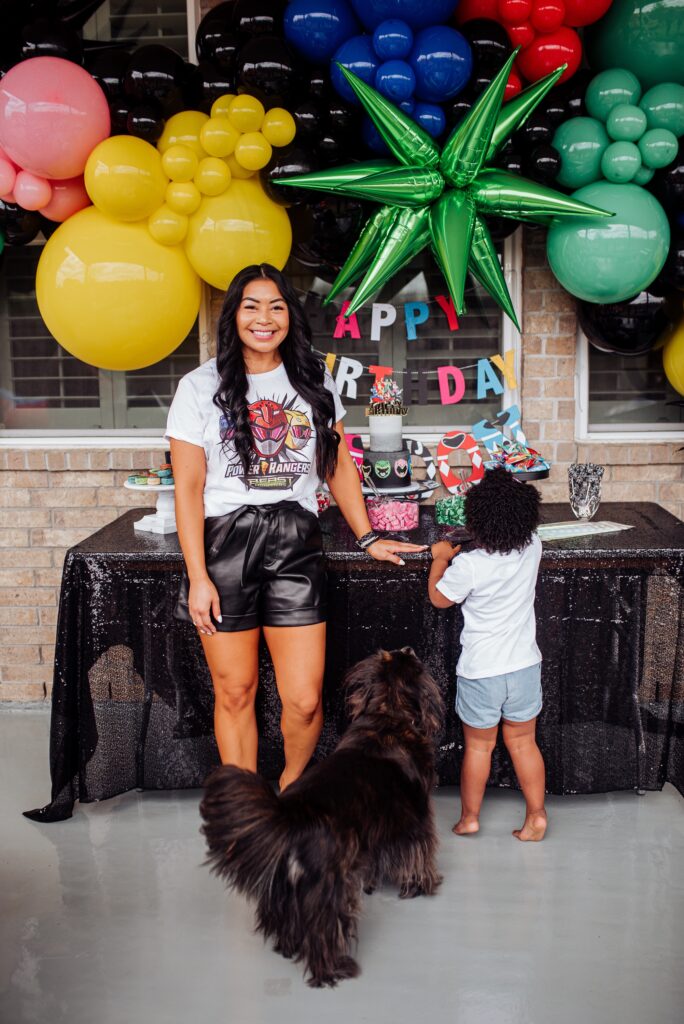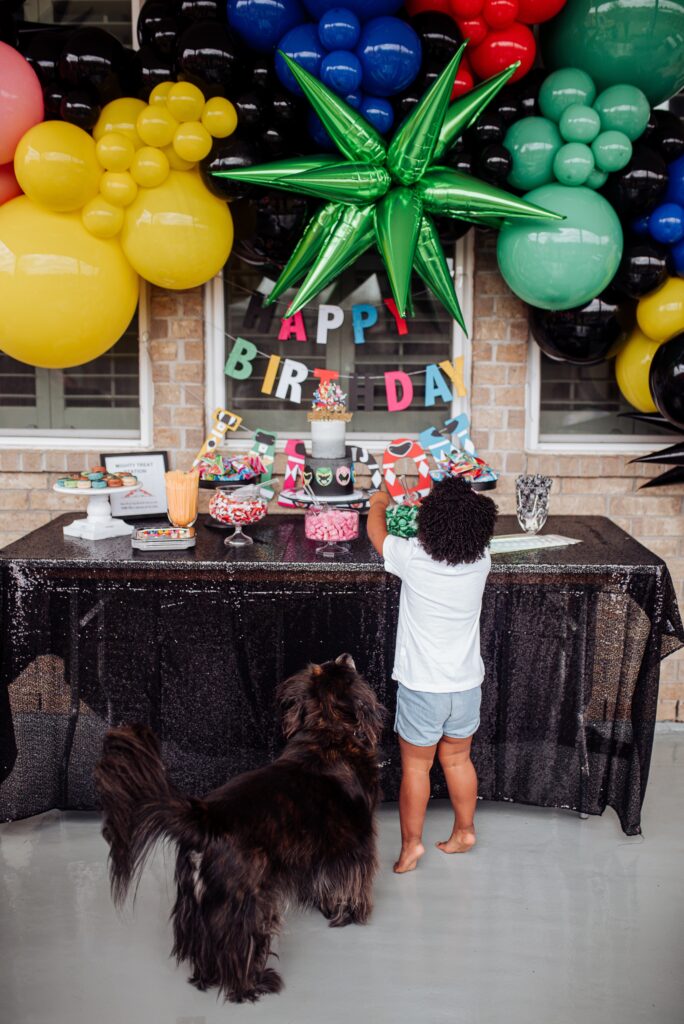 You can't turn your back on these girls for too long! Look at them already sneaking into the treats LOL. Here is the little treat table for the kids to fill their bags with sweets and goodies as a take-home gift.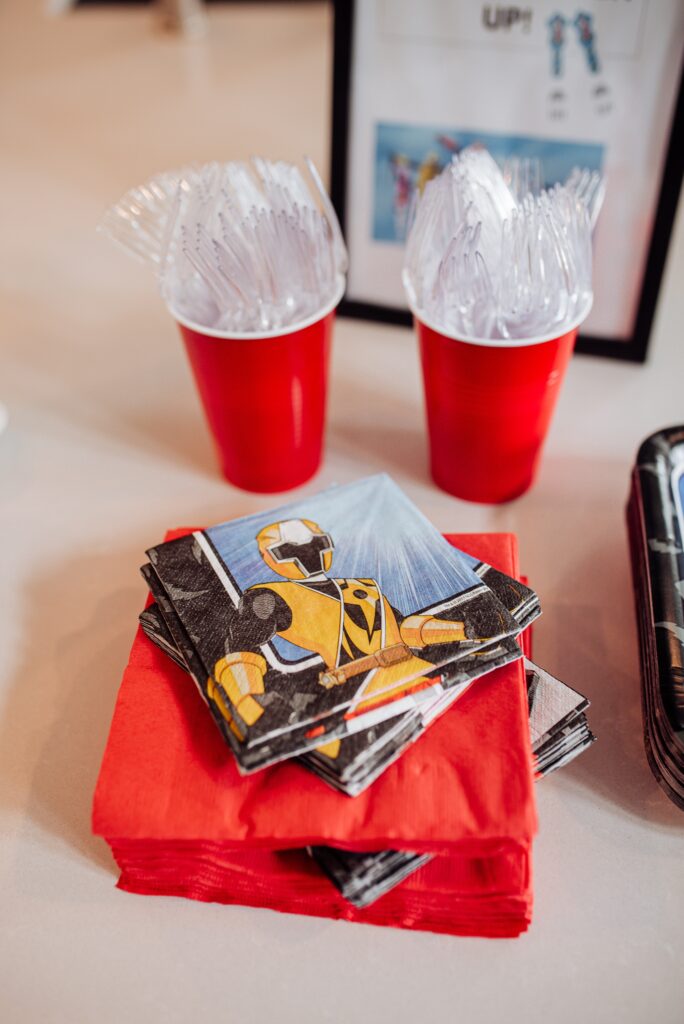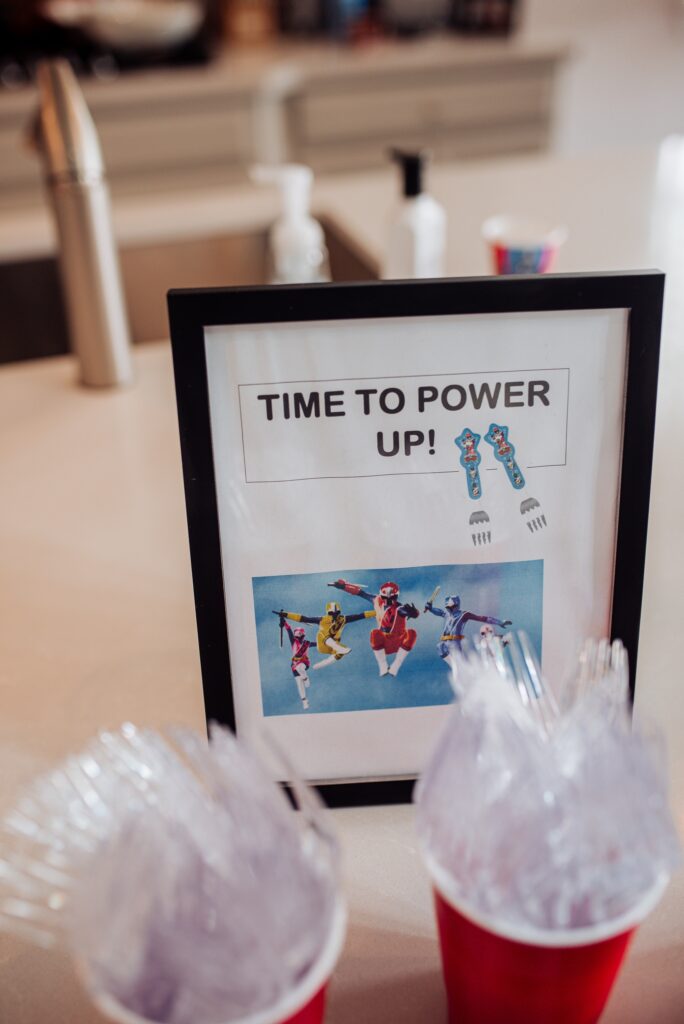 I printed little signs to display at the eating area, treat table, and power table. A fun and easy thing to do for any party!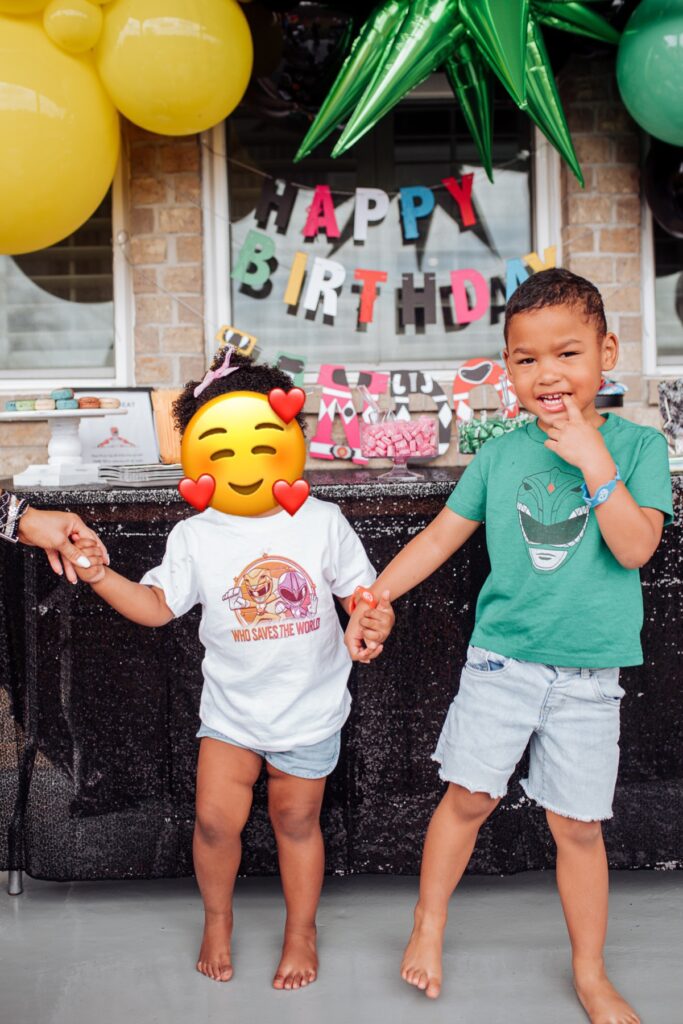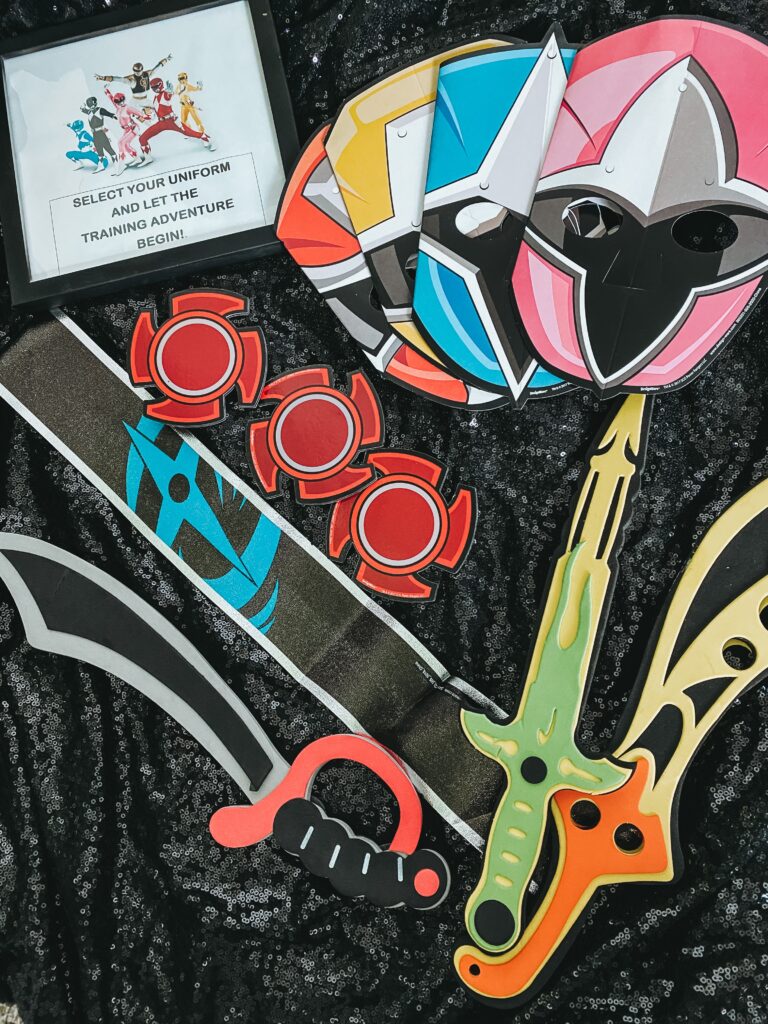 Here's the little "power table" set up with Power Ranger masks, swords, ninja stars, tattoos, and bracelets. The kids LOVED it!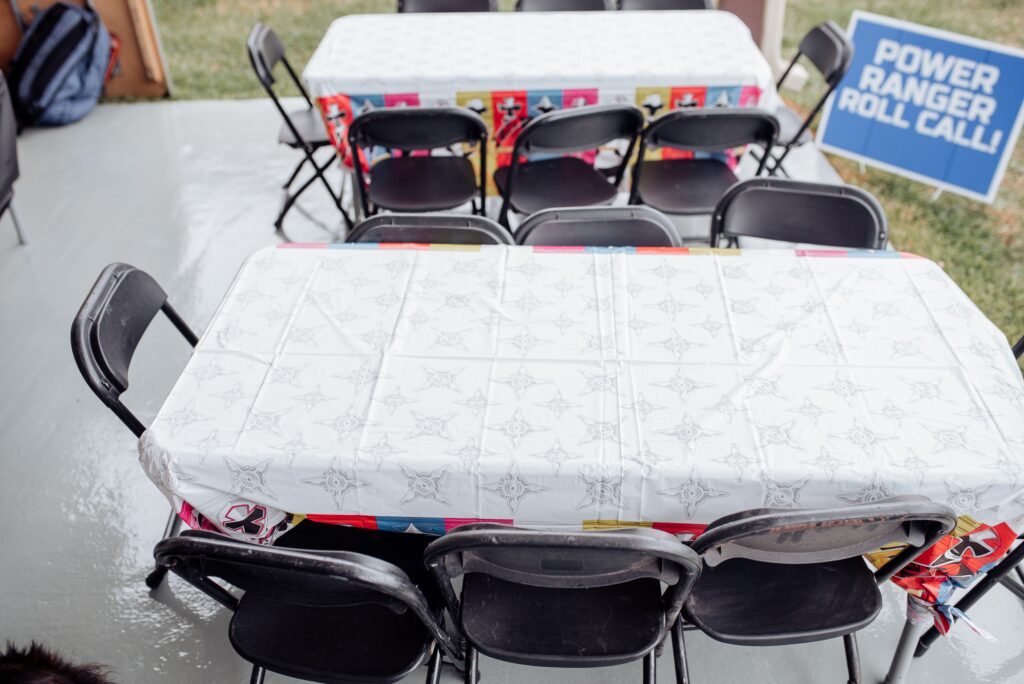 The kiddie tables and chairs are also from Sky High Rentals. I ordered the Power Ranger yard signs from Oriental Trading.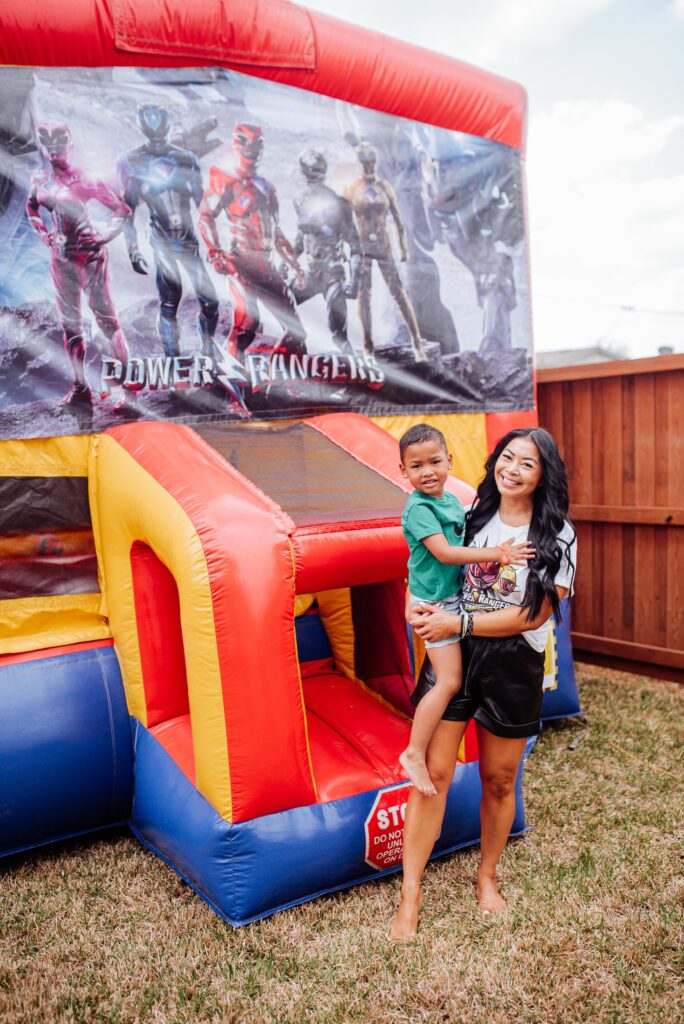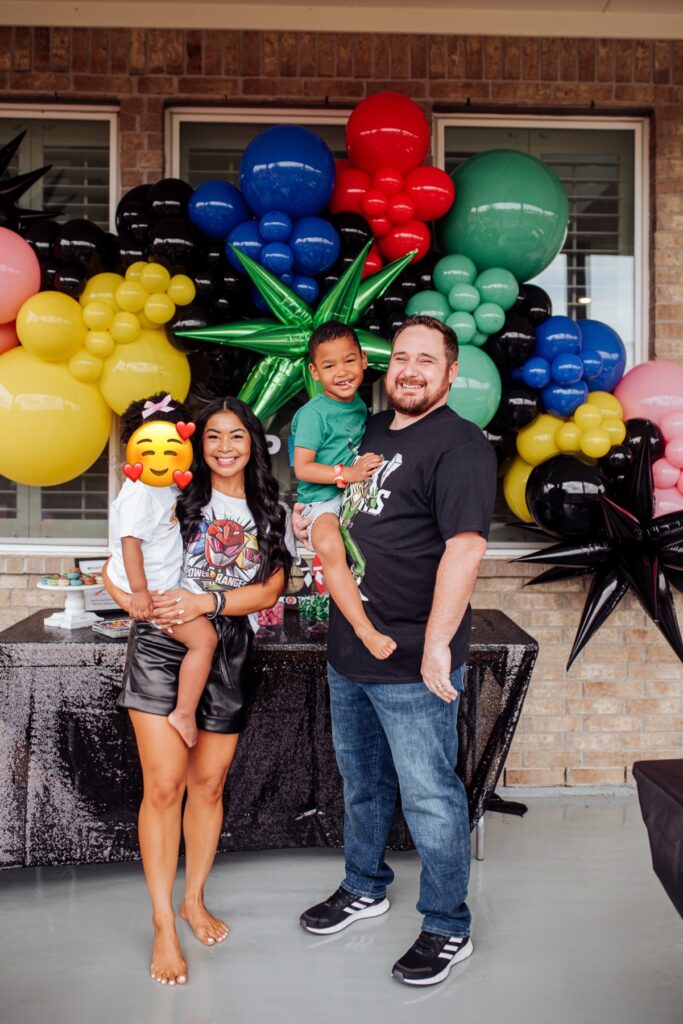 We were so happy to be able to celebrate our little man turning 4 with friends this year! The icing on top of the cake (pun intended) was seeing Landon's face light up when the red Power Ranger walked into the house!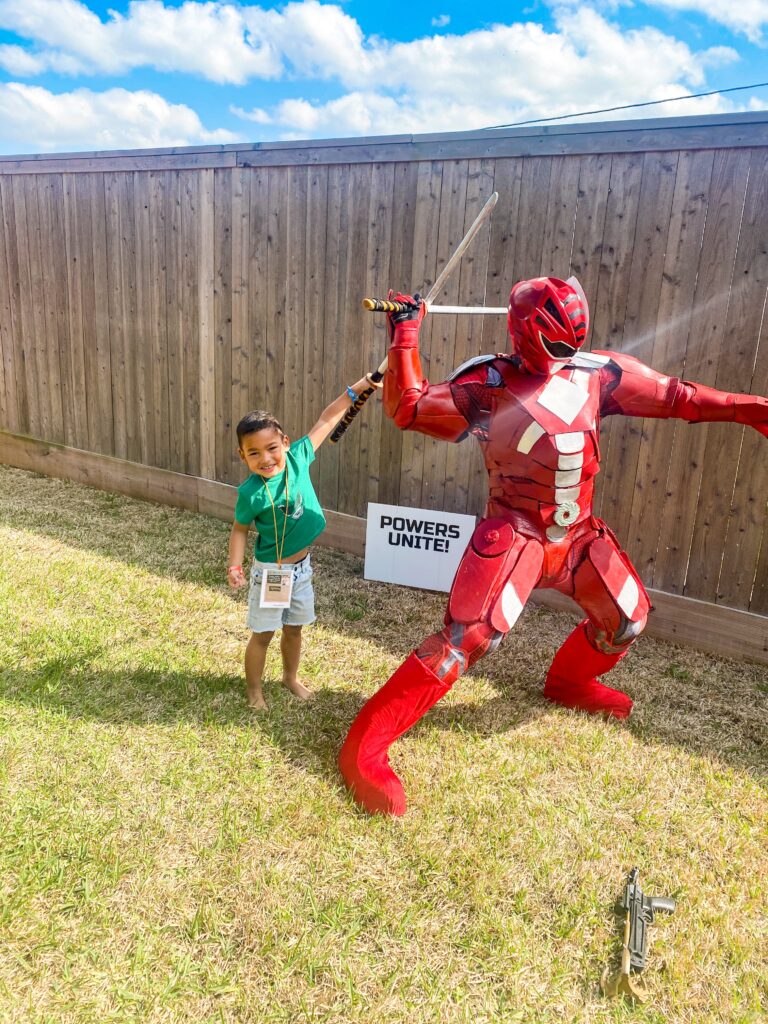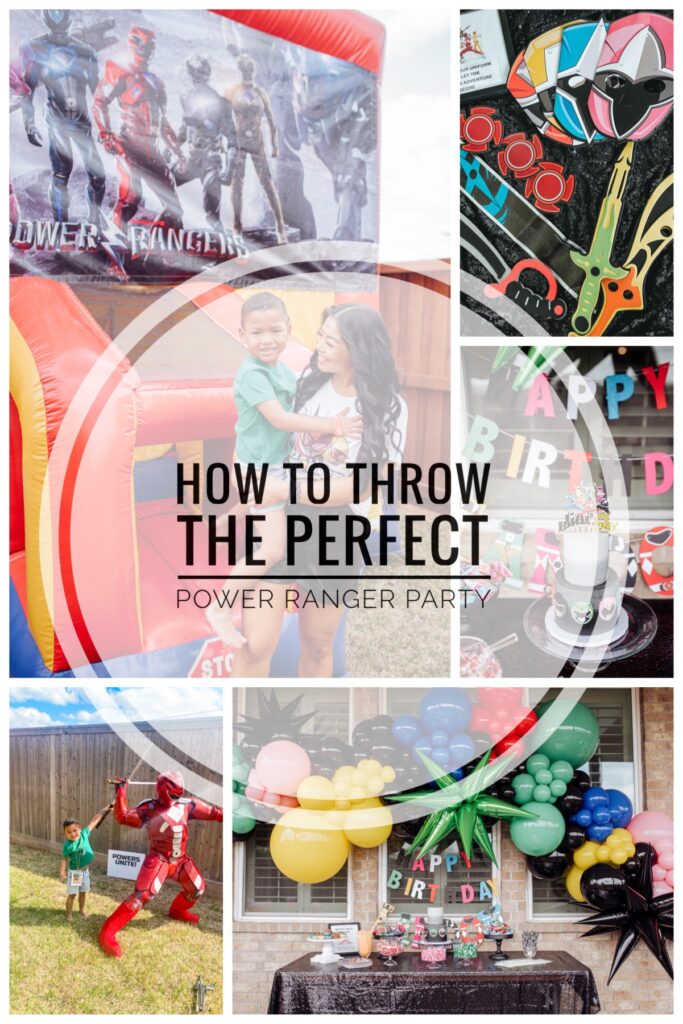 Shop items mentioned in this post: