Finally sharing that Amazon swimsuit haul I promised you guys! Soon enough I will be able to wear my swimsuits to somewhere other than Landon's pirate pool in the backyard 🙂 But TBH, his pirate pool is pretty cool.
All of these swimsuit and cover up finds are under $50 and even though I ordered a TON, I am only sharing the ones I truly think were great quality. Can't wait until we can all start planning those family vacations most of us had to cancel during Spring Break!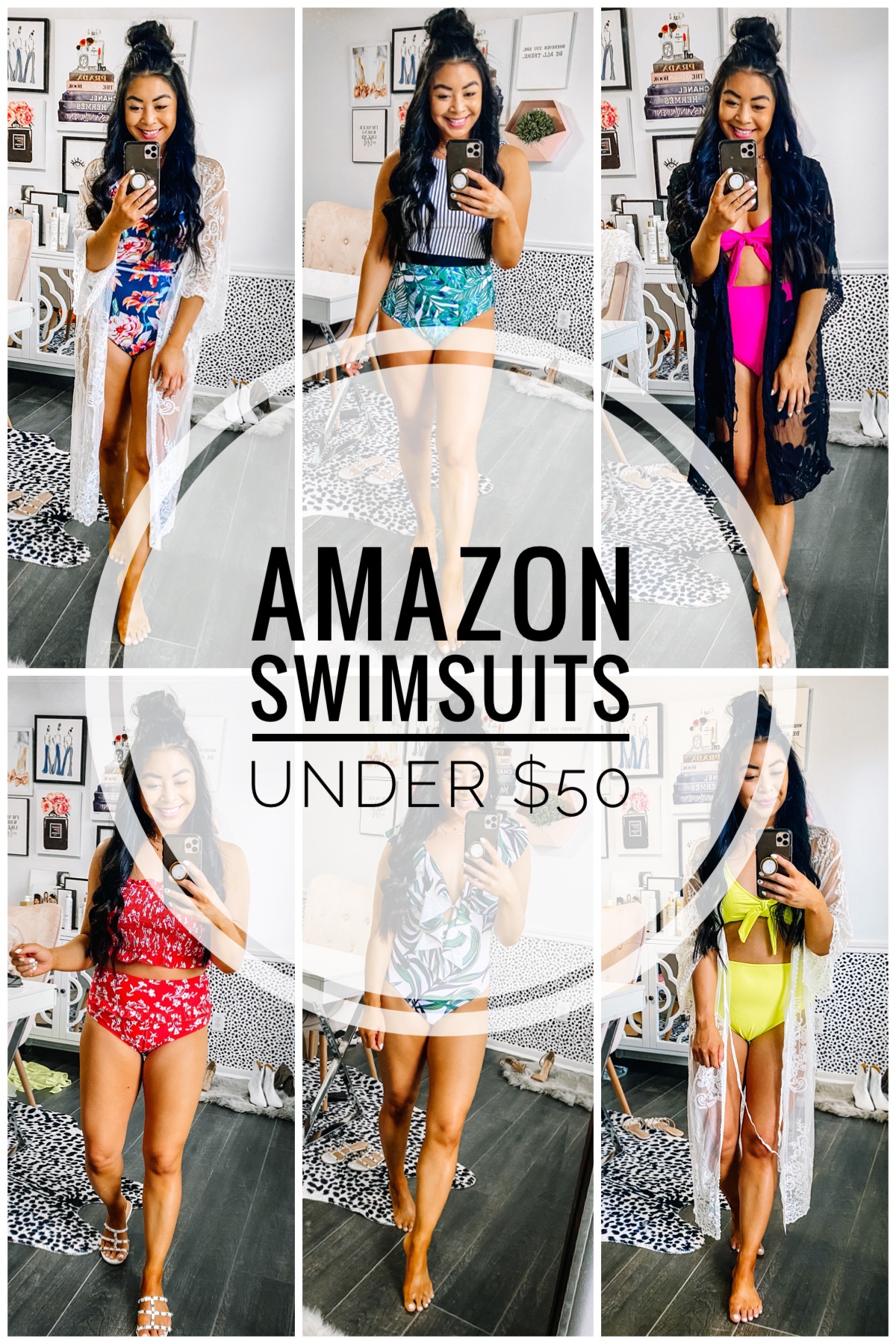 So excited to finally be sharing these super cute and affordable swimsuits and cover ups! When I was getting ready to do this try on for ya'll I quickly realized that my quarantined self needed to get some more sun in her life. I slapped on some of this self tanner for the time being 🙂 Question – do you use self tanner?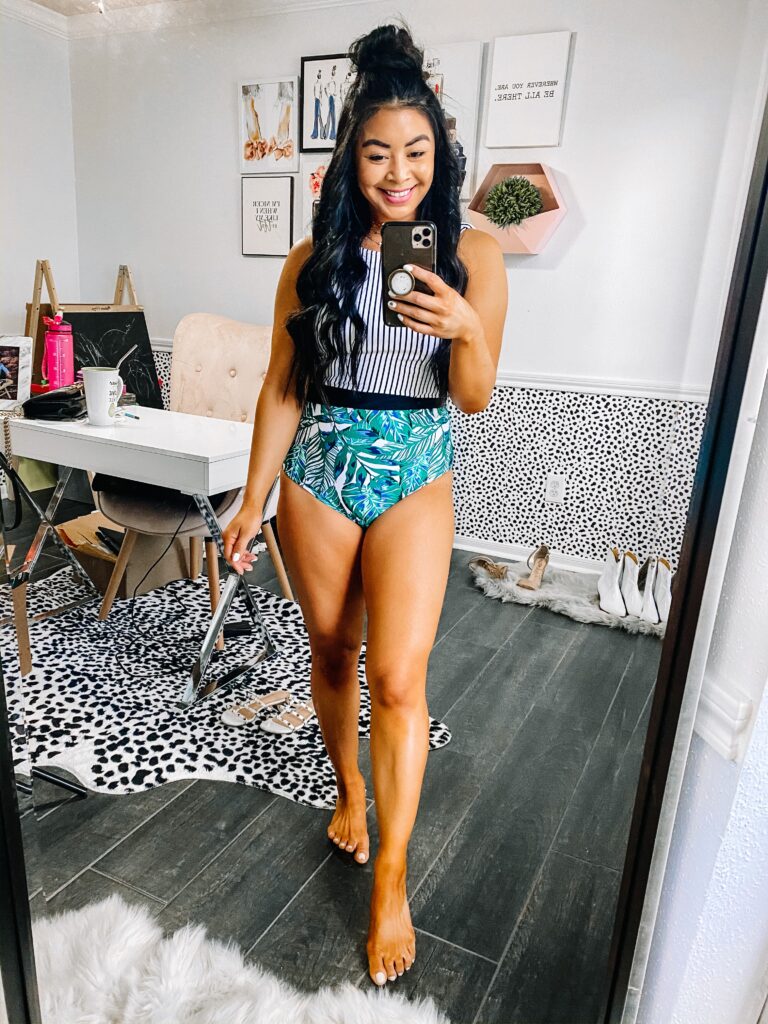 Mixed Print One Piece Swimsuit | Sharing this one first because it is my favorite! I love the mix prints and it fits so well! Really flattering for any body type. I am wearing a medium.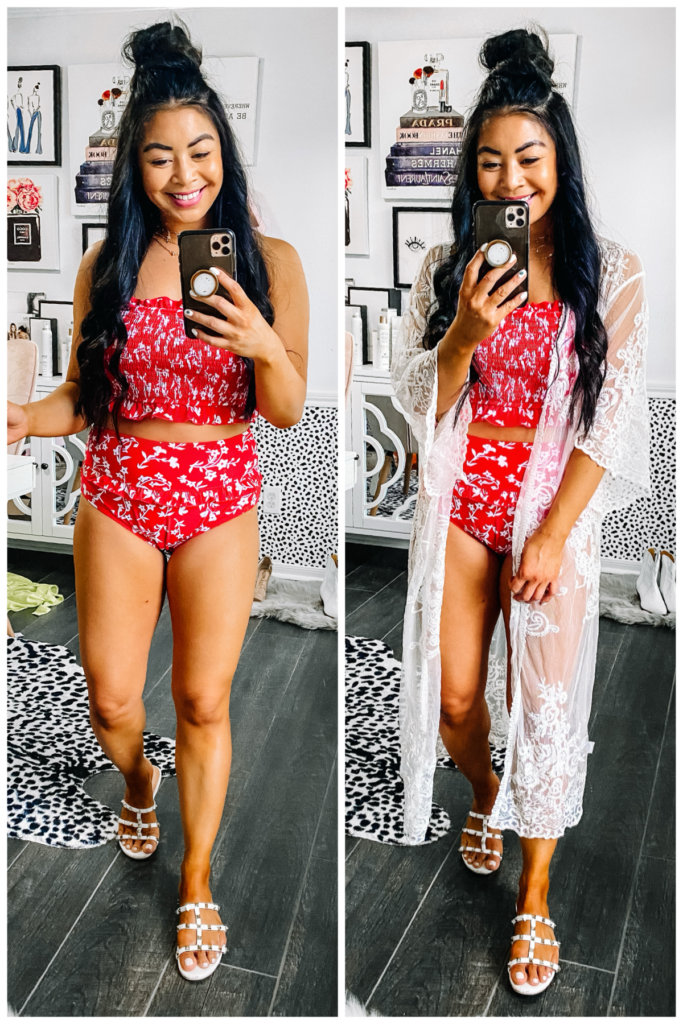 High Wait Two Piece Swimsuit | I have shared this swimsuit multiple times in different colors. I actually shared it last summer in orange and mint. Clearly I like this swimsuit haha! If you are typically a two piece kind of gal (I'm really not these days) this is a great compromise! Wearing a medium.
White Swimsuit Cover Up | Such a adorable cover up! And the fabric is nice enough that you could wear it as a kimono beyond the pool and beach! You better believe I'll be wearing this on my walks around the neighborhood.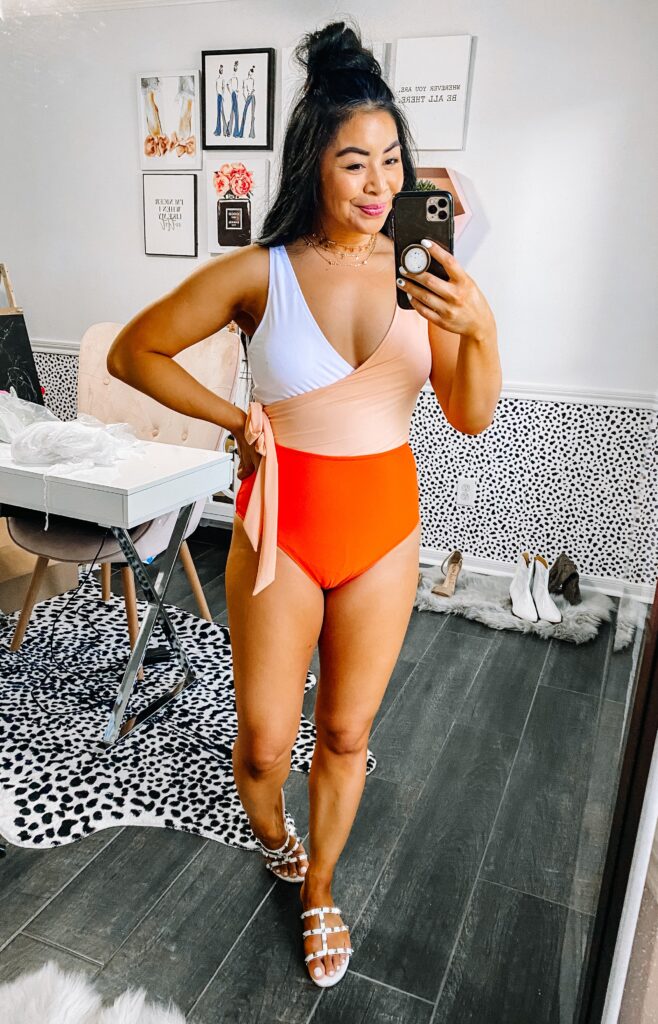 Colorblock One Piece Swimsuit | This colorblock style is so cute and looks and feels way more expensive than $33 however I would recommend sizing up if you are in between sizes! I am wearing a medium here and I totally felt like the bottom part was so tight around my thighs! I wouldn't feel comfortable wearing the medium out and about so I would definitely size up in this one.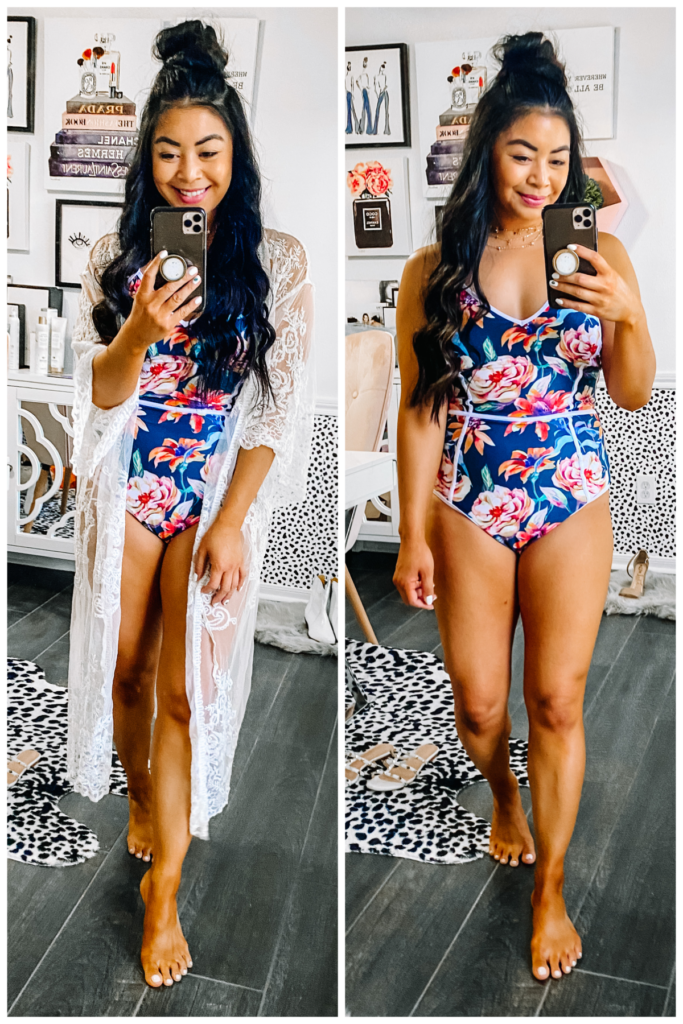 Floral One Piece Swimsuit | If I had to pick a second favorite from this haul, this floral one piece and the next swimsuit would come in at a tie! This one looks like a designer dupe and the white piping makes it so flattering. Wearing a medium.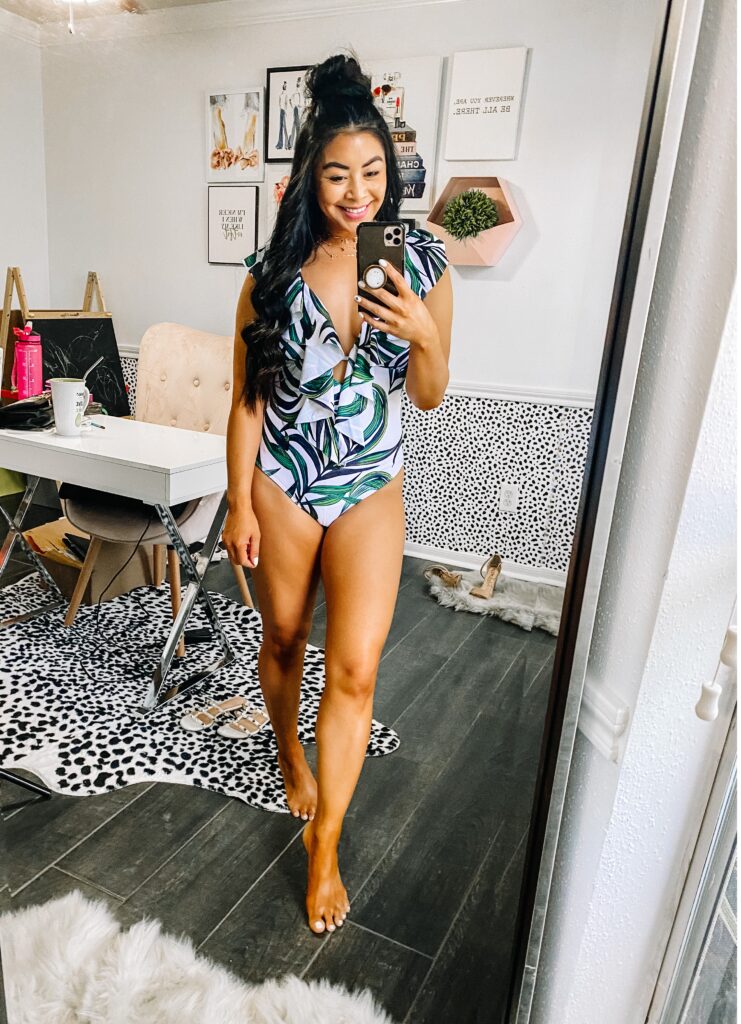 Palm Print One Piece Swimsuit | A print that gets hotter every summer! Love the deep v and ruffle detail on this one. It's like sexy and conservative all at the same time! Wearing a medium.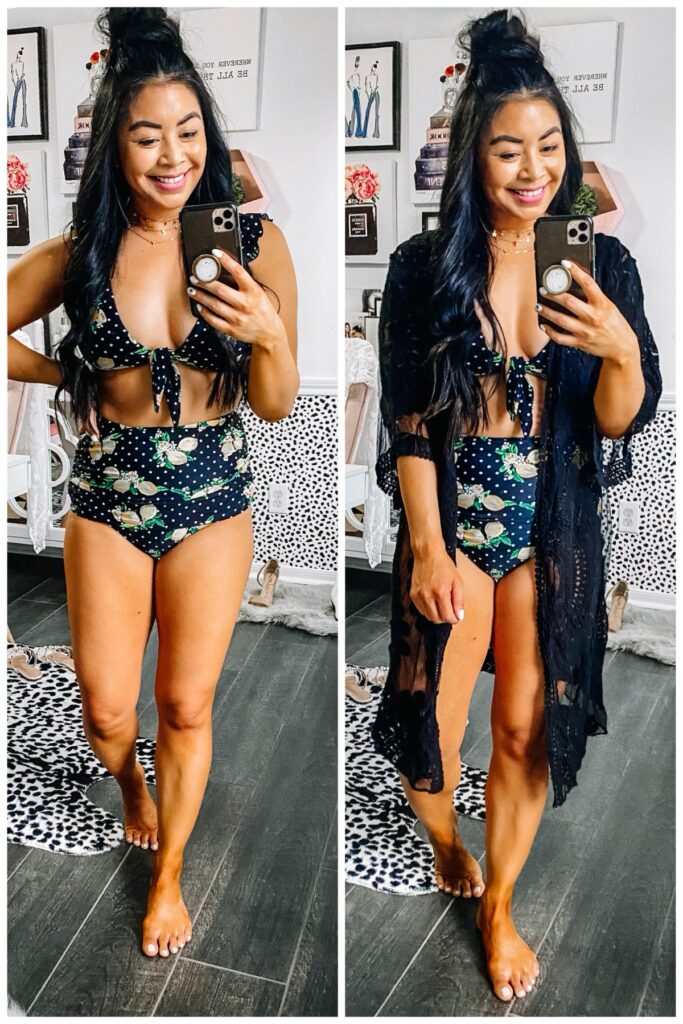 Lemon Print Two Piece Swimsuit | Such a sweet print and the ruffle detail on the straps is so cute! I also saw a little girl version of this and it just made me even more excited to get baby sister home 🙂 Wearing a medium.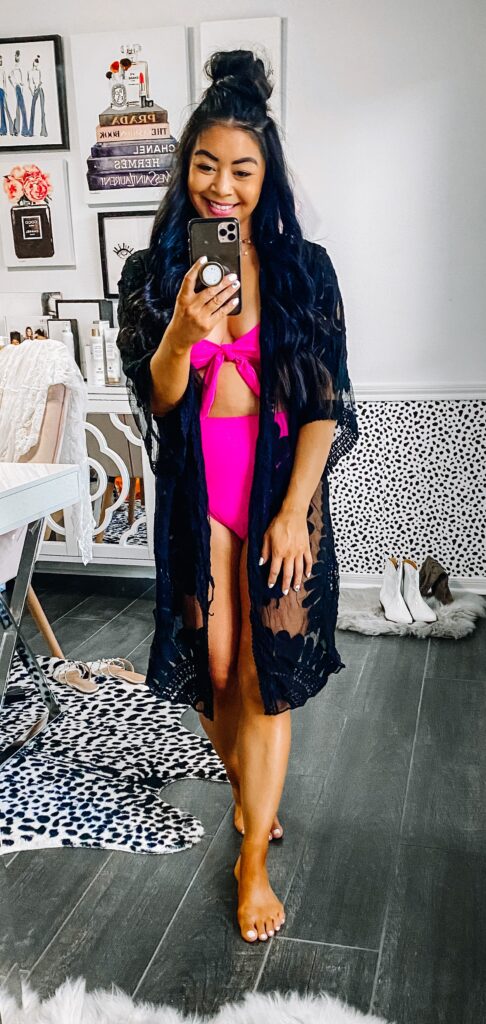 Neon Pink Two Piece Swimsuit | Bright neon colors are going to continue on for Spring and Summer and this high waisted swimsuit could not be more on point. I looooovve the hot pink hue against any skin tone! Wearing a medium.
Black Swimsuit Cover Up | Another great cover up that can also be worn as a kimono outside of the pool and beach.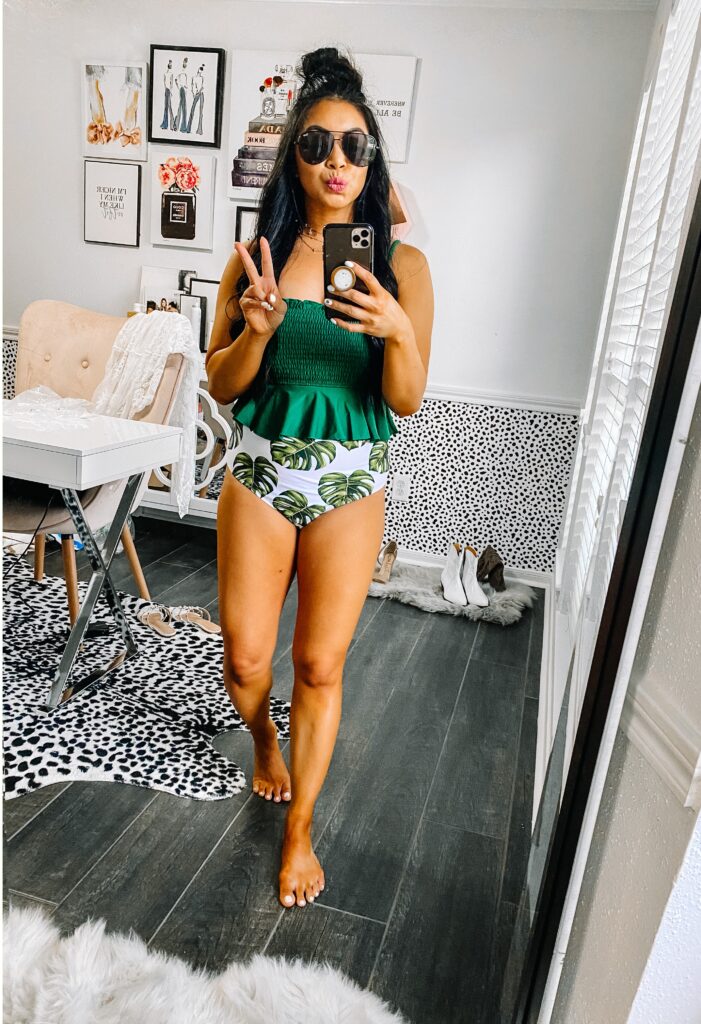 Palm Print Two Piece Swimsuit | I mean it is totally acceptable to wear your sunglasses inside the house these days right? Another great two piece look if two piece swimsuits are normally your thing. Wearing a medium.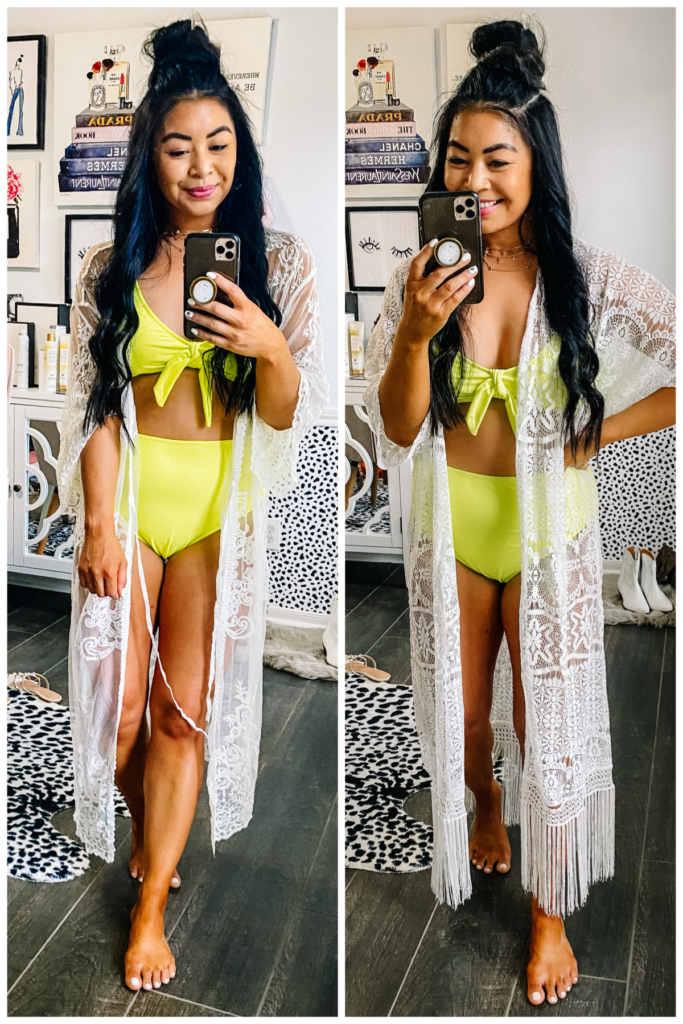 Neon Yellow Swimsuit | Same as the neon pink swimsuit I shared above. I am not sure what I love more, the swimsuit or this fringe kimono!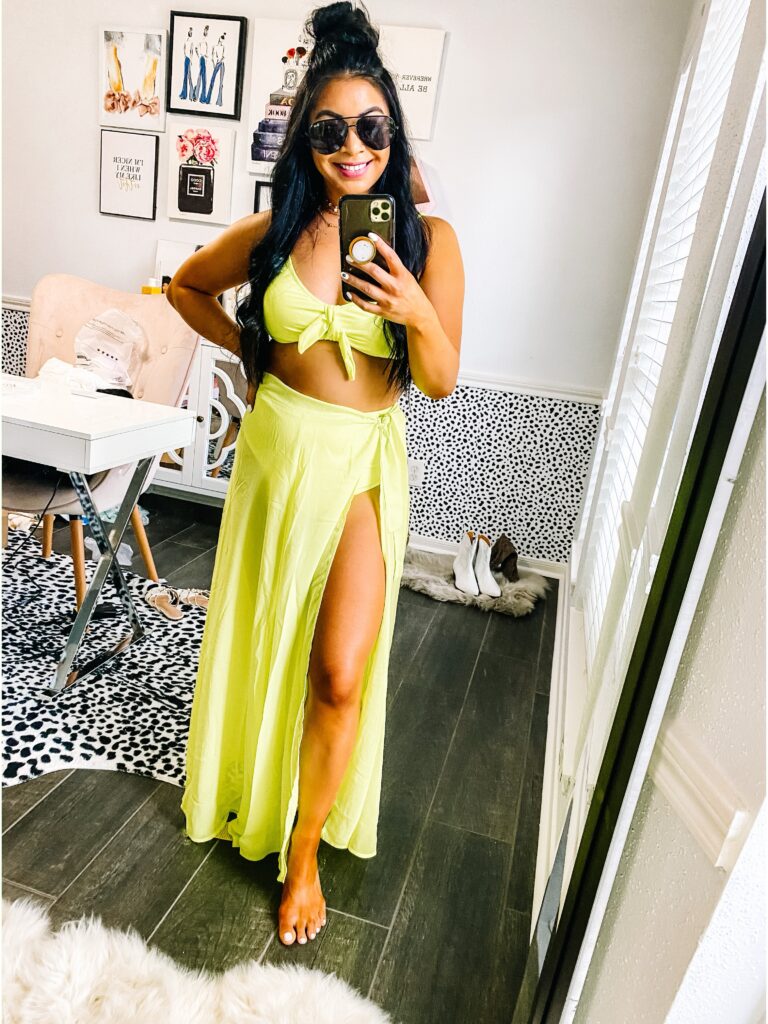 Neon Bathing Suit Cover Up | Same swimsuit on as above but wanted to show you what it looks like with a matching cover up skirt. This skirt comes in a ton of other colors too. Wearing a small/medium.
I hope ya'll enjoyed today's swimsuit haul! I can't wait until we can all continue on with those family vacay's!