Since many of us have organizing and redecorating at the top of mind this month so I thought it would be fun to share a list of some projects I want to do in the house. I am hoping we can all check some of this stuff off together! I also threw in some fun stuff onto the to list because we need to make sure we are making time for fun too, right?! 🙂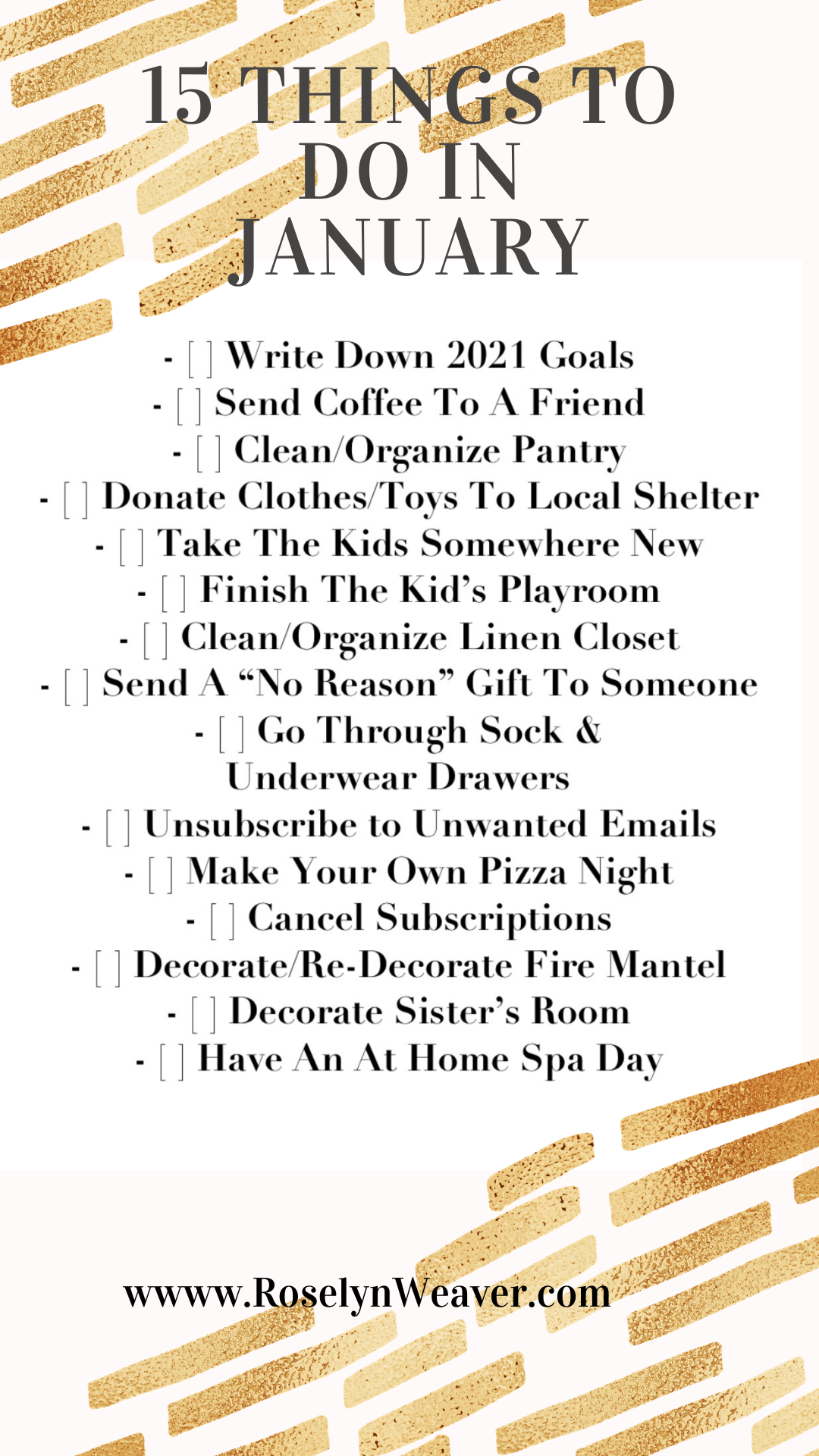 15 Things To Check Off Of Your To Do List In January
Write Out Your 2021 Goals – See Monday's blog post about how I brain dump all of my goals for the year!
Send Coffee To A Friend – Randomly send an e-gift card to a friend (or friends!) to a local coffee shop or Starbucks.
Clean/Organize Pantry – This is a good time to go through expiration dates as well! I linked some of my favorite kitchen organization items here.
Donate Clothes/Toys To A Local Shelter or if you know of a family in need, donate directly to them- This is the time to go through your closet and donate things that you haven't worn in a long time and also anything that doesn't fit your kids anymore. They grow so fast!
Take The Kid's Somewhere New – To make up for all of their toys you donated 🙂
Finish The Playroom – I have been needing to finish our playroom for the longest time! Since I already went through and donated things we had duplicates of and things what we don't use anymore, this is the perfect time to finish up the space. If you don't have a playroom on your list of things to do, you can fill in the blank here! Maybe it's a guest bedroom or bathroom?
Clean/Organize Linen Closet – Our linen closet has become a "catch all" space. There are board games, towels, blankets, who knows what else! It's a small closet that I have just been avoiding. Definitely need to spend an afternoon organizing it. I hope you'll join me!
Send A "No Reason Gift" to Someone- Brighten up someone's day by sending them a small gift. Maybe a coffee mug that reminded you of them or even flowers.
Go Through Your Underwear and Sock Drawers – Okay, I know this sounds so random but I know I am not the only one that reaches for the same bras and undies while the others never make it into rotation. Like why even have those?! Free up space in your drawers sister! I know I need to!
Unsubscribe to Unwanted Email Subscriptions – Raise your hand if you have signed up for an email subscription for a discount. GUILTY! I need to put aside time to unsubscribe to those things filling my inbox!
Make Your Own Pizza Night – Have a fun night in with the family making your own pizza's! I'm excited to see what sister decides to put on hers LOL! Also, I have never made my own dough soooooo, we'll see how that goes 🙂
Cancel Unwanted Monthly Subscriptions – I am embarrassed to say that I cancelled some app subscriptions the other day and it was totaling like $45 a month. $45 a month for apps I wasn't even using!! You probably already know this but if you are an Iphone user all you have to do is go into settings -> click your name -> subscriptions. You can review and cancel as needed. So simple! My next step is to look at my automatic bank payments and see if there is anything else I need to cancel. I canceled a tanning resort subscription last month that I had been paying for for over a year. Ummmm when is the last time I had stepped into a tanning booth?! So much money I could have had in my bank account!
Decorate The Fire Mantel – So many of ya'll are wanting to spruce up your living room decor for Spring so I thought this would be fun one to do together! I've been waiting for my furniture to arrive so I literally haven't even decorated my fire mantel space. I am excited for this one!
Decorate Sister's Room – Eek! Her dresser came in so I need to get the rest of her room together! Again, if you aren't planning to redecorate your child's room, insert another room or space here.
Have An At Home Spa Day – After all that hard work, relax and get you in a spa day girl! If you feel safe going to spa, do that! But if not, so many great products to do it at home too!
If you want to join me in crossing some of these things off of our list this January, just screenshot the image. I can't wait to see who is in!