I was trying to count how many times I have moved and if I'm remembering correctly, I have moved a total of 8 times.
8 times, y'all!! And I have never used movers. In previous moves I chose not to use movers because honestly I felt like I really didn't have much stuff to move. I mean it was just me and my Ikea furniture in the past so I didn't feel the need to use a moving service. One time I even packed up a Uhaul and drove it all by myself. I'm pretty sure Destiny's Child "Independent Woman" was playing far off in the background somewhere.
This last move was a little different. Brandon and I had accumulated so many more things together as a married couple and I cared a lot more about the stuff we were moving. It wasn't just "throw it in the truck, it'll be fine" stuff.
Plus, we had all of Landon's things which I was sure would fill up a moving truck on its own!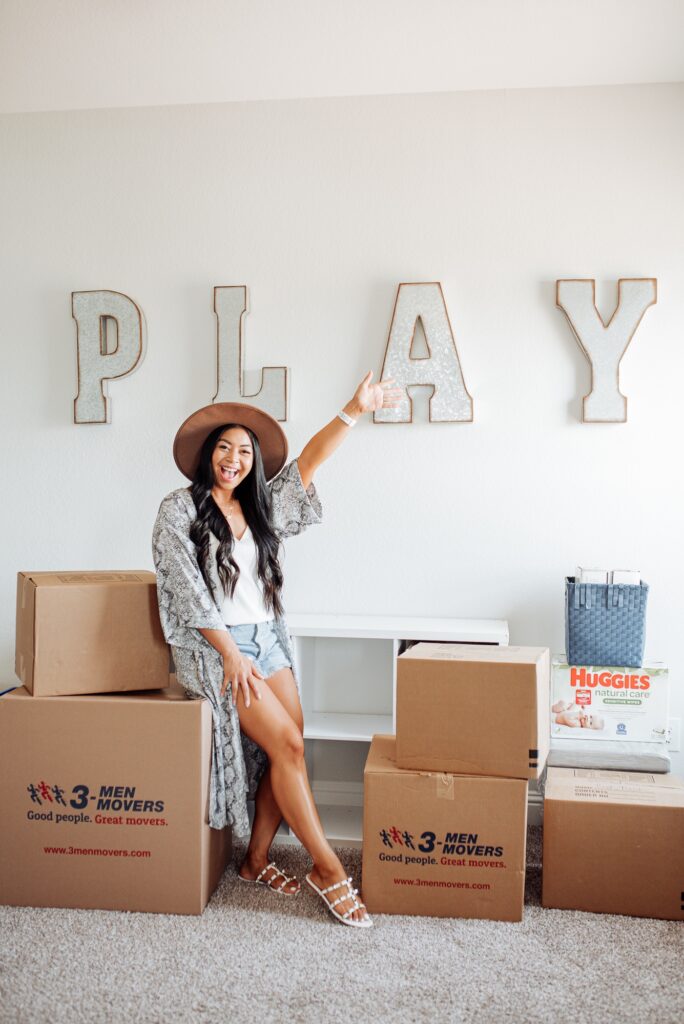 On top of having to move more valuable furniture this time around, we were in the middle of a pandemic and even though I just gave you all that Independent Woman talk, there was no way I was going to help Brandon get couches upstairs with a toddler on my hip, LOL.
I began looking around for Houston moving companies and spent so much time reading reviews on their websites and Google. I went to their social media pages to see who had used them, did they have a good experience? I finally narrowed it down to 2 local companies.
One of my top 2 choices was 3 Men Movers and I remembered my girlfriend Keli had used 3 Men Movers in the past so I reached out to her and she had nothing but great things to say about the company.
That was all I needed to hear because I trust what she says. That's why I really wanted to share my experience with y'all! We are internet besties after all, right?!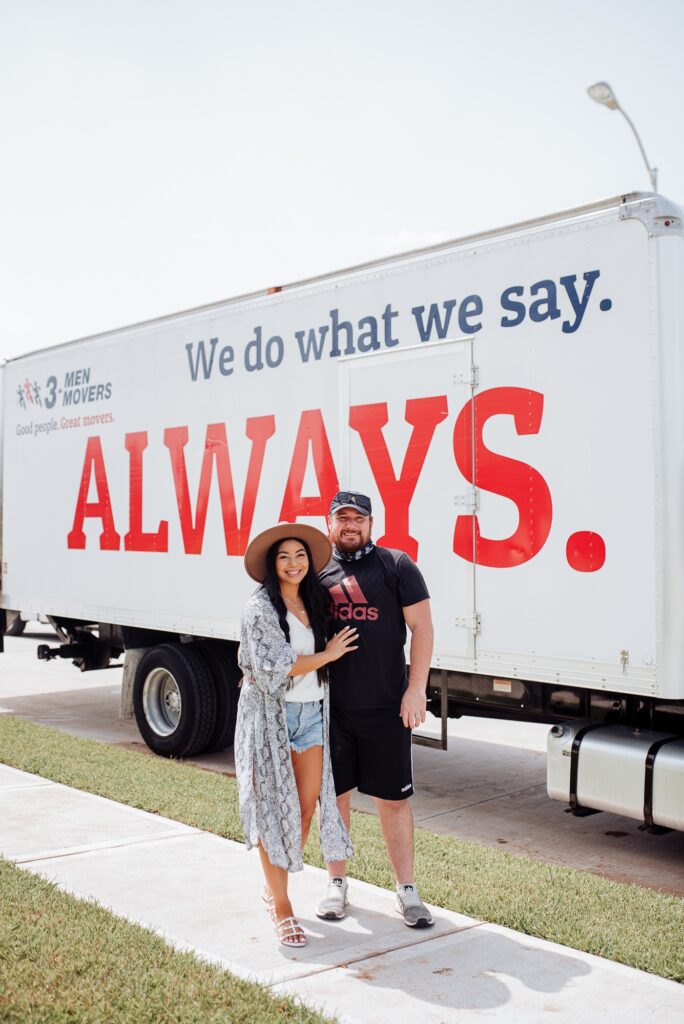 Why I wouLD RECOMMEND 3 MEN MOVERS
If you are looking for a local mover or maybe you don't even know you need a mover yet, I am sharing all of the details in this blog post so that you can refer back to it if needed or share with a friend who is moving. All the links in this post will take you to a 3 Men Movers page that they made specifically for y'all to get quotes and also you can use ROSE30 for $30 off your service.
So initially, we were only interested in booking the actual moving service: breaking down our furniture and moving our belongings from our old house to our new house. I was on a call with some of the team members one day and we were discussing moving day, how to make it as smooth as possible, etc. In that conversation they mentioned the "packing crew." Of course that caught my attention, LOL. If it was what I thought it was, I wanted in on it!
It was exactly what it sounded like. A group of professionals who come over prior to your move and get everything packed up for you and ready for the movers. She began to explain that these individuals are also professional organizers so they also are available to unpack and organize you in your new home as well.
Ummm,WHAT?! My mind was blown! I was like "yes to all of this right now," LOL
So clearly, as you saw in my IG stories, we selected all 3 services and I have no regrets! Below I am going to answer the top 5 questions that came through on stories during moving day, as well as more info on each of the services we selected.
3 Men Movers Packing Services
The day before the move a 3 woman crew came over and we walked through the house and I told them what we wanted to pack up. There were some things we packed up on our own and also a few things that we would need for the next day so I put those things aside. Basically, I just said "don't pack these things in the corner but pack everything else".
About a week prior to them coming over I went through and donated a ton of stuff I knew we didn't want to take. I would suggest doing the same if you add on the packing service. It's pointless to pack up things you aren't going to use any longer or things that you don't have a spot for in your new space. You can also check out the 3 Men Movers packing tips page here for more preparation tips for your next move.
The moving crew will be your crew that disassembles and wraps your furniture for the move. Anything that goes into a box is what the packing crew handles.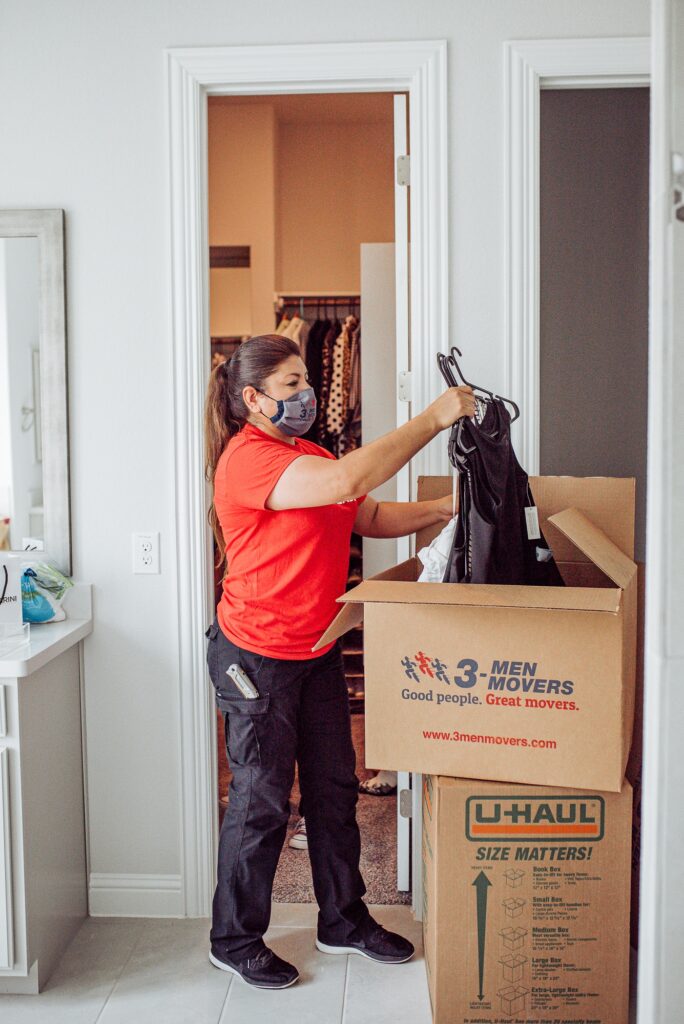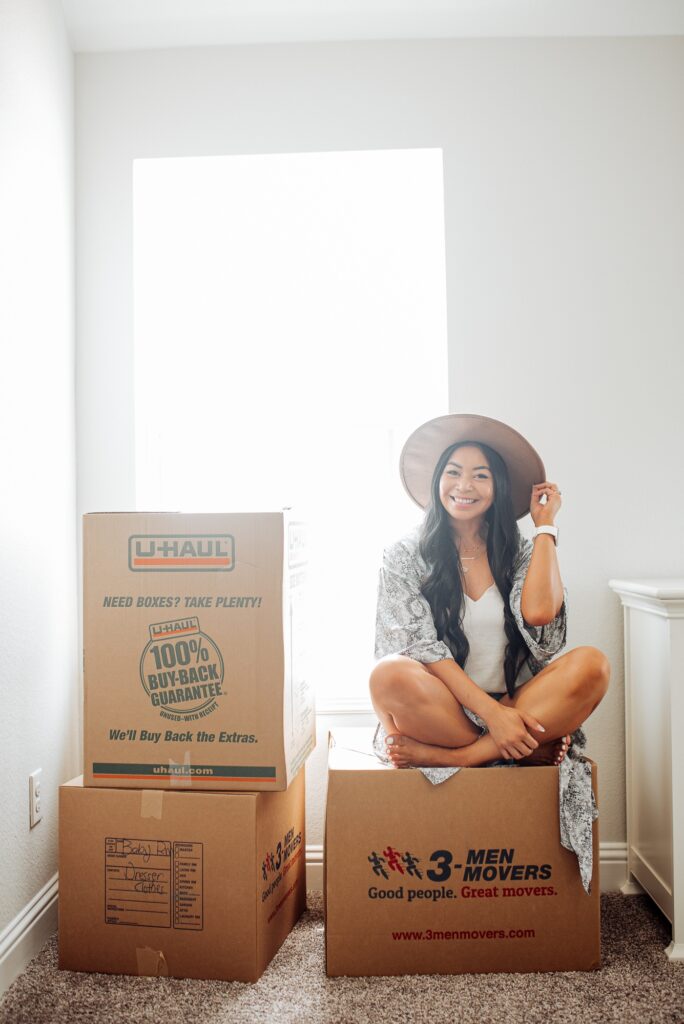 3 Men Movers Moving Services
I feel like this service is pretty black and white, but I do want to reiterate how kind and professional Daniel and his crew were!
To be completely honest, I 100% expected like one ding or scrape on a wall because I mean, that's the name of the moving game right? y'all I was SHOCKED that we did not have ONE incident. But that's not the only thing that sets 3MM apart from the other local moving companies. I had a chance to chat with their marketing team and even photographer and they all raved about how family oriented the company was. I feel like you can just tell that when you have happy employees, that their company is treating them very well, you know?
They also explained how careful they were about selecting and doing background checks on their employees. I mean I know that is such a weird thing to talk about but honestly so important when you are talking about a service that is coming into your home and driving off with your things. I just felt really good about the move every time I spoke to someone from the company about questions I had about the move.
There are options to reserve the crew for the first move of the day, 8am, which is what we did, or you can do a "flex schedule" where they come out in the afternoon whenever they are done with their first move.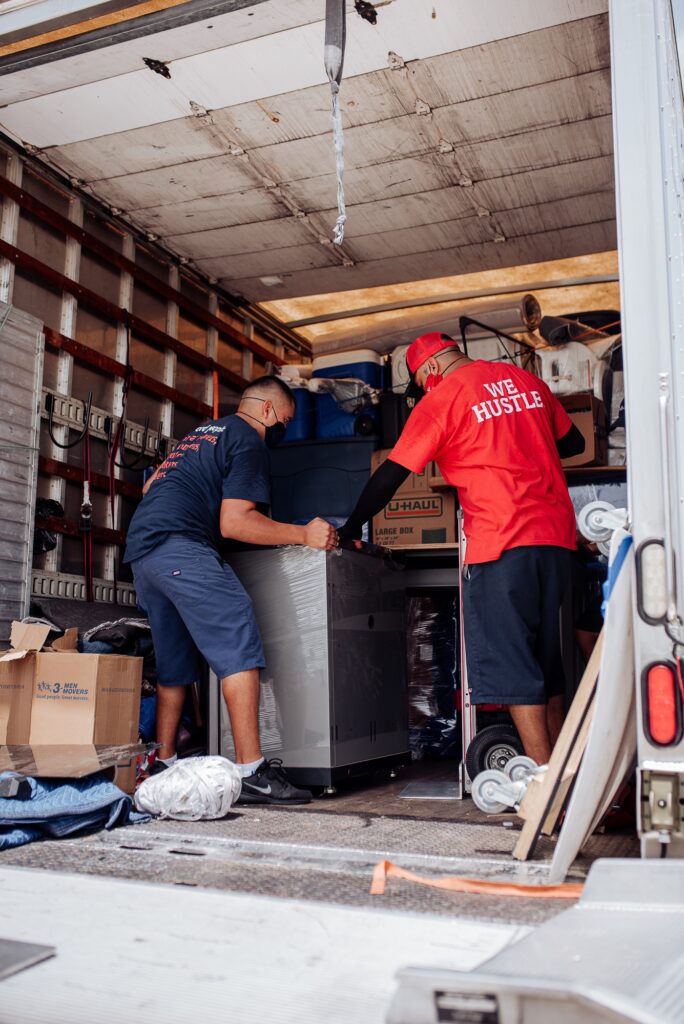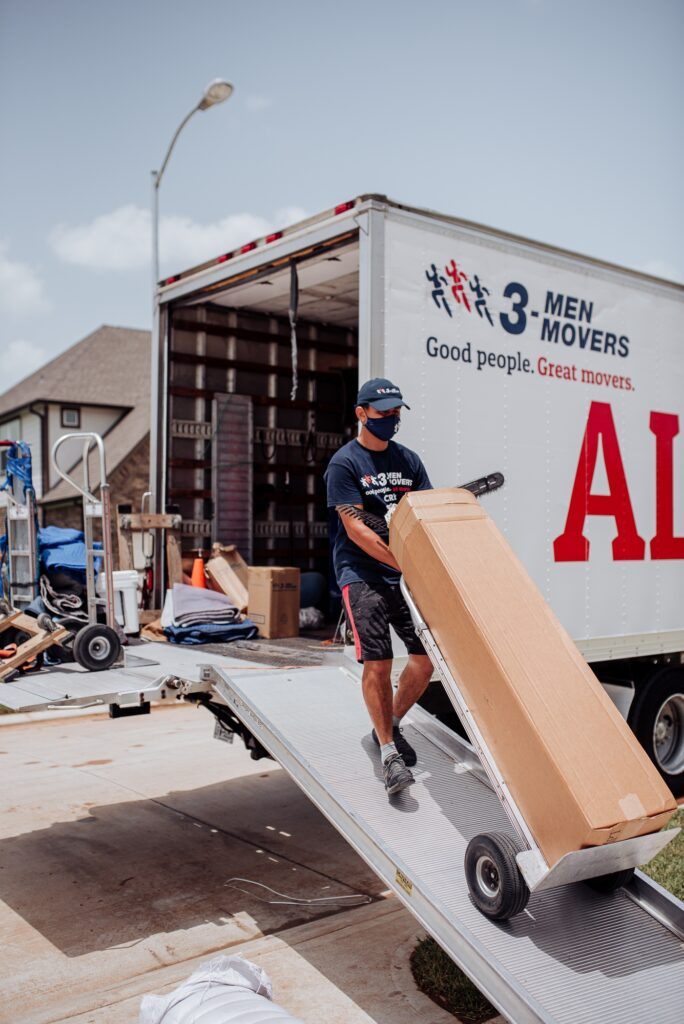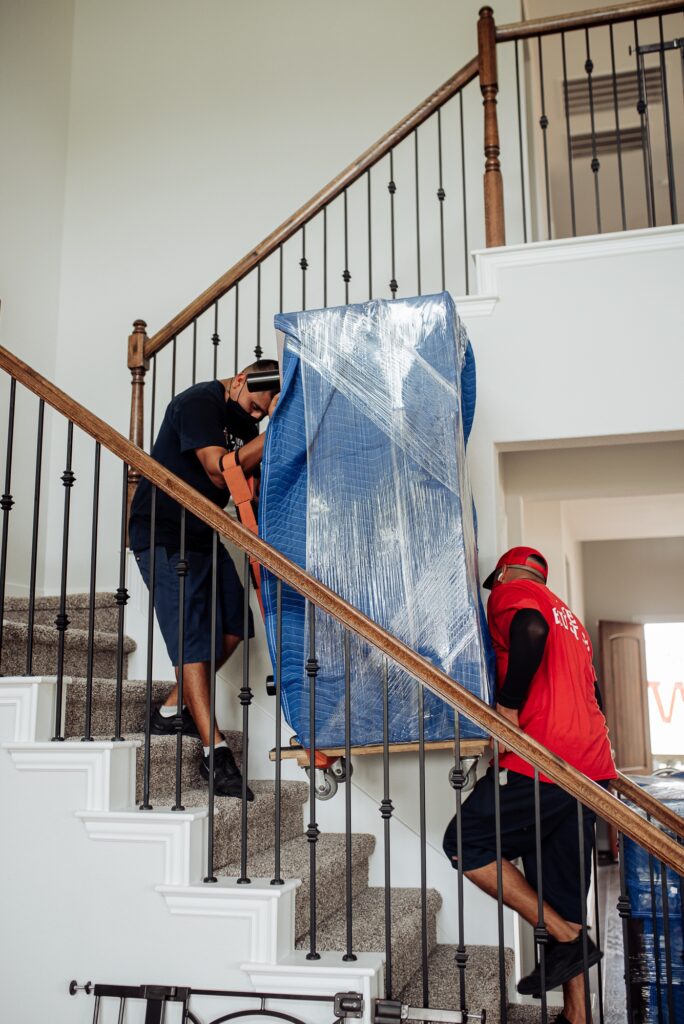 3 Men Movers Unpacking & Organizing Service
Okay so I asked y'all on Instagram, "if you had to choose between a company packing for you or unpacking for you what would you choose?"
SO many of you voted for the unpacking option and I don't blame you! Some of you even said that you still had unpacked boxes from years ago LOL. That would SO be me! The day of the move they arrived in the afternoon, maybe 2 hours after the moving crew arrived at the new house. They got straight to work.
Again, we walked through the house and I told them how we wanted everything. The only rooms they did not fully unpack were the garage and Brandon's office because Brandon wanted to do both of those things himself. I was like "unpack all of my stuff please" LOL.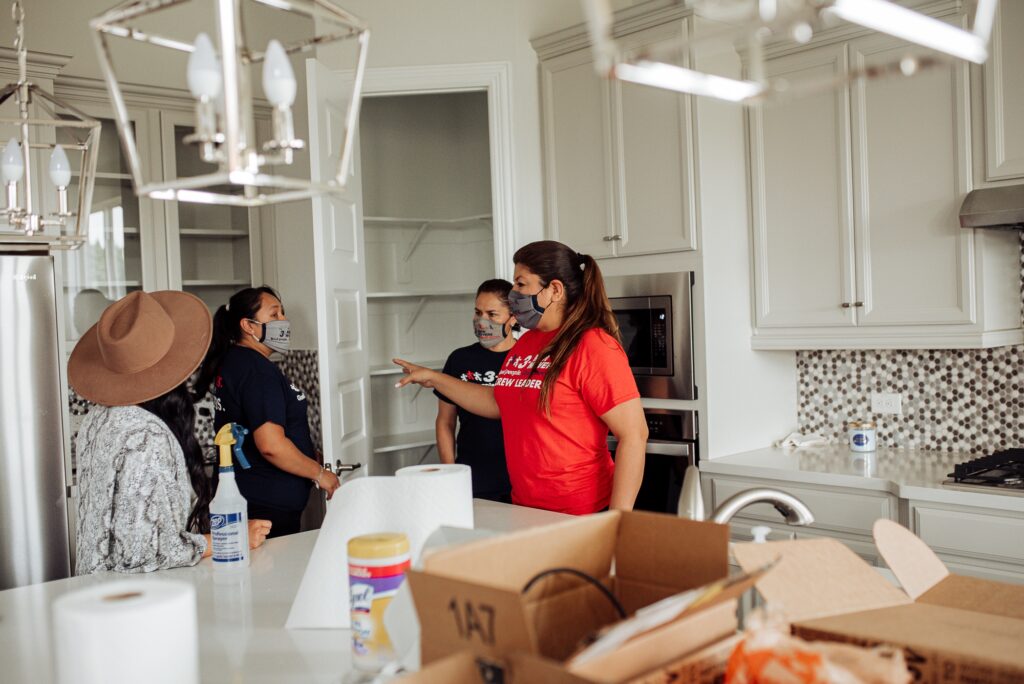 Top Six Questions You Guys Asked About 3 Men Movers:
1. How Much Do They Cost Per Hour? – For each service they charge $140 per hour plus a trip charge (for travel and gas) that is added to your total. The trip charge will depend on distance of your move. For me it was $100 but they will be able to give you a rate when you get a quote.
2. Do They Bring Packing Supplies? – Yes, the packing team has all of their own packing supplies and if you chose, you can have them use their boxes and add to your total or you can purchase your own supplies and they will use what you have and you will only be charged the per hour rate.
3. Does 3 Men Movers Take Apart Your Furniture For You? Do They Put It Back Together At The New House?– Yes, the moving crew disassembled all of our furniture for us. When they unloaded our furniture at the new house, the only thing they were not able to reassemble for us was the baby crib. They do not reassemble baby furniture for safety reasons so just make sure you ask them about any specific pieces you might have questions about. But for us, the only piece they did not reassemble was the crib. 4. Should You Tip? If So, How Much?– Honestly, I think this is a personal preference but we did tip and there is an option to tip when you sign them out. We had an amazing experience so I definitely wanted to tip them! As far as the amount, I would say no less than 15% and 20% plus if you were blown away by their service. Again, this is all personal preference and not required. 5. Do They Have Insurance In The Event An Item Is Damaged? – Yes, 3 Men Movers is licensed, bonded and insured. In fact, they were explaining to me how important it is to ensure that whatever mover you choose, confirm they are licensed, bonded and insured. Read more about why it's important here. But in a short answer, yes they are insured and are required to pay $0.60 per pound per item damaged.
6. Did I Feel Strange Having Someone Unpack and Organize For Us? – Ummm, that's a hard no from me, LOL! Anyone can come organize for me anytime, haha. But in all seriousness, I walked the entire house with the unpacking/organizing team so that they knew where we wanted everything. For example, I told them where I wanted the dishes, utensils, spices, coffee things, etc. in the kitchen. And even if you change your mind about placement weeks days later after you are becoming settled in your new home, it's nice to just have it already unpacked.
Moving it to another drawer or whatever it may be is easy. Unpacking, it is the worst part, LOL. Also, I do want to mention, you can hire this unpacking service for a minimum of 2 hours. So if you don't want some of the rooms unpacked by them, you also have that choice. The 2 rooms we did not have them unpack were Brandon's office and the garage. Brandon wanted to organize his stuff himself.
I hope this blog post was helpful! I know how difficult it may be to trust a company to come into your home and move your personal belongings so I wanted to share our positive experience with 3 Men Movers with you in case you are looking for movers in the future.
Feel free to ask me any other questions I may have missed!