Happy July! To be honest, in mid March I thought this year was never going to end! Can you believe we are halfway through the year?! Like, literally! 28 weeks have passed and we have 27 to go! So I guess if we are still procrastinating on those #newyearnewme goals, we should start now LOL.
This year has been full of surprises. Some good, some bad. I know we will all look back on 2020, like ugh, that year! But I am trying to focus on the positive that will be coming from this season. One being sister. We have no idea when she will be home but we know the date is coming soon! Another good surprise for this year was buying a new home. We did not plan on moving during a pandemic, but hey, God had other plans and I am so grateful.
Today I am sharing 9 home decor pieces that we purchased for our new home and have been loving!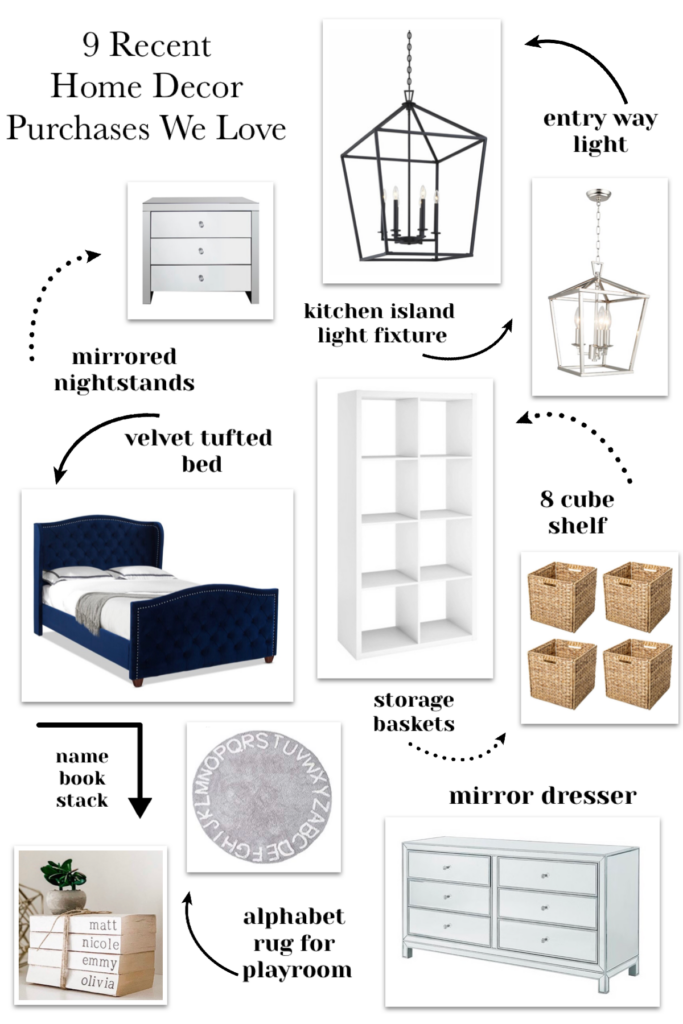 Entry Way Light Fixture – I am in love with the over-sized lantern light fixtures. It reminds me of modern farmhouse home decor. Although, modern farmhouse isn't 100% our style, we do love accents of it and this light fixture gives us just that! We got the matte black for our entry way!
Kitchen Light Fixtures– Brandon and I actually agreed on different ones but then I found these and hoped we wouldn't remember what he picked when they arrived. Unfortunately, he remembered LOL but fortunately, he liked these too. I was hoping these would be more like a brushed nickel but they are more polished. I still really like them! We got 3 to go above our kitchen island.
Velvet Tufted Bed– Ya'll! I am obsessed with this bed frame! The tufted and velvet detail are all of my bed frame dreams come true! I seriously did not think Brandon would agree with my choice of bed frame or dressers but he did and I am so happy! #happywifehappylife LOL
Mirrored Dresser– Such a great quality piece and so often can be found on sale! Just an FYI in case you run across it when it's fully priced, just wait a week and it will go on sale! It goes on sale on and off all the time. It was a beast to unpack if you caught my stories LOL but at least you know it's safely package as the entire thing is mirrored and super delicate.
Mirrored Night Stands – I was hoping to find the exact matching set to our dresser but honestly these look so similar to the mirrored dresser that it totally could pass as a set!
Name Book Stack – Our book stack makes me smile so big! I actually kept it in a box until we moved because I wanted it to be the first piece of home decor that we put on the fireplace in our new home. Seeing sisters name along with ours every morning reminds me that she will be home with us very soon.
Alphabet Rug – This adorable rug is perfect for a playroom or kid's room! I knew I wanted it for the playroom but kept seeing retailers have it for $100+ and I did not want to spend that much on a playroom rug. So glad I finally found this one!
8 Cube Storage– Same thing with this piece. So many retailers sell items like this for $150+. I finally found this one for under $100 and snagged t up real quick! It's currently sold out at Target and Amazon but linking it here in case you want to get on an email list for when it's back in stock. I also saw reasonably priced ones at Ikea! Shelves like this even make a great piece for offices and entry ways!
Storage Baskets – This 4 cube storage set is really great quality. They fit perfectly in the white shelf unit too. Such a nice way to organize toys, markers and such! I love that these give off more of a home decor vibe more than a "it's just storage" vibe, ya know?!
I am excited to continue sharing home stuff with you guys! Decorating our new space makes me so happy and finding stuff on sale for ya'll makes it even better! If you have any questions about anything, feel free to ask!

Click below to shop items mentioned in this post: