Sharing 9 empties with ya'll today! Well, technically 7 empties because 2 I didn't like so much that I ended up getting rid of the half full bottles! I usually use the products until they are completely gone but the two hair products I used for two weeks and kept trying to love them but I just couldn't!
So let's get to it!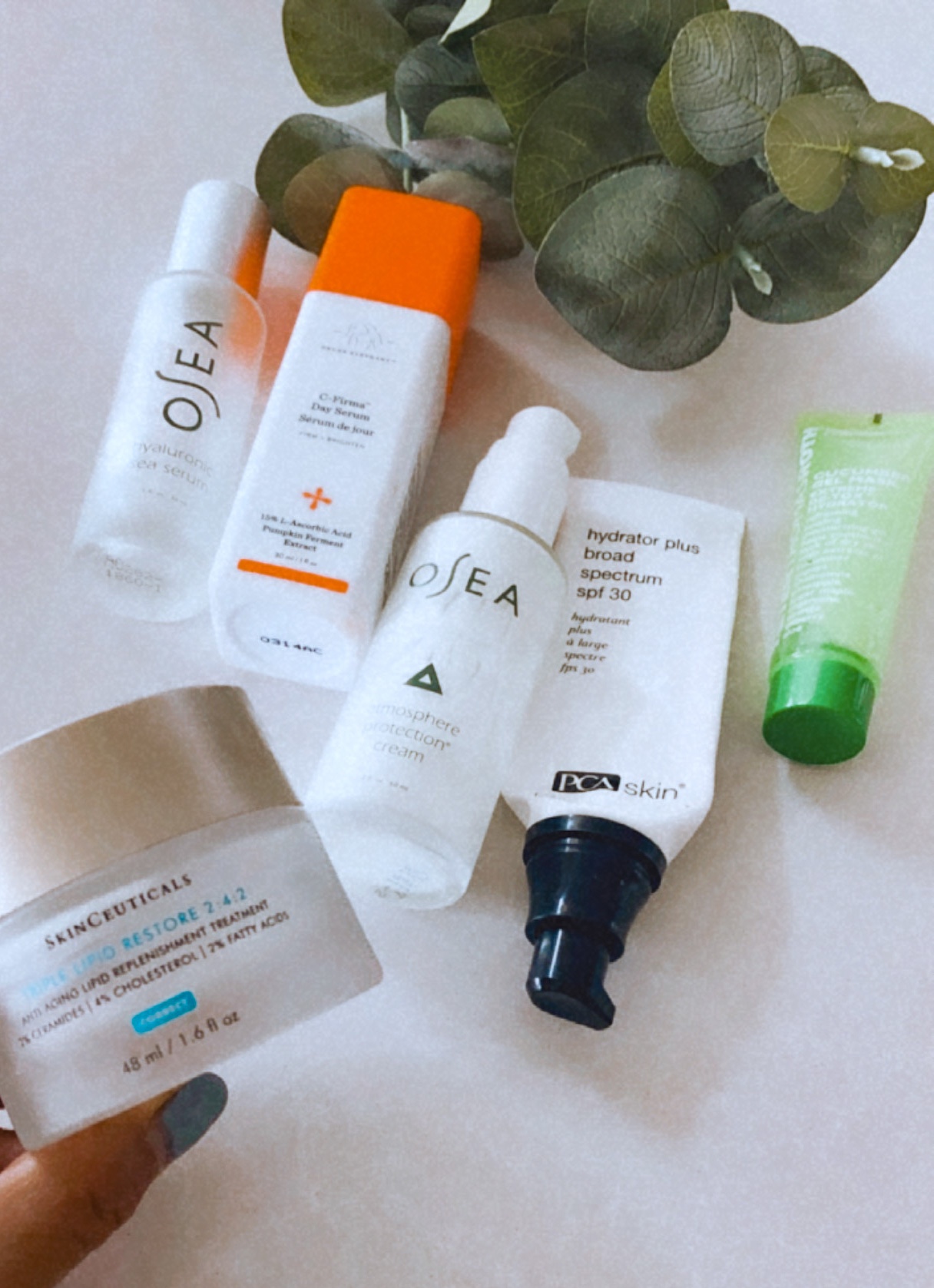 Drunk Elephant C- Firma Day Serum
What It's Supposed To Do: Reveal a brighter, firmer, and more even looking complexion. This potent 15% vitamin C day serum packed with antioxidants, nutrients, and fruit enzymes work to visibly firm, brighten, and improve the signs of photoaging.
How To Use: Apply evenly to a clean, dry face, neck and chest in the mornings. Also, note with any vitamin C serum, I recommend not stocking up on these products (yes, even when they go on major sale!) because the pure, l-ascorbic acid is best when fresh!
My Opinion: I already ordered another bottle! After just a few days I started to notice my skin brightening and feeling more firm. It has definitely helped with my smile lines and I already ordered another bottle!
Skinceuticals Triple Lipid Restore 2:4:2
What It's Supposed To Do: As we age, complexion creates less of certain lipids, resulting in a loss of facial fullness, an uneven texture and the appearance of fine lines and wrinkles. The triple lipid restore cream is infused with these essential lipids, antioxidants, vitamins and other nutrients to fight free-radical damage and smooth skin texture. The result is an improvement in elasticity, moisture levels and radiance, leaving your skin supple, healthy and radiant.
How To Use: Apply twice daily to face, neck and chest. Apply a small amount between fingertips, warm and melt the cream in circular motions.
My Opinion: I definitely noticed a change in the texture of my skin and fullness. I think it definitely improved the elasticity and moisture levels for me. This product is pricey but definitely on my repurchase list!
Osea HYaluronic sea serum
What It's Supposed To Do: This fast absorbing concentrated serum is said to smooth the appearance of fine lines and provide visible lift. A synergy of three molecular weights of Hyaluronic Acid and three nutrient-rich seaweeds work together to restore and maintain optimal moisture level.
How To Use: After cleansing, apply serum over skin. Allow to absorb. Seal in with moisturizer of your choice. Use morning + night.
My Opinion: I can see why they call this a "moisture magnet". This hyaluronic serum keeps my skin so hydrated. My skin just drinks it right up! The formula is super lightweight and found it great to pair with any of my moisturizers! I would definitely buy this again!
OSEA Atmoshphere Protection Cream
What's It's Supposed To Do: This everyday lightweight moisturizer hydrates while providing barrier protection against environmental pollutants. Our antioxidant-rich formula is full of Seaweed, Shea Butter and Omega-rich oils.
How To Use: After cleansing skin, apply preferred serum. Massage cream onto face.
My Opinion: This cream is a great texture. Goes on smooth and is extremely lightweight. It felt hydrating to me but I did not see it do a difference with my skin. It is super important to use an antioxidant rich formula but I don't think this one is for me. I will not repurchase.
PCA Skin Hydrator PLus Broad Spectrum
What It's Supposed To Do: Protects skin against UV rays with a hydrating SPF, formulated with caffeine to prevent free radical damage.
How To Use: Apply sunscreen 15 minutes prior to exposure to allow the active ingredients to penetrate the skin. 
My Opinion: We all know how important sunscreen is and I am constantly trying new face ones that protect and can easily be paired with makeup. I loved this one and would definitely repurchase!
Peter Thomas Roth Cucumber Gel Mask
What It's Supposed To Do: This gel mask is supposed to help soothe, hydrate and detox the look of dry skin with botanical extracts of Cucumber, Papaya, Chamomile and more.
How To Use: Apply a generous coat to clean skin. Keep on skin for 10 minutes then rinse off with cool water. For an intensive treatment, apply a thin layer onto face and leave on overnight.
My Opinion: I got the small tube in a travel size kit I bought and to be honest I am glad I did not spend money on the whole bottle because this mask did nothing for me. I feel like it was just gel sitting on top of my skin and then after I washed it off my skin, my skin did not feel any more hydrated or anything! So…not repurchashing this.
Pantene Never Tell Dry Shampoo
What It's Supposed To Do: Freshen up any hair type and leaves no powdery residue behind, just clean, fresh-feeling hair.
How To Use: Spray into your roots and massage it in with your fingertips.
My Opinion: I had really high hopes for this dry shampoo because I've always been a Pantene fan but it did nothing for me. I feel like it didn't soak up any oils even when I sprayed in a ton of product. I usually go about 5-7 days without washing my hair and I had to wash my hair every 2 days when using this. After 2 weeks, I couldn't do it anymore. It smells really good though LOL. This will not be a repurchase for me.
Skinceuticals Tripeptide-R Neck Repair
What It's Supposed To Do: SkinCeuticals Tripeptide-R Neck Repair fights the signs of aging that occur on fragile neck skin. Powered by 0.2% retinol and a 2.5% tripeptide concentrate, this potent cream helps to minimize the appearance of horizontal necklines and wrinkles, loss of firmness, crepiness, and uneven skin tone revealing a firmer, smoother and more youthful-looking neck area.
How To Use: Apply 1-2 pumps every other night from décolleté to jawline by massaging the product in an upward motion. After one week, increase use to nightly, then twice daily as tolerated.
My Opinion: Pricey but worth every penny! Our neck and hands are the first to show signs of aging and even though I felt like my skincare routine has been great the past couple of years. my neck was not getting the love that it needed and I started to see deeper lines in my neck area. This cream helped me see a difference in just a week! I will definitely be using this again!
Eva NYC Shapeshifter Flexible Hairspray
What It's Supposed To Do: Deliver a non-sticky, workable hold to lock in styles and add a glossy finish.
How To Use: Use on dry, styled hair for a light hold and a glossy finish. Shake and mist all over to set your look.
My Opinion: I want to start off by saying, it's hard finding a hairspray I really like because my hair is super board straight and does not hold curl easily so I need a flexible hairspray that I can use a lot of without it feeling stiff or sticky. I usually spray each strand of hair before I curl and then once again when my whole head is curled I'll spray throughout one last time to "set". So as you can imagine that is quite a bit of product! While I am looking for a strong hold, I don't want my hair to feel stiff. The reason this shapeshifter hairspray didn't work for me is because I did not feel like it was a "flexible" hold at all. It was a bit sticky to me and at the same time did not hold the curl at all! This was one of the products I had to get rid of before even finishing the bottle so needless to say, I will not be repurchasing!
Let me know if you have any additional questions about these products!

Shop the products mentioned in this post: