Does the fact that I cut this charcoal mask container to get every bit of use out of it tell you that I loved it? LOL! Today I am sharing my personal review of the Charcoal Peel Off Mask, some Navy Hair Care Products, Olaplex and Bille Razor!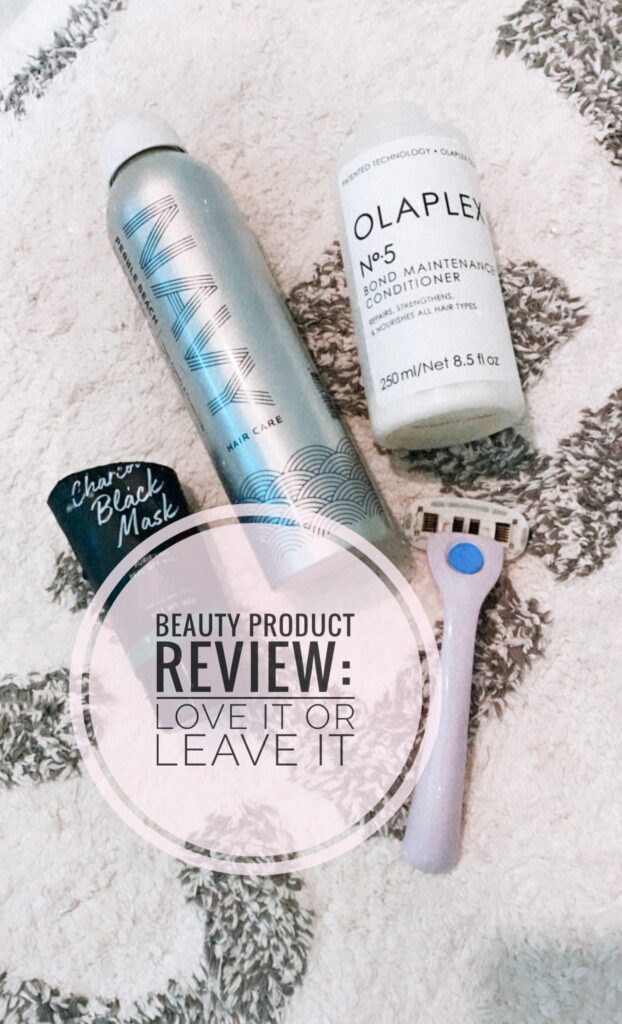 Charcoal Peel Off Mask: The purifying peel off charcoal mask contains powerful antioxidants that protect the skin while balancing the skin for a cleaner and more beautiful complexion.
What It's Supposed To Do: Activated charcoal draws out toxins, dirt, and impurities that clog pores for a renewed and clear looking complexion. This deep cleansing blackhead remover also effectively reduces signs of aging by tightening skin and smoothing out wrinkles.
How To Use: Using mask brush that is included, apply a thin layer of the product to clean skin. Wait 10-15 minutes for mask to dry and then peel off. Use warm water and towel to remove any excess product.
My Opinion: Don't sleep on this mask! This product was recommended by so many of ya'll! It made the Amazon 2020 Best of the Best list! This mask is so good! My skin instantly felt cleaner, tighter and my pores immediately looked minimized as soon as I peeled the mask off. I could not believe how good this $15 mask worked! I highly suggest trying it!
Olaplex No.5 Bond Maintenance Conditioner: A highly-moisturizing, reparative conditioner that protects and repairs damaged hair, split ends, and frizz by re-linking broken bonds.
What It's Supposed To Do: Repairs hair and maintains bonds within the hair, adds shine, strengthens.
How To Use: After using No.4 Shampoo, apply a generous amount from scalp to tip. Leave on for three minutes, then rinse.
My Opinion: Ya'll know I have been a Pantene girl since like my middle school days but after hearing so many great things about Olaplex, the influencer was influenced to buy this product! And….I'm already halfway through my second bottle! My hair feels healthier and thicker than ever!
Full disclosure: I still use my ACV concoction or a dry scalp shampoo at least once a week in addition to this because my skin and scalp are naturally so dry but this conditioner has truly done wonders for my hair otherwise!
Navy Hair Care Dry Texture Spray: "This spray creates thick, voluminous locks that are perfect for styling in just one spray. Sunflower seed oil helps keep your hair's natural movement while preventing breakage and keeping hair healthy and full of body."
What It's Supposed To Do: "Pebble Beach will help you achieve the sexy, tousled look of your dreams with a light, flexible hold spray with long staying power."
How To Use: Shake well. Hold can 8 to 10 inches away and spray in areas where you want definition and volume to complete your style. Best used on dry hair.
My Opinion: Umm, LOVE! This can actually lasted me like 7 months LOL. I don't use it everyday but when I do, I only need the smallest amount to give my hair that super full look. I usually use it when my hair is in a half pony or full ponytail for full volume! This texture spray gives the right amount of grit while still keeping hair feeling soft and it smells really good!
Billie Razor: Monthly subscription service for razors.
The Deets: For $9 a month you get your refill razors shipped directly to your house. You can also change or delay your shipments at any time. This razor is the only razor with a charcoal bar to give you a deep clean moment with every swipe. The starter kit also includes a magnetic holder so that you can easily store on your shower wall.
My Opinion: Okay, this was another thing I was influenced to buy and once I received my starter kit and tried it for the first time, I was figured out what all the hype was about! It was a super close shave and the charcoal soap gives you a smooth clean feeling after your shave. BUT! Once I received my refill package a month later I was convinced that they changed something about the razor or the charcoal bar or something! It is not the same ya'll! So I reached out and they said nothing was changed. I was like okay maybe I got a faulty package but then I received my next box and it's literally not like my first LOL. I know they said nothing has changed but I don't love it like I did the first time around. I do like the fact that this is an automatic subscription service and that it is so affordable but honestly I am not impressed with the quality any longer 🙁 so I will be canceling my subscription. Please let me know which razors you use because your girl needs to find a new one stat!
Navy Hair Care Charcoal Revitalizing Hair Mask: Organic Black Clay exfoliates without stripping your hair while drawing out toxins, impurities, heavy metals and encouraging hair growth.
What It's Supposed To Do: Deep cleanses hair into follicle, removing sebum, oil and product build up.
How To Use: Apply an ample amount of mask to clean damp hair. Work into scalp and comb down through hair to ends with fingers or a wide tooth comb. Leave on for 3-5 minutes then rinse thoroughly.
My Opinion: I love Navy Hair Care but this product is one I will not be repurchasing! Honestly, when I used it, it did make my hair feel "conditioned" but not any more than my normal, everyday conditioner does so for $47 I will not be repurchasing.
Again, I just like to say this on all of my "Love it or Leave it" blog posts: just because something does not work for me, does not mean it's a bad product. Everyone's skin type, hair texture and overall preferences are different so these posts are never intended to put out a negative review about a product. I just like sharing what works and what doesn't work for me!