Apple Cider Vinegar has various healthful properties including antimicrobial and antioxidant effects. Over the past few years I have read so much about the health benefits of Apple Cider Vinegar AKA ACV that I must admit I quickly hopped on the train. Now I drink it, I wash my hair with it and I even bathe in it. Yes, I am for real 🙂
Today I am diving into how I incorporate Apple Cider Vinegar into my health and beauty routine and why.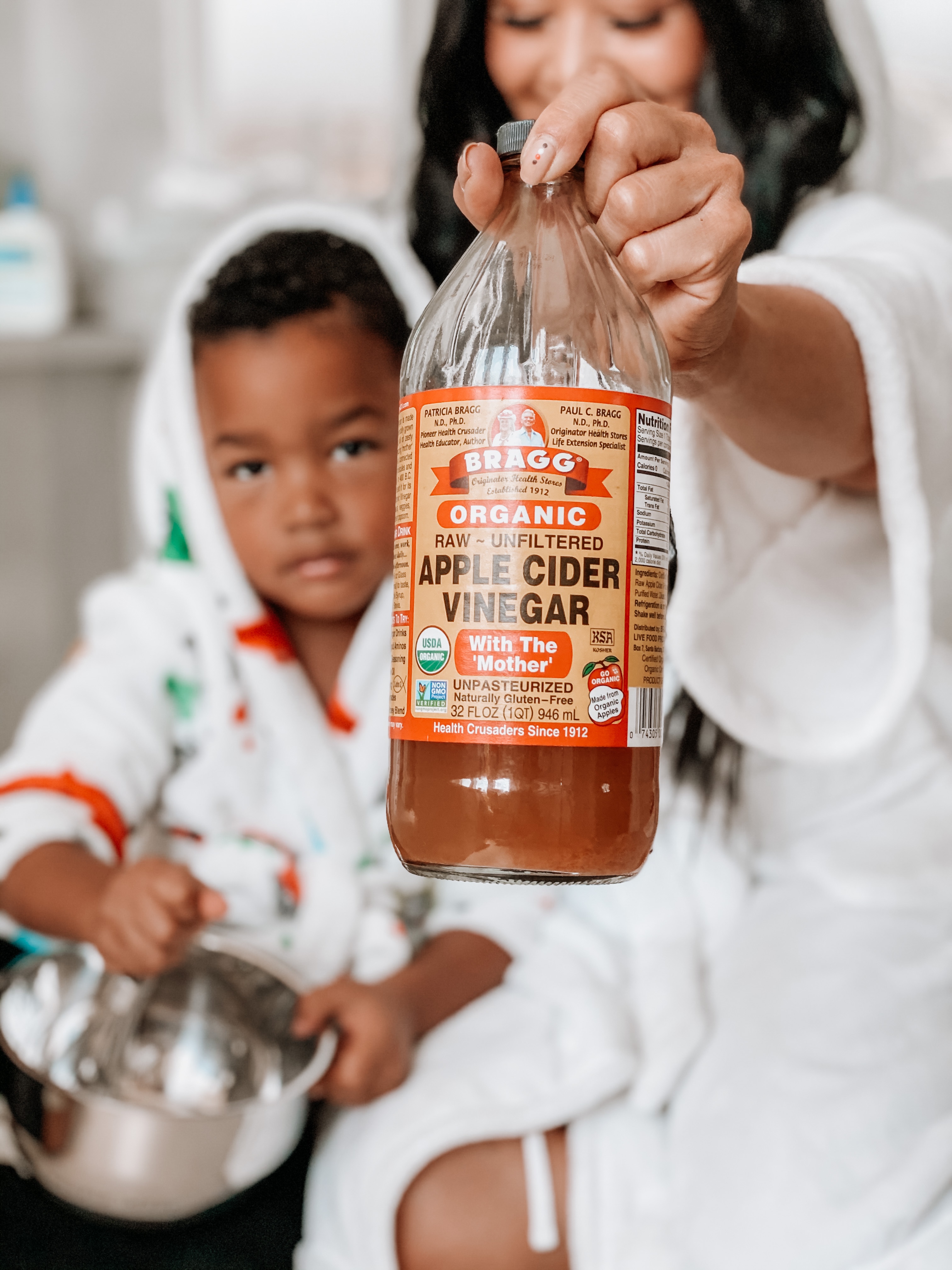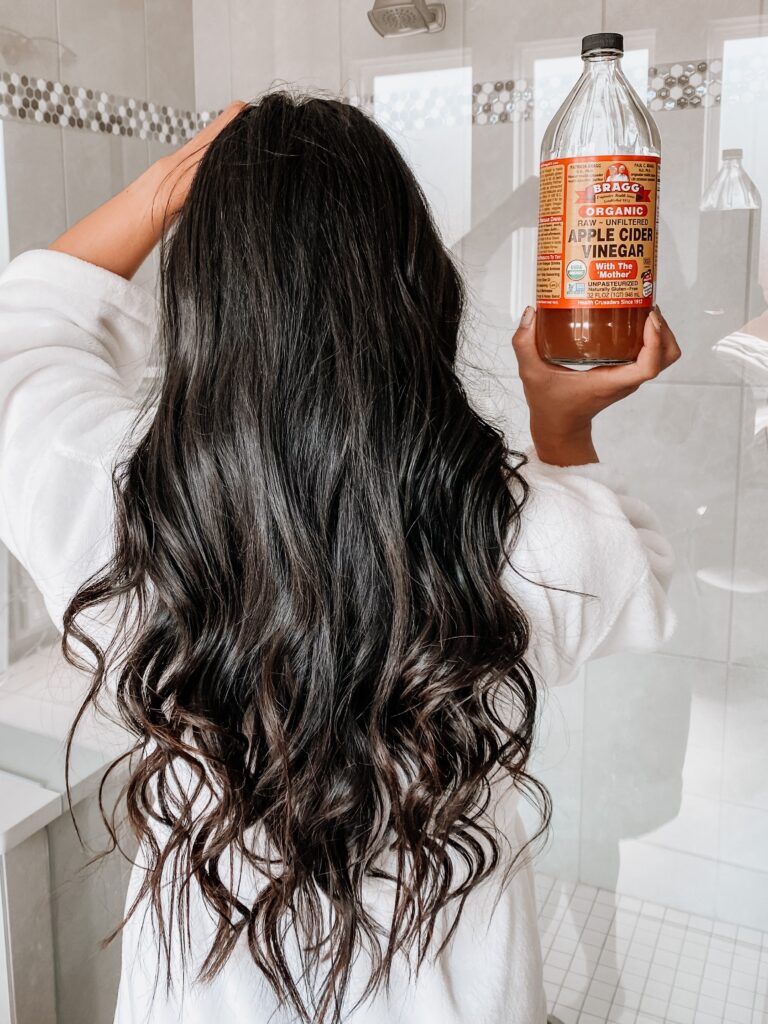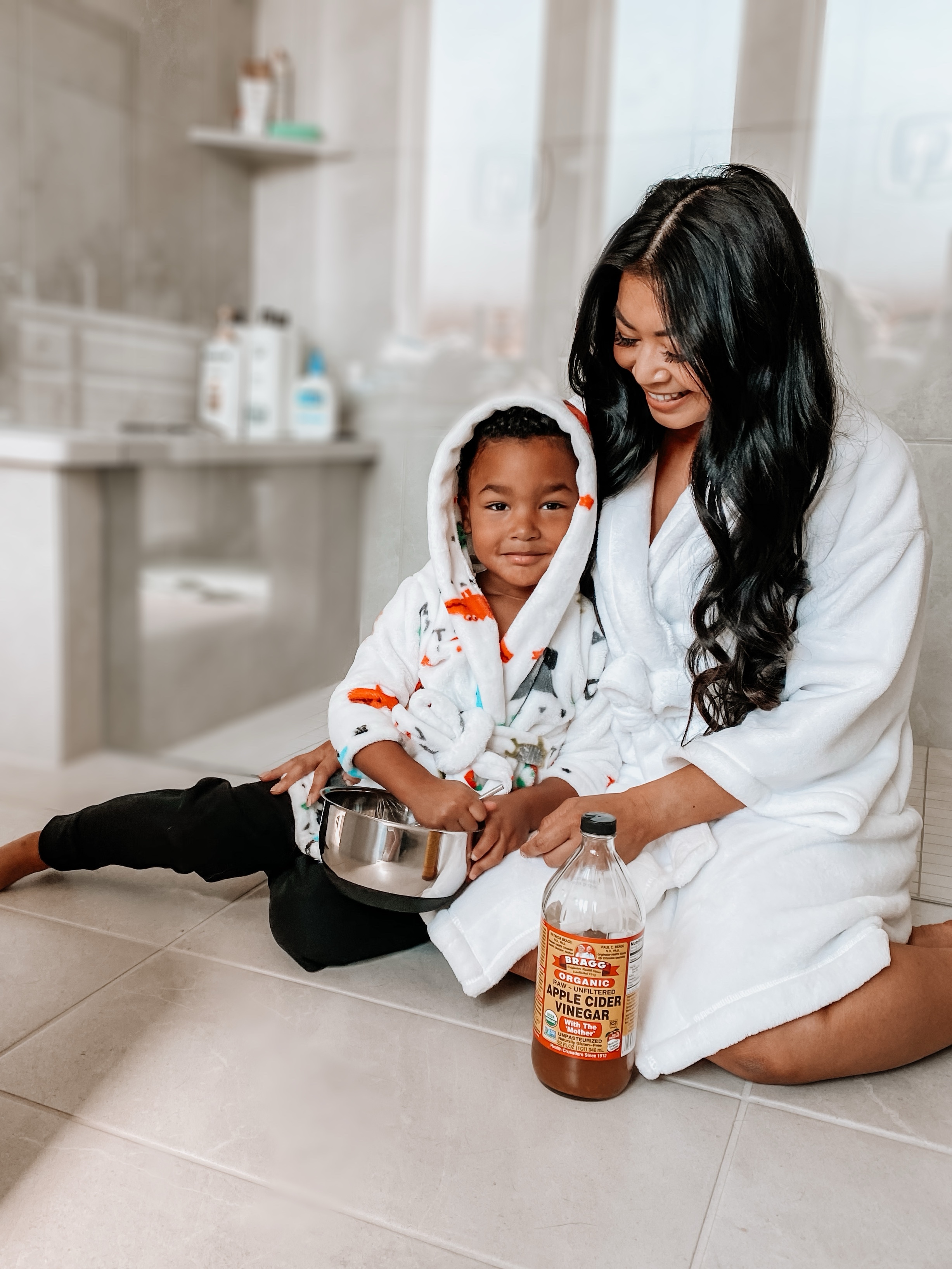 Benefits of Using Apple Cider Vinegar In Your Bath
I have shared my battle with eczema before but it's something I have had for as long as I can remember. Thankfully as I get older I have learned how to make the flare ups less frequent. Foods definitely play a big part in my flare ups and if I'm being honest sometimes your girl indulges even if I know there will be consequences LOL that's where my ACV baths come in.
Using topical Apple Cider Vinegar helps re-balance the natural pH level of the skin and improves the protective skin barrier. Since ACV is antibacterial and anti-fungal it seriously helps my eczema and dry skin so much.
How To Use In Your Bath: Just toss 1 cup of ACV into your hot bath and make sure you soak for at least 20 minutes.
I always use Apple Cider Vinegar in Landon's Detox Baths. You can read more about that here.
Benefits Of Drinking Apple Cider Vinegar
When I found out ACV can help in aiding weight loss, reducing cholesterol and lowering blood sugar levels, I was all for trying it!
How Much To Drink: I am not a doctor but I have read to take one tablespoon to 1 "shot" every day. I, personally, take one shot a day.
ACV aids in weight loss by reducing cravings and studies show it has helped lower blood sugar, improve insulin sensitivity, lower cholesterol, and so much more. My parents actually put their shot of ACV in fresh grapefruit juice everyday so if the thought of drinking straight Apple Cider Vinegar does not appeal to you, try diluting it with water or throwing it in some yummy grapefruit juice.
Benefits Of Washing Your Hair With Apple Cider Vinegar
I shared this on my Instagram stories a few months ago and ya'll went wild LOL! Yes, I wash my hair with ACV every once in a while. I used to do it every week but now I probably do it once a month.
I started using it because my scalp was super dry. Like I mentioned before ACV helps with my eczema flare ups so I figured it would help on my dry scalp. Once I tried it I realized how much it actually made my hair feel softer AND helped get rid of my product build up. Ya'll know I love my dry shampoo and prefer not washing my hair often LOL but on top of that add in hairspray and already dry skin, my scalp loves what ACV does for it.
How I Use ACV In My Hair: I just take 1/4 cup of ACV (remember I have a lot of hair LOL so use accordingly) into the shower with me. Step one: rinse hair with shampoo of choice. Step two: pour ACV directly onto my scalp and then evenly distribute through my hair. Let sit for at least 2 minutes. Step three: condition as usual.
Benefits I have seen: Helps with product build up, helps with dry scalp. makes my hair feel softer and look shinier.
I hope ya'll enjoyed today's tips! If you use ACV another way in your life, let me know! I'd love to hear!