Ya'll were making me feel like Cindy Crawford's no aging self the other week when I told you I was 37! LOL! It honestly made me feel really good and less worried about my wrinkles so THANK YOU. We are truly our own worse critics.
I had been going back and forth for like two years about getting botox. Brandon isn't actually for it so although I know he would support me in any decision I decided on, i started to research some other ways to keep myself looking young and then I remembered that a Houston Wellery and Spa offered something called a Notox Face Lift. I have visited the Switch 2 Pure spa before for the "You Go High, I'll Glow Go" facial and it was Ah-mazing!! I figured the Notox facial was worth a shot!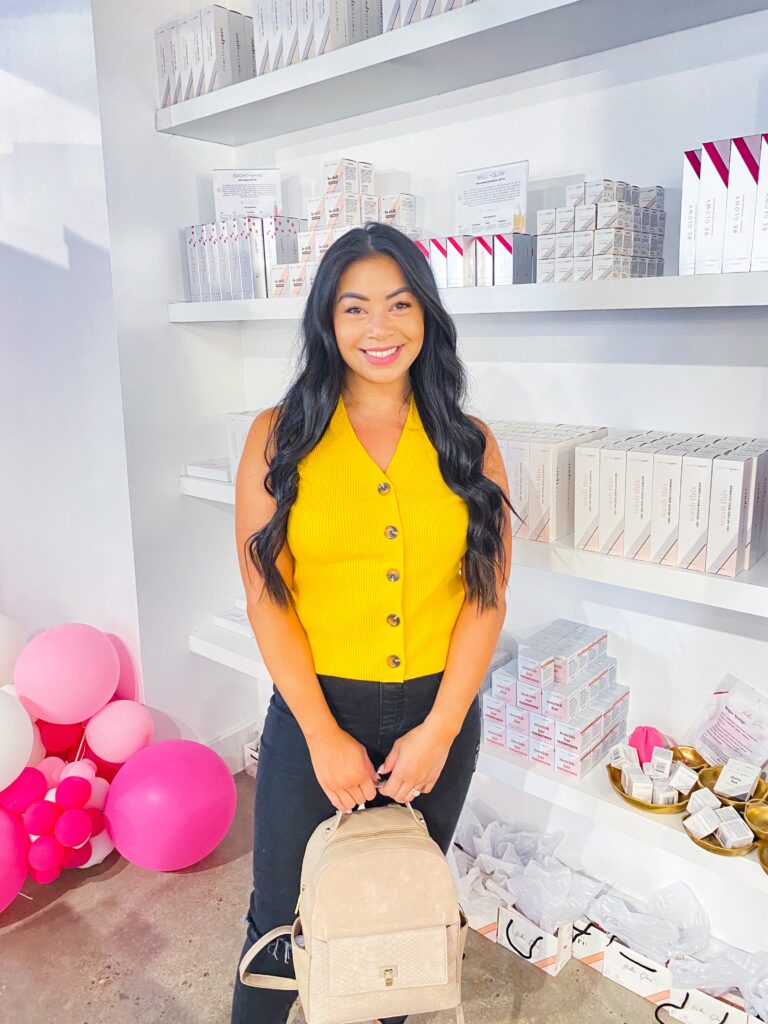 5 Most Asked Questions From Instagram Stories:
Does it hurt? – No, not at all! There are no needles or injections so the facial is totally painless. I feel like I got this question a lot because I was talking about this facial in the same conversation as botox so many people assumed there were needles involved. No pain at all!
How much does it cost?- One facial cost around $325 but definitely call to book your appointment (this one or any service!) then mention my name for a discount.
Is there any down time?- Nope! It is a non-invasive facial so no redness or anything afterwards.
Why did I choose to try the Notox Face Lift?- Like I mentioned I had been going back and forth on botox but instead of immediately going that route I decided I wanted to try some other things that would help treat areas I need help with: fine lines, wrinkles, firmness. The more I read about the Notox facial, the more I learned this facial is geared towards women who are around my age who were concerned about wrinkles, aging, plumpness of skin, etc. It sounded exactly like what I had been looking for so I decided to give it a go!
How many treatments do you need to get before you see a difference?- I feel like this answer will be different for anyone. Switch 2 Pure recommends 3-4 Notox facials before you start to see a difference but honestly I already saw a difference after one!
I also do need to point out that I have worked with Switch 2 Pure in the past in exchange for treatments and an honest review. I will 100% be going back for more treatments on my own dime. Totally worth the money and I love that everything is organic and about clean beauty and skincare.
You can read more about the owner, Estela's, story here but in a nutshell she was faced with mysterious symptoms from food allergies to autoimmune disorders, and even Lyme disease. Estela took a closer look at the everyday products her family used and discovered the ugly truth: health-harming parabens, gluten and phthalates. She began asking questions, doing more research and long story short was inspired to create products that were not harmful, eco friendly and non toxic. She has created effective, experiential products from CBD cleansers, plumping spray serums, Retin-A alternative oil for antiaging, to a vitamin-rich spray serum that leaves your skin glowing!
If you are in the Houston area I would highly recommend visiting their location. Even if you aren't going in for a service, you should definitely try out a product or 2. I was shocked seeing how well the Well & Glow oil worked for me! It's a retinol substitute so great for sensitive skin.
Okay so back to the Notox Face Lift. Like I mentioned, I wanted to try it because it was basically everything I wanted botox to do for me but no chemicals so I figured it was worth a try.
I'm not a skincare expert, I just know what I want my skin to feel and look like 🙂 and boy do I give this facial an A+++!!
I really wish I would have gotten a no makeup before photo but I had a photoshoot that morning before my appointment so that didn't happen. Next time I will remember to snap one. On the right is a no filter photo right after my facial.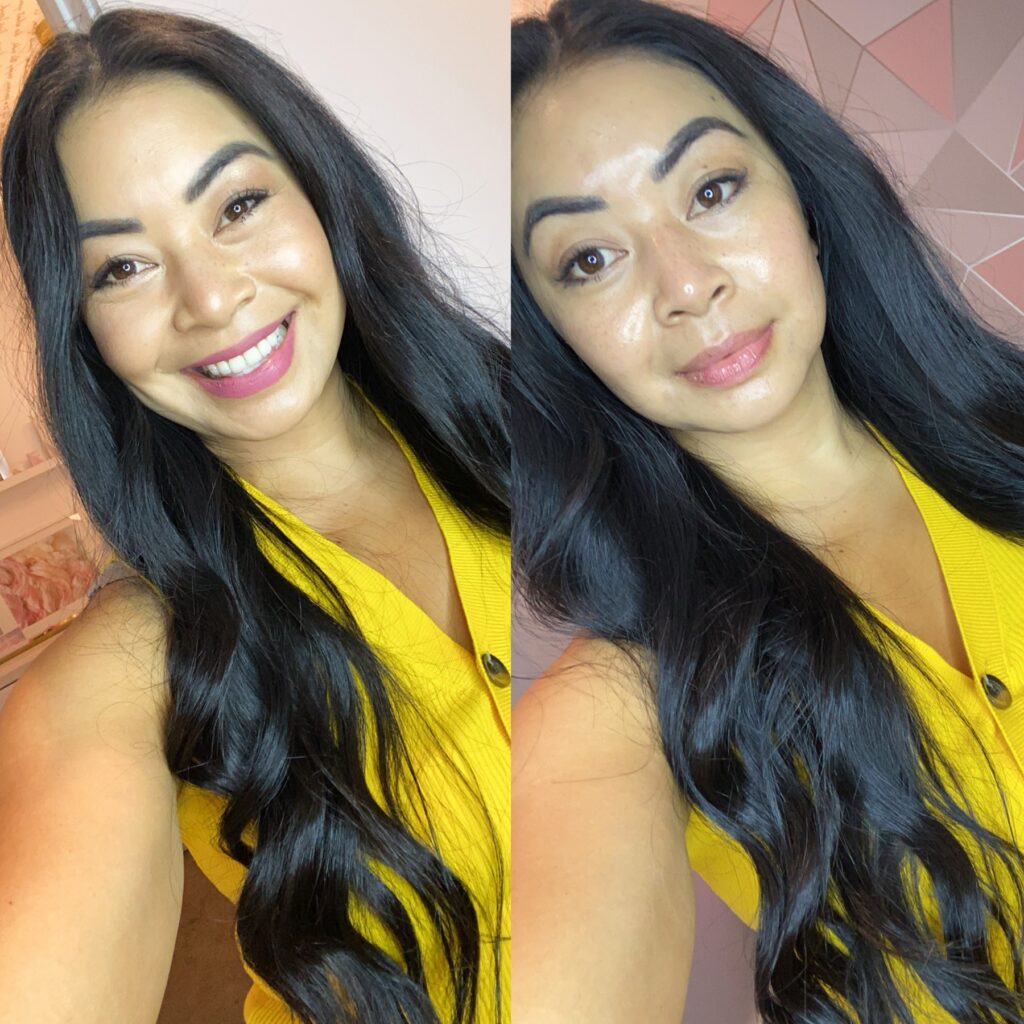 What it's good for: Mature skin, over 40 and concerned about wrinkles, pore size, age spots and sagging, and even those with parched or dehydrated skin? The Notox is for you! It's the gold standard of GLOW at Switch2Pure.
The facial: At Switch2Pure our seasoned estheticians provide performance-based facial treatments including deep hydradermabrasion, radio frequency, ultrasound, LED, needleless-mesotherapy, oxygen infusion and anti-aging mask. Your experience always begins with a complete skin analysis and recommendations. We have brought together powerful, organic and natural ingredients, years of experience by skin gurus and internationally acclaimed machines that are often found abroad and at physician's offices. The Notox Facial Treatment is our signature 'Face Lift'. This noninvasive treatment is recommended for a vibrant, lifted, toned, plumped, and a firmer appearance.
The Switch 2 Pure website mentions it may be 3-4 consecutive treatments to see a difference it has made to you skin but I seriously saw it quickly after. The glow and the firmness of my skin I could see and feel almost immediately.
I can't wait to go back in for another Notox facial in 3 weeks and if anyone is still wondering, after this facial, I think I will hold off on botox for another year or so! 🙂