This post is done in partnership with Walmart.
You guys LOVED when I shared the lumpia tutorial but so many of ya'll have yet to try it because you haven't had time to go to a local market to find the right lumpia wrappers to use so I thought it would be fun to share 2 other Filipino recipes where all of the ingredients can be found at your local Walmart! And even better, delivered straight to your door with Walmart +.
If you guys haven't signed up for the Walmart + membership yet, you can still take advantage of the 15 day free trial. In that trial you will be able to take advantage of all of the Walmart + benefits:
Free delivery from your local store (with a $35 minimum order, restrictions apply).
Member prices on fuel
Mobile scan & go -The Mobile scan & go benefit allows you to check out with your phone as you shop in store. Just scan your items as you shop and finish your transaction at self-checkout. Less time at the register and a contact-free checkout!
Free shipping. Walmart+ members get free shipping from Walmart.com. No order minimum required, so you can get items shipped as often as you need-for free
And like I mentioned, I was able to get all of the ingredients I needed for these authentic Filipino recipes through Walmart + so let's go!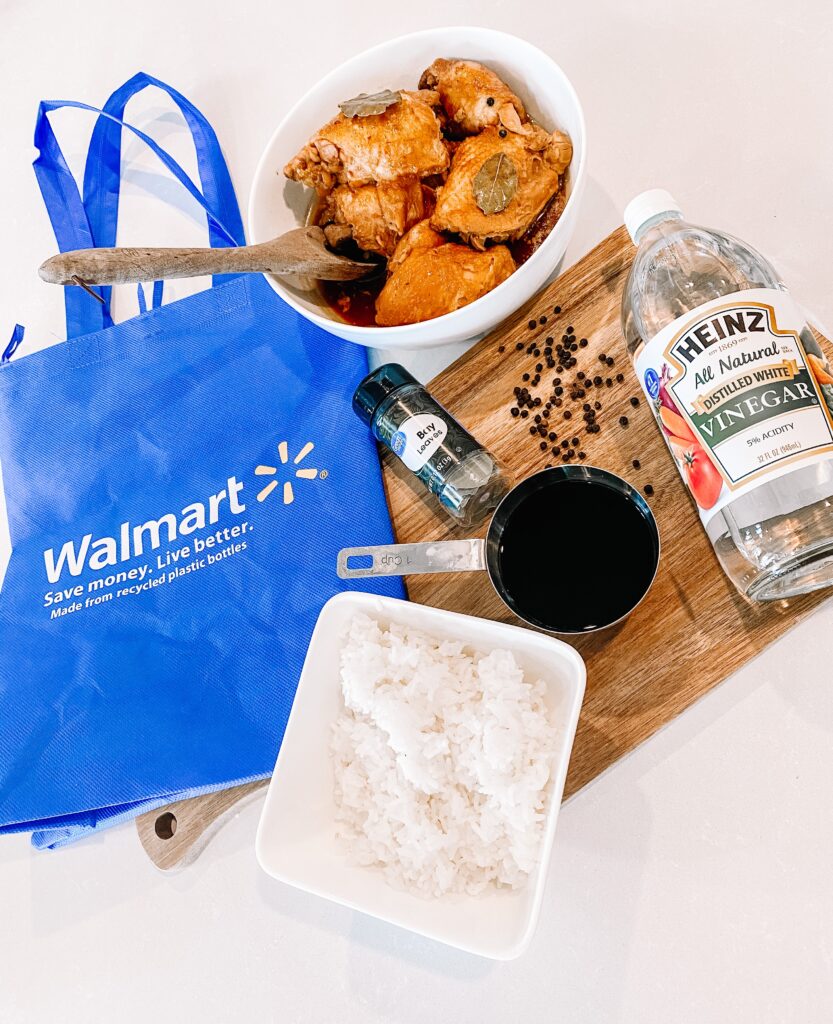 Chicken adobo recipe
Chicken Adobo was always a favorite in our house growing up and I love that now it's a favorite of Brandon's and the kids! Total bonus that it is super easy to make and only 6 ingredients (7 if you include the cup of water that you need!)
Ingredients for chicken adobo
8 bone in chicken thighs
1 cup soy sauce
1 cup white vinegar
1 cup water
10 black peppercorns
4 bay leaves
2 cups Calrose rice
How to Cook Chicken Adobo
Place all ingredients (except for rice) in a large cooking pot
Bring liquid to a bowl then lower to medium heat and cover for 40 minutes
After 40 minutes uncover, stir/flip chicken and let cook for another 15th minutes
And that's it! We eat ours over the Calrose white rice 🙂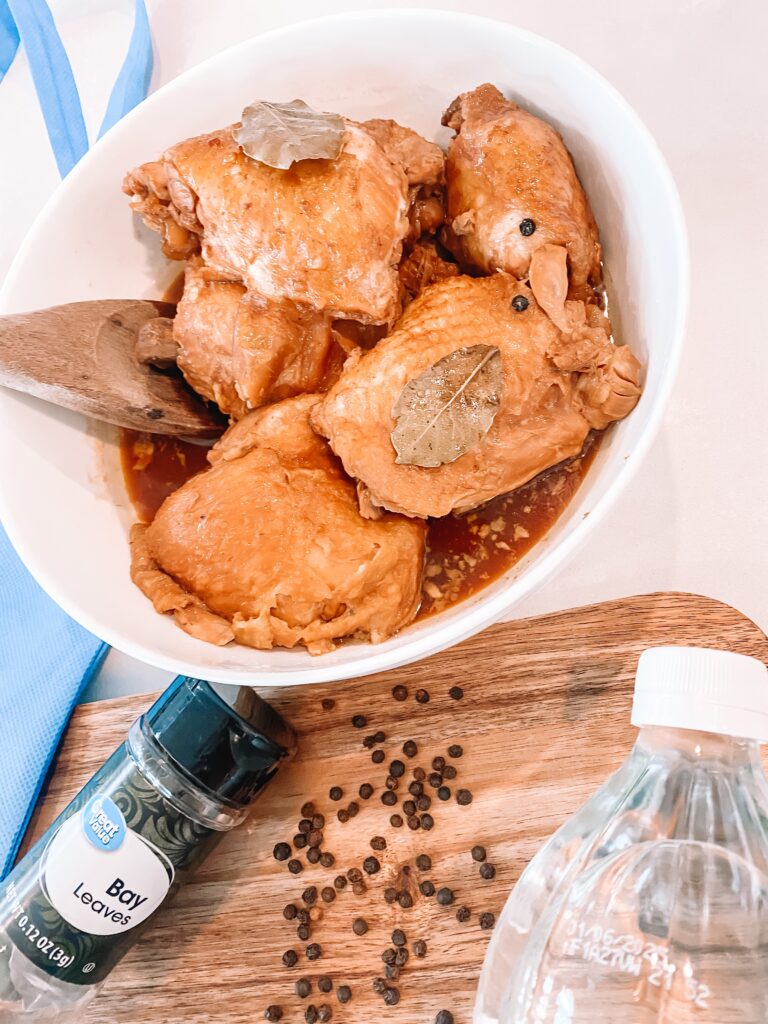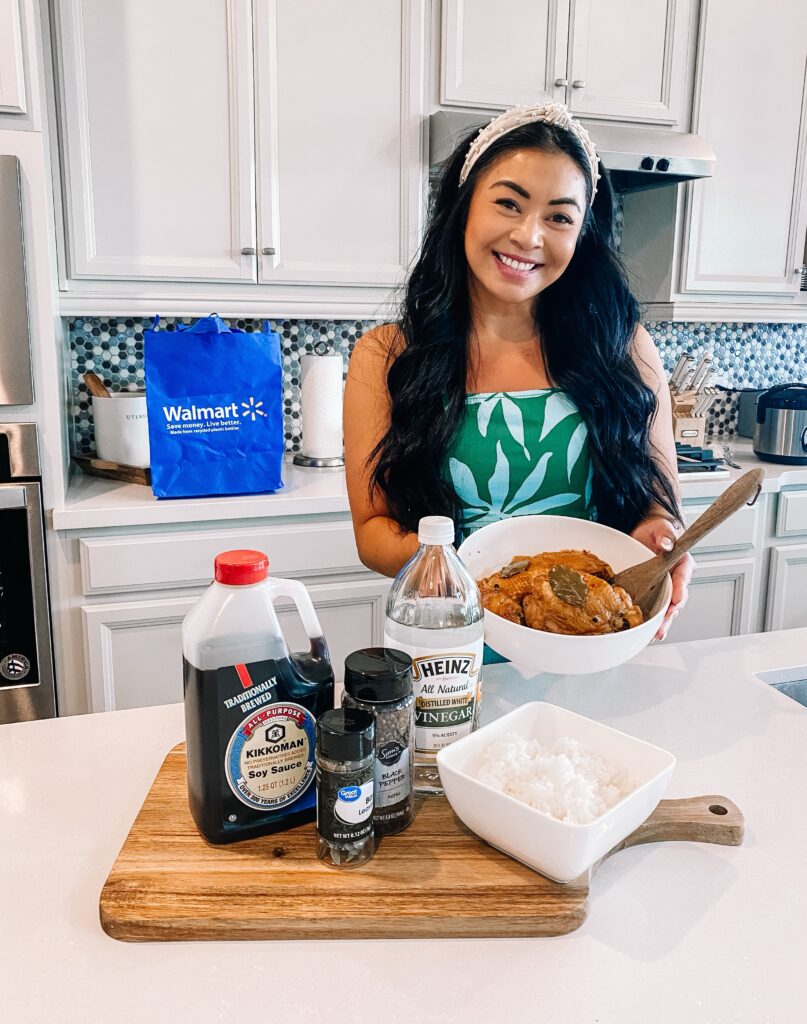 Filipino leche flan recipe
This was a dessert that we could always guarantee would be at our gatherings growing up. I used to think it was so hard to make but it was probably because my Mom alays made a dozen of them at a time and I only make one LOL. Here are the 5 ingredients you need to make Leche Flan.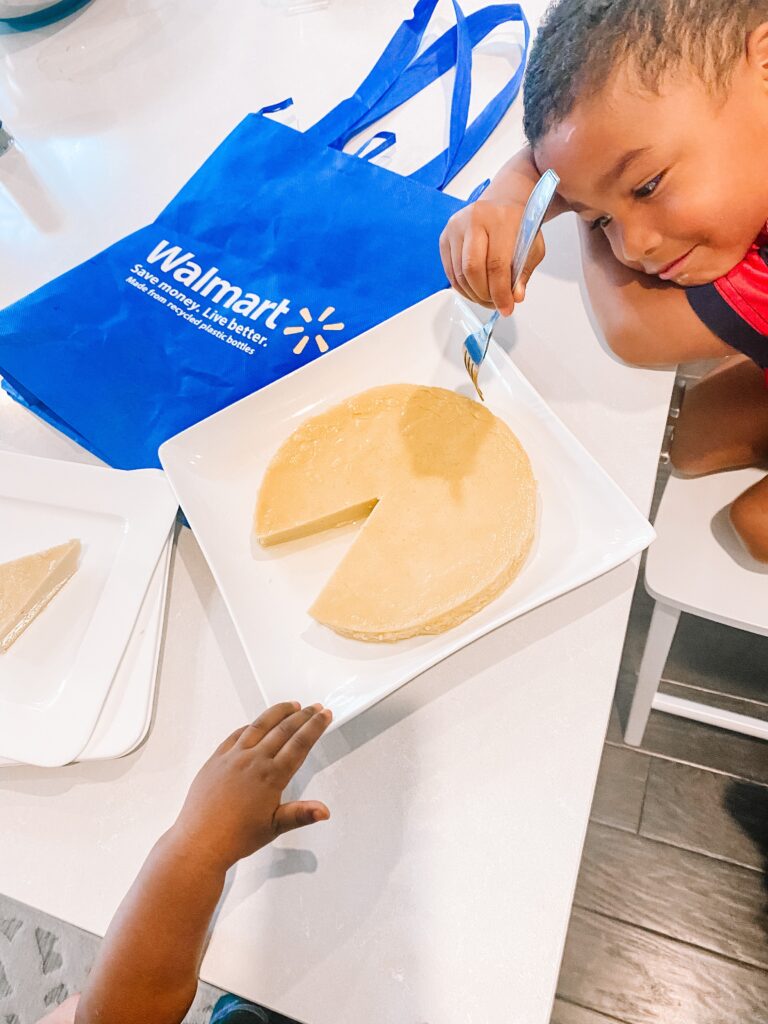 Ingredients for leche flan
12 egg yolks
1 can condensed milk (14 oz)
1 can evaporated milk (12 oz)
1 cup granulated sugar
1 teaspoon vanilla extract
2 tablespoons water
how To Make Leche Flan
Preheat oven to 350 degrees
Whisk egg yolks gently, then add condensed milk, evaporated milk, and vanilla extract and stir until combined. *try to whisk gently to avoid getting bubbles in your flan
Add the sugar and water to a pot over medium heat and cook until sugar dissolves. Lower heat and cook until completely melted. Pour melted sugar into a round baking pan and tilt pan around until evenly coated. Let set for a few minutes until it hardens.
Pour the milk and egg mixture through a metal strainer into the pan, on top of the sugar mixture
Take a baking tray that is large enough to fit around your flan cake pan and place the pan inside. Pour about an inch of boiling water into the large, outside tray. Put the tray (with the pan inside) into the oven for about 50 minutes. To ensure it is fully baked, test to see if toothpick comes out clean.
Remove the pan from the water bath and let cool. Refrigerate until cold. Do not rush the cooling process! If it it's too warm, it might fall apart. Once cold, run a knife around the edges and gently flip leche flan onto your serving plate
We like to add a caramel syrup or even strawberry syrup to ours these days but I wanted to include the authentic Filipino flan recipe and then you can add whatever you like!
If you try this recipe, I'd love to see how yours came out so be sure to tag us @roselynweaver. I also will save a video highlight of how I made these dishes here.