We absolutely love to travel and explore new cities around the world but we often forget that the delicious restaurants and historic explorations that we search for across the globe can be found in our own backyard.
You guys may have seen that a few weeks ago Cindy and I were having a fun girls day in Galveston. Well I am happy to share that we were there on assignment with the Houston Chronicle. We were on a mission to take you through a day with us in Galveston to experience the beach town on a whole new level and let me tell you, it made us fall in love with the city all over again.
I've lived in Houston for a little over ten years and our usual trip to Galveston includes enjoying some fun in the sun and ending the day at one of the many restaurants on the seawall. While I still myself having these kind of beach days every Spring and Summer ahead, I wanted take a deeper dive into the side of town that I had never took the time to experience before! Below I am sharing our girl's day itinerary to help plan your next visit to Galveston.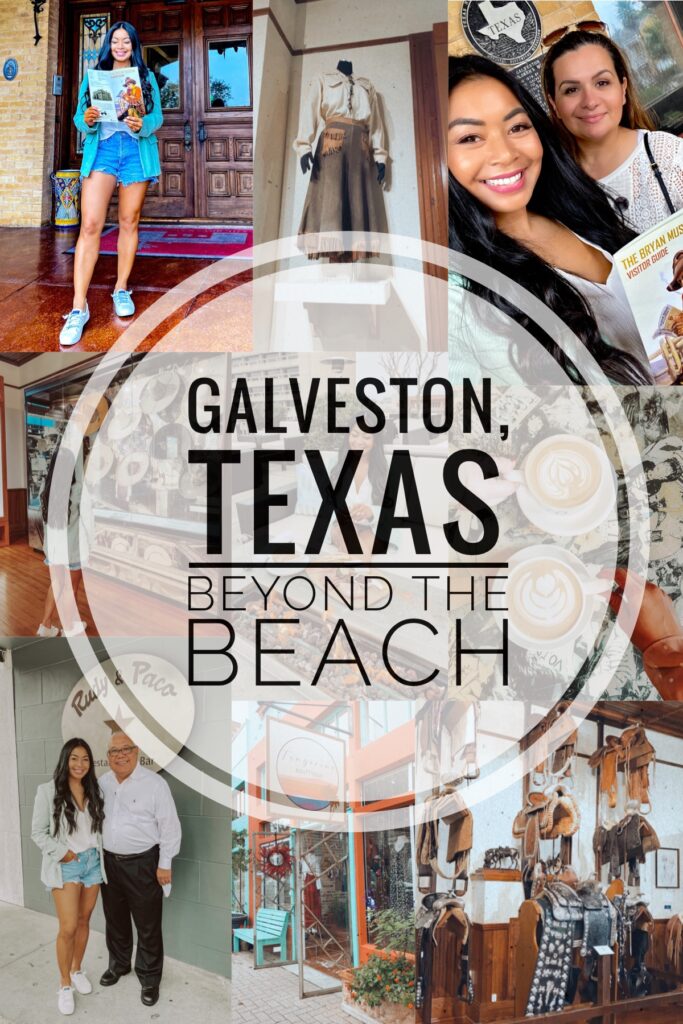 The Perfect Girl's Day Itinerary in Galveston, Texas – Beyond The Beach
Coffee at Mod Coffee House: The cutest coffee shop on the island if you ask me. They have specialty coffees like Almond Joy, Milky Way and Caramel Dream that gave us that morning caffeination that we needed to start our girl's day off on the right foot! I loved the cool hipster vibe and the crowd was diverse from people having business meetings, to firefighters (oh hey single ladies), and people of all ages in the sitting area next door working on their laptops or reading.
Tour of The Grand Opera House: We had the honor of taking a private tour through The Grand and it was like immediately being immersed into a different century. The 125 year old theatre has survived major damage from natural disasters but after touring the beautifully designed building, you can tell there has been a lot of TLC put into the theatre and now it stands stronger than ever. Although The Grand started as a opera house, today it hosts a wide variety of shows and performers like Willie Nelson, Million Dollar Quartet, The Beach Boys and a musical I definitely want to see, An American in Paris. You can check out their website for show schedules. It would make for the perfect evening for a girl's night or even a date night! If you want to schedule a tour like we did, you can also do that on The Grand website.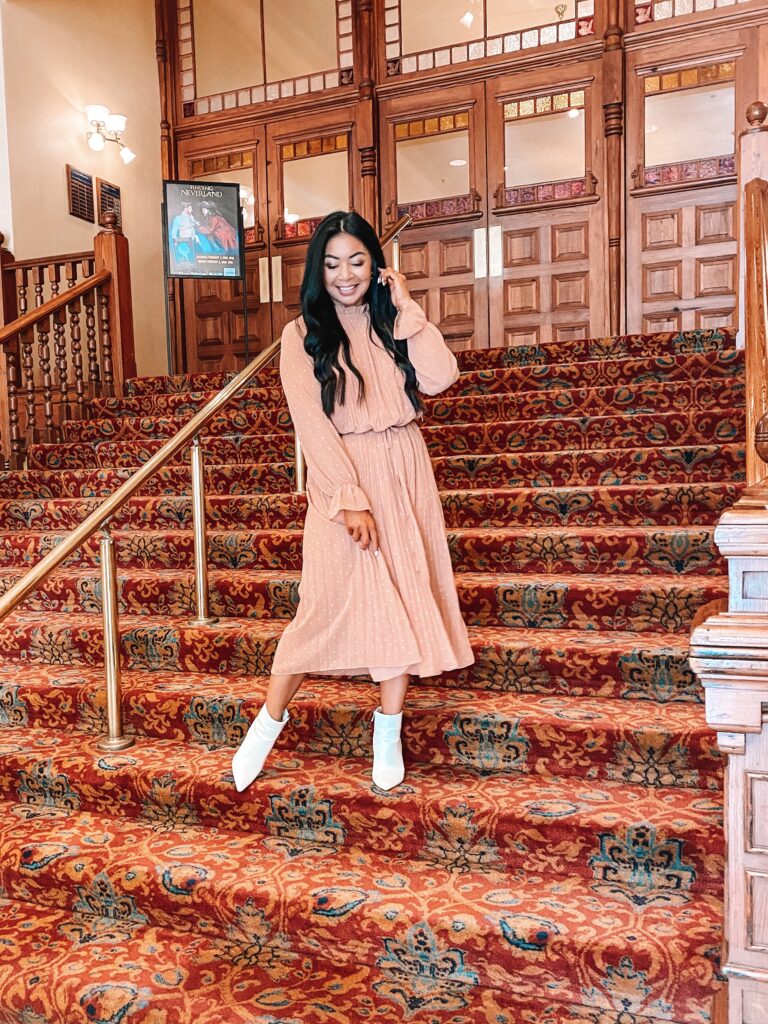 Shopping on Post Office Street: Don't miss out on all the cute boutiques, antique shops and art galleries on Post Office Street. So many great shops all in walking distance of each other. Some of my favorite shops we visited were Tangerine Boutique, Ha.Ba's, Style Co., and Nautical Antiques.
Lunch at Rudy and Paco's: After touring The Grand and doing some shopping, we definitely worked up an appetite. So many great restaurants ranging from Tex-Mex to Asian fusion all within walking distance of each other. We opted to try out Rudy and Paco's as it came highly recommended. Rudy and Paco's is just one of those special places. Not only did Mr. Paco himself greet us as soon as we sat down but he chatted with us about the history of his restaurant and it made our lunch there even more special. I had the Mahi Mahi and Cindy had the shrimp tacos that were both the specials of the day and friend's, I say this without exaggeration, that was the best Mahi Mahi I've ever had in my life. If you watch my Instagram story highlights from our girl's day you'll hear Cindy sharing that the shrimp tacos were the best she's ever had as well! While you are there and even if you feel like you cannot take one more bite, you must try their famous cuatro leches cake. Totally worth having to roll yourself out of the restaurant!
The Bryan Museum: Our next stop after lunch was The Bryan Museum . It's no secret that Galveston has ton of museums but with only one day to explore some "new to us" locations, we decided to stop into The Bryan Museum since it is the newest museum on the island. The building operated as an orphanage in the late 1800's-early 1900's and today sits on the most beautiful property. In 2015, it opened as a non-profit institution to preserve and promote the history and art of Texas and American West. Below are photos of us enjoying the Texas Frontier gallery getting some Rodeo Houston outfit inspiration ?
Happy Hour at The Tremont House: If you thought that after the delicious meal at Rudy and Paco's we would not have room for a cocktail, then you would be wrong. We wanted to end our perfect girl's day in Galveston with a bang so we ended it enjoying a drink and charcuterie board at The Rooftop Bar at the Tremont House. The Rooftop Bar serves creative seasonal cocktails like the Merry Mule, Cinnamon White Chocolate Martini's, Butterscotch Hot Toddy's and more. Before we sipped on our delicious cocktails and enjoyed a great view of downtown and the harbor, we took a tour through the ultra chic Tremont House hotel. The tour had us contemplating whether or not we were going to call our husbands and tell them we were just going to stay the night, ha! With the perfect downtown location, comfortable rooms and southern hospitality, The Tremont House would be the perfect accommodation destination while staying in Galveston.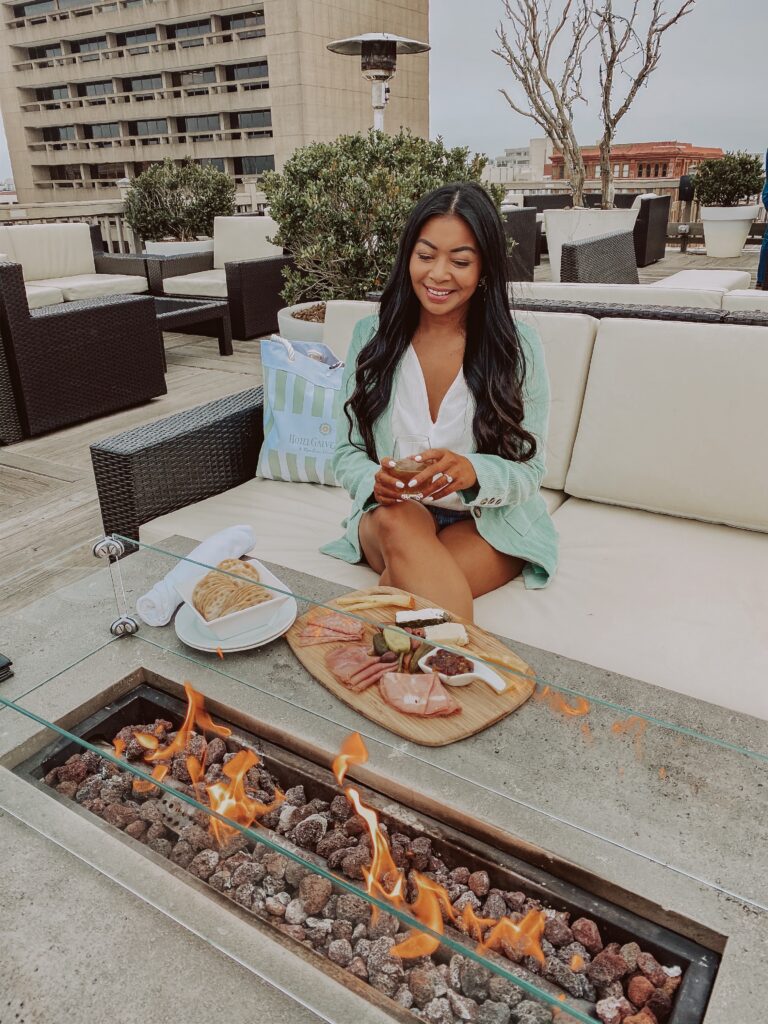 Also something I didn't know is that Tremont House is a sister property to Hotel Galvez so guests staying at Tremont House can enjoy the beautiful pool and spa at Hotel Galvez. There is a shuttle that will take you to and from the properties if you don't have a vehicle or just don't want to drive!
We had so much fun spending a full day of doing "new to us" activities in Galveston. With an arrival time of 10:15 am, we spent about 8 hours enjoying our full itinerary above. That includes walking to each of the places. We fit in so many fun activities and delicious food during our girl's day in Galveston, but it's safe to say we are planning a trip again soon that will include some other places we had on our list but didn't have time to visit. Some of these stops will include: La King's Confectionery for a sweet treat, Vargas Cut & Catch for dinner and Daquiri Time Out for some unique, craft cocktails.