If Bavaria is on your bucket list but you haven't made it to Germany yet, Leavenworth is for you! Leavenworth, Washington is a charming Bavarian style village located in central Washington State surrounded by the beautiful Cascade Mountains. The views are reason enough for me to go back but in today's post I am sharing all the fun things you can do in 48 hours to make it a trip of a lifetime!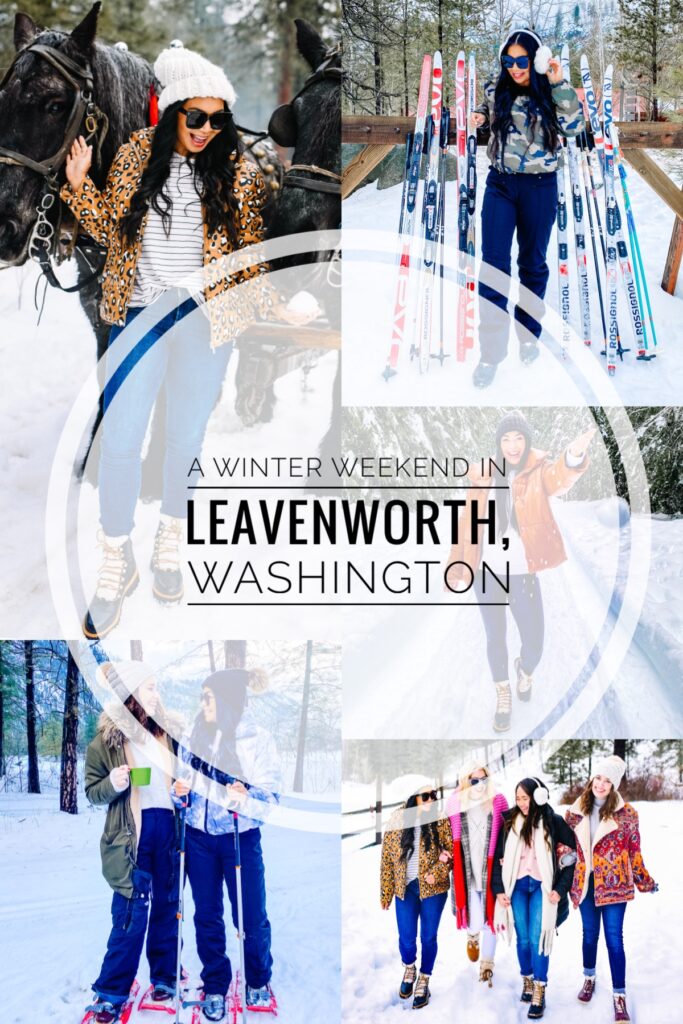 How to get to Leavenworth, Washington: We flew into Seattle and drove 2.5 hours to the charming Bavarian town. Another airport option is Spokane. From the airport you can drive, take the train, or shuttle. We ended up driving so we could have a vehicle to get to all of our activities and after experiencing the absolute most beautiful scenic route ever, we had no regrets!
A train ride would have been another fun way to take in the views but with all of the stops, a one way trip from Seattle to Leavenworth could have taken up to 4 hours so that is definitely something to keep in mind if you are heading up for a short stay like we were. Also, if you are taking the train make sure to pay attention to the schedules as we noticed at the last minute there were no trains leaving Leavenworth on Sunday, which is the day we were heading home so that schedule would not have worked for us.
Day One In Leavenworth, Washington
We flew in Thursday afternoon. Our flight landed around 11am so we grabbed our Mazda CX9 rental and headed to grab a quick bite in Seattle before we headed onto our scenic drive into Leavenworth.
Once you arrive in Leavenworth, you will totally forget you are in Washington State! Or the US even! The Bavarian Village looks like it was taken right out of a storybook drawing! The buildings, the food, even the street signs are so on theme!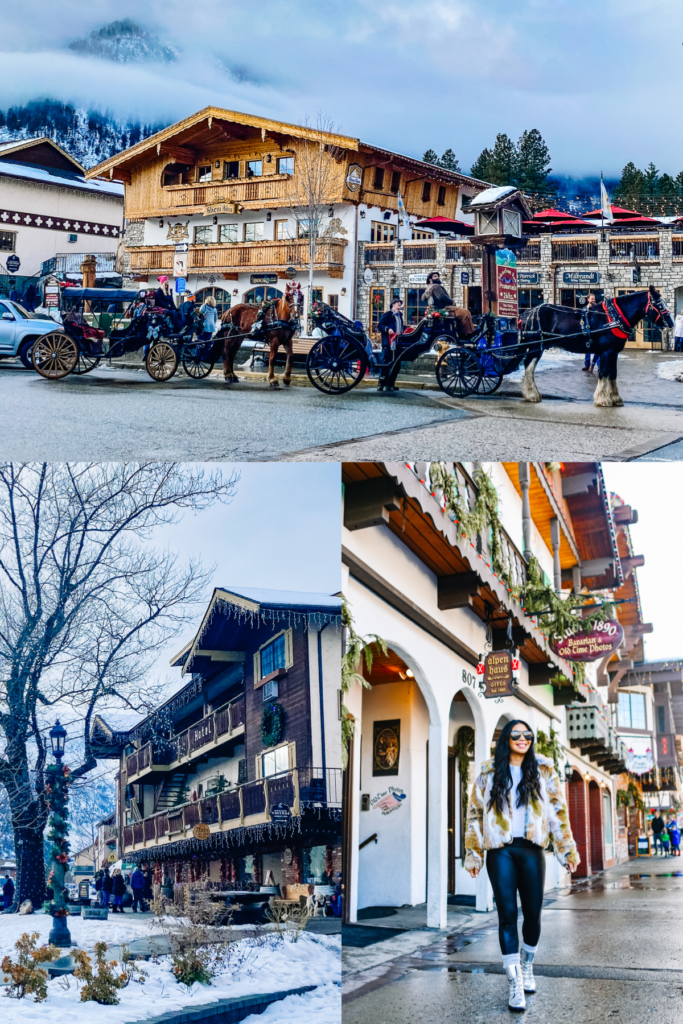 We arrived into Leavenworth about 5pm so we checked into our hotel, unpacked and went to have dinner.
Where We Stayed: While there are many hotel options in Leavenworth, we stayed at the charming Enzian Inn. This family owned and operated hotel is walking distance to town, full of character and screams Bavaria! They have a gym on property, an outdoor swimming pool, an indoor swimming pool and even a basketball court!
Dinner at Sulla Vita: This Mediterranean inspired wine and beer bar cooks up brick over pizzas, delicious pastas and more. I ordered the pistachio halibut and it was amazing 🙂
Day Two In Leavenworth Washington
Morning Run: I was dreading running in the cold but I am so glad we decided to go. We ran on the main road, stayed on the sidewalks which was super safe and the enjoyed the VIEWS!! Oh man, the views on the run were worth it all! See my Instagram stories for more.
Breakfast at Enzian Inn: Our hotel had a breakfast that was included in the stay. We all had omelettes each day but there were also biscuits, breakfast meats, a variety of pastries and even breakfast fried rice!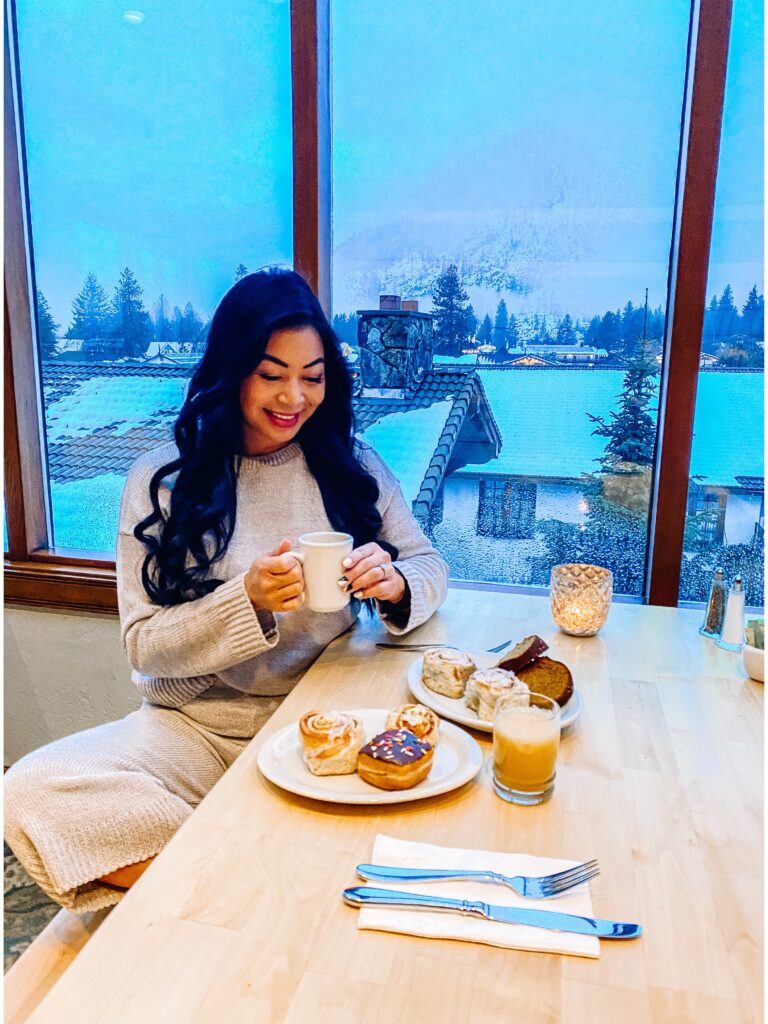 Also, be sure to stick around to see the Alphorn performance that happens every morning at breakfast. A gentlemen wearing head to toe Bavarian gear: shoes, leather shorts, suspenders and an alpine hat plays the alphorn. After some investigating, I found out that the gentlemen was actually the owner of Enzian Inn which made me love the hotel's charming tradition even more! Bob and his son take turns on who will be playing the alphorn each day.
Shopping | I was so surprised to find there was so much shopping up and down Front Street. From super cute kid's stores, trendy women's boutiques and souvenir shops. There is literally something for everyone.
Lunch at Andreas Keller | The German inspired restaurant serves up traditional Bavarian food like Bratwurst, Weisswurst and Schnitzel. But if Schnitzel isn't your thing you can enjoy the Chicken Octoberfest like I did. I also just saw they have a gluten free and vegetarian menu. The restaurant exudes Bavarian charm.
Snow Shoeing at Icicle River Trail | For only $12 you can gear up to take a fun "hike" through the snow with a tour guide. It's a fun way to take in the views at a slower pace all while learning more about the plants and animals that surround the area. And if you are lucky you will see some cute animals crossing through as well. This guided tour took about 2 hours and ended with hot chocolate.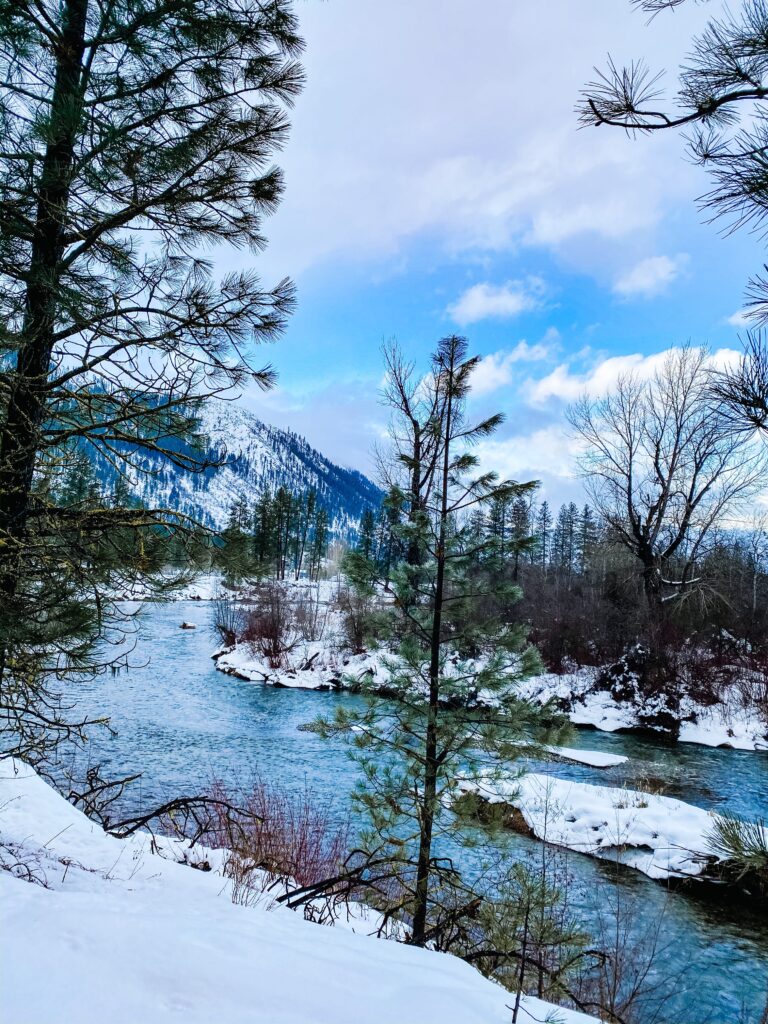 Drinks at Icicle Brewing Company | I highly recommend their Crosscut German Pilsner. I like a light but not fruity beer and this one hit the spot. The girls and I shared a pitcher. Side note, do not make the mistake of ringing the big bell on your way out like Rebekah did. Apparently it means you just offered to buy the whole bar a round of drinks LOL.
Dinner at Bavarian Bistro | I had really been eyeing their craft burgers (what they are mainly known for) when I had looked at the menu prior to getting there but after I enjoyed all of the Crosscut German Pilsner I opted for the Chicken Arugala salad with a side of sweet potato fries. The food was really good.
Day Three Leavenworth Washington Itinerary
Workout at the Enzian Gym| It rained a little this morning so we couldn't go for a run. Thankfully there was an onsite gym to use.
Breakfast at the hotel | We couldn't miss out on our last day to enjoy the Alphorn performance!
Sleigh Ride at Red Tail Canyon Farm | It was literally like we were in a Hallmark movie! This family owned farm is surrounded by snow covered canyons and the views were unreal! The 120 acre farm hosts events and weddings throughout the year and opens for sleigh rides during the winter season. I highly recommend taking this 45 minute sleigh ride while you are in town! This activity also ended with a cup of hot chocolate and in a tipi!!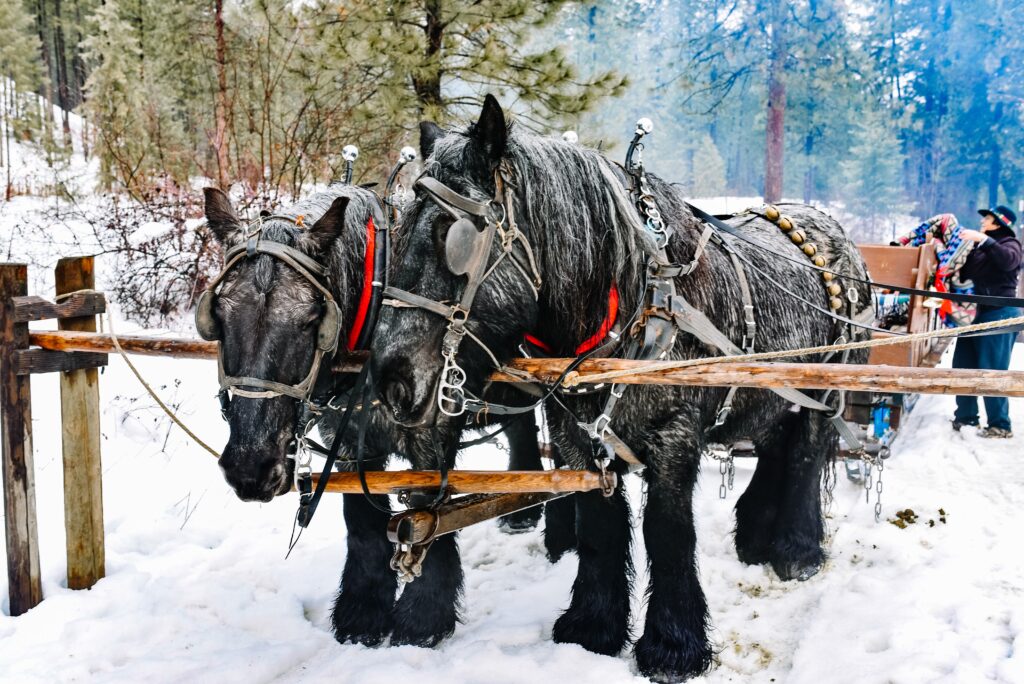 Lunch at Tumwater Bakery | Easy to grab a quick bite or latte at this cute bakery. They serve hot sandwiches, salads, pizzas and extraordinary pastries!
Ice Cream at Whistlepunk Ice Cream Co. | If you didn't grab a pastry at Tumwater Bakery or are just craving ice cream, walk a few blocks down the road and stop in to enjoy some handmade ice cream.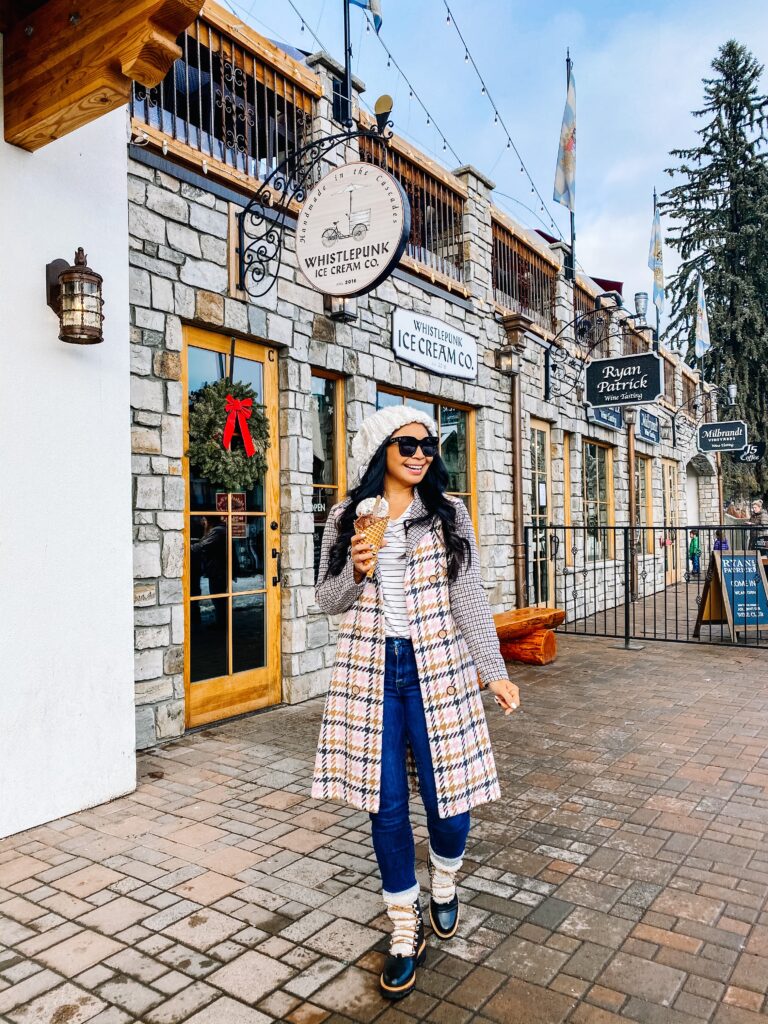 Cross Country Skiing at Icicle River Trail | If any of you are intimidated by the thought of skiing like I am, I am here to assure you that Cross Country Skiing is super easy to do. The equipment is light and easy to put on. The sound of cross country skis scraping the snow crystals is so calming and being surrounded by the snow covered Cascade Mountains is icing on the cake. If you stay at the Enzian Inn like we did, they will provide you with the equipment you need (skis, boots and poles) otherwise you can rent equipment on site. There are different distance "loops" you can take on the trail depending on how far you want to go. Very little downhill "slopes" so I promise you this trail is great for any activity level. I think it would be perfect to take the kids too. The trail fee at the Icicle River Trail is $12 and can be paid once you arrive.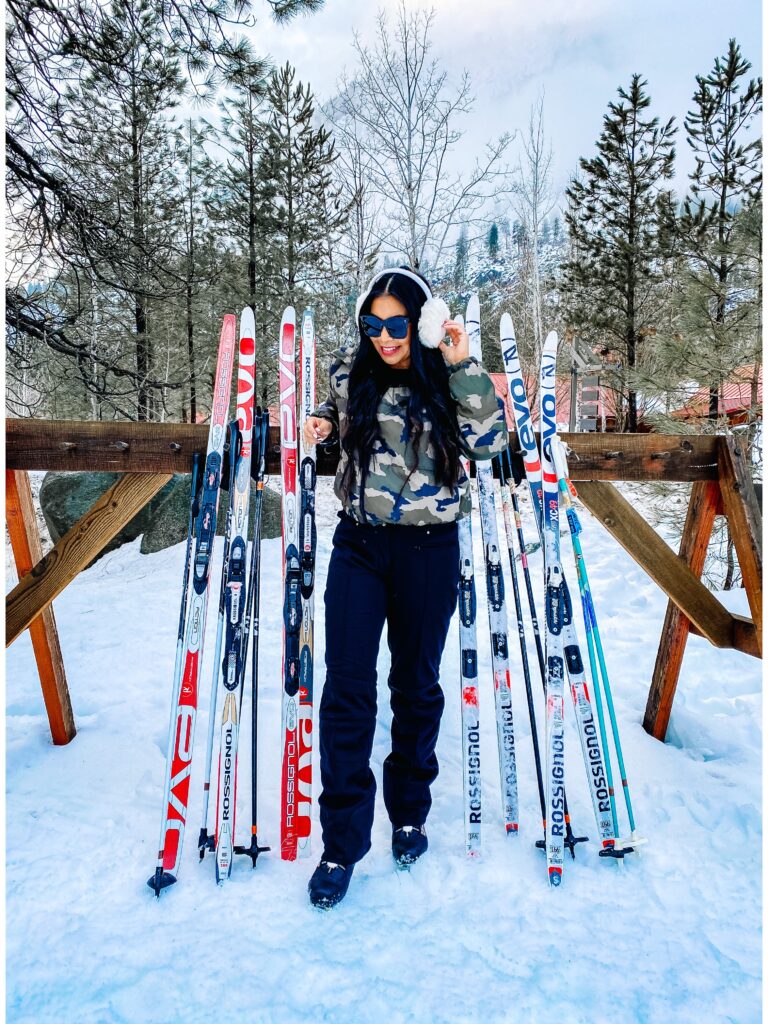 Dinner at Mozart's Steakhouse | After a fun filled day of Cross Country Skiing and Sleigh riding we were so ready for a nice dinner at Leavenworth's number one steakhouse.
Wine Tasting at Goose Ridge | I couldn't have thought of a better way to end our perfect girls weekend than at a tasting room. We ordered a bottle of wine and talked about what everyone loved most about the trip all while enjoying the tasting room crowd, filled with both locals and tourists.
So the burning question is would I go back to Leavenworth Washington? That's going to be a hard YES! I actually told Brandon that we have to go back with Landon. Although we had the ultimate time on this girls trip, Leavenworth is such a magical place that would be so amazing to experience with the family. One of the things that we didn't have time to do is visit the Reindeer Farm so that's reason enough for me to bring Landon back!
I am typically not a snow vacay kind of gal but if you can't tell by all of the pictures, I truly had an amazing time! Leavenworth may have changed my mind on these snowy mountain filled vacations!
If you are planning a trip to Leavenworth in the future, you can pin this post for reference. I am also inserting an easy to print or screenshot PDF below of the 8 things you should totally do when you go even if you can't fit in everything we did in our itinerary above!

Thank you Visit Leavenworth for hosting us for the most magical snow filled weekend!