I'm going to be honest. When I graduated high school and college all I really wanted was cash. Well, let me rephrase that. All I needed was cash LOL. Cash to eat, cash to buy some books, cash to put gas in my car to get to class and work.
Thankfully my parents, aunties, uncles and older brothers were able to provide your girl with some moola to put in the bank but of course if you are just graduating yourself you don't have all the monies to gift your friends so today I am rounding up some great grad gift ideas that are fun, meaningful and all under $100!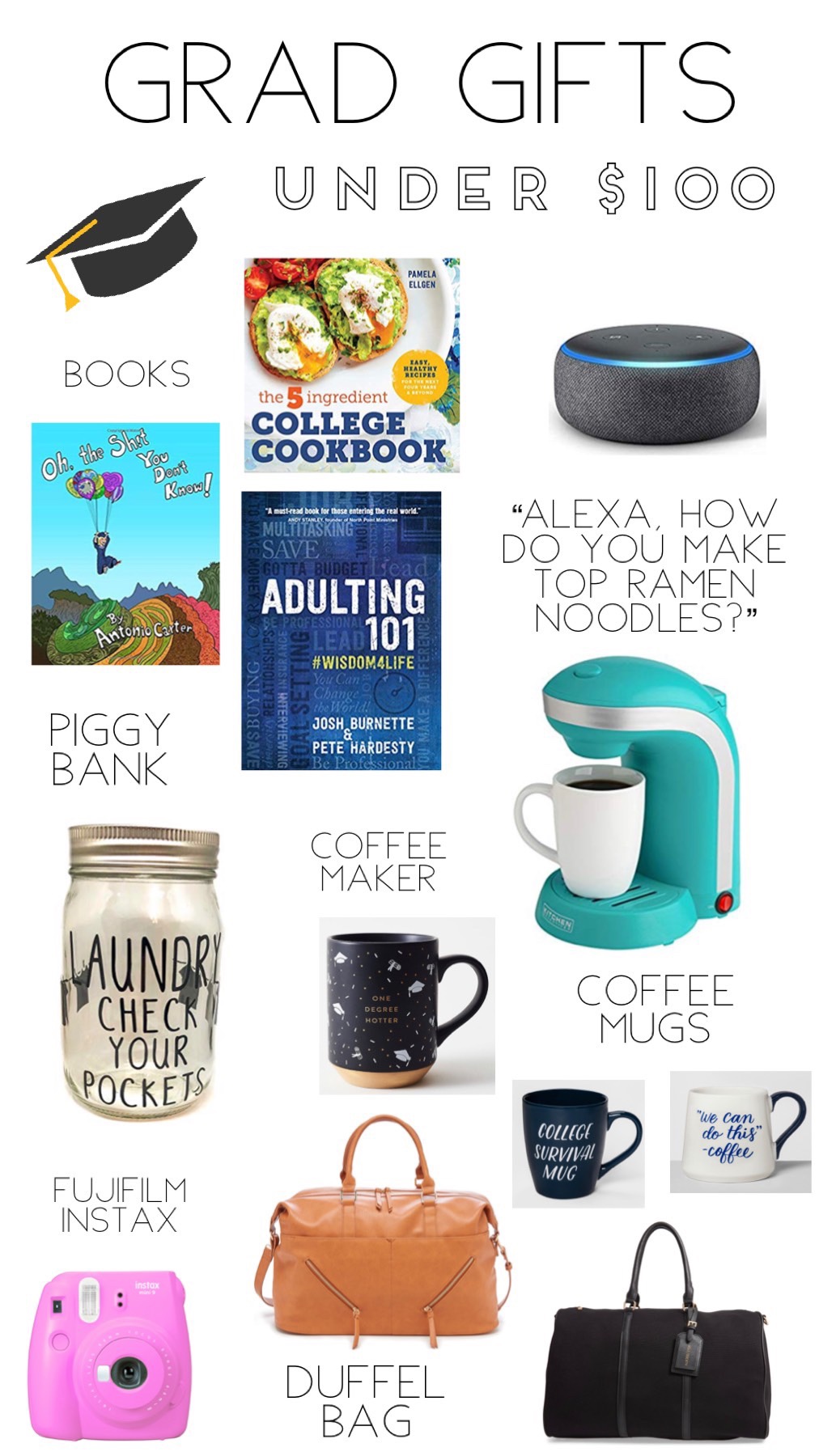 Single Serve Coffee Maker | For all the late nights studying | There are $70 name brand ones but this $15 single serve coffee maker had over 1,100 5 star reviews and it's cute too 🙂
Funny and Inspirational Coffee Mugs | One Degree Hotter | I Can & I Will | The Best Is Yet To Come | College Survival Mug | We Can Do This
Piggy Bank | Maybe throw some change in there while you are at it | We all know every penny counts. Especially if you are living that laundry mat life.
Books | Such an inexpensive but helpful gifts in any person's life | The 5 Ingredient College Cookbook is actually something I would still want in this phase of my life, haha | Oh, The Shit You Don't Know sounds like such a great book | Adulting 101 #wisdom4life
Portable Charging Bank | Because thinking back on that college life, my phone and laptop were always on low battery. Help your new college student out by giving them a powerful portable charging bank. Even now I love my portable charger. Especially when traveling for work.
A Nice Duffel Bag | If they have landed a job where they will be traveling a nice luggage set would be a good idea but if your high school graduate is headed off to college a few hours away the duffel bag is a great option for them to throw in their trunk for their weekend trips home
Fujifilm Instax | Such a cute gift idea to help the capture those memories!
Echo Dot | "Alexa, Do I have to finish college" or "Alexa, how do I cook Top Ramen noodles" | This $40 gift can help answer all of your grad's questions when you are not there