Happy February 15th my loves! Today Brandon and I celebrate 5 years of marriage and I couldn't be more in love with him!
If you have been reading the blog for some time now you know that I really enjoy following the traditional gifts calendar for gift giving inspiration. If you missed the past few years you can find those posts here, here and here. According to the traditional calendar, the customary gift for year 5 is wood. Since I gave Brandon his gift this morning I figured I could finally share with you guys what he got this year plus 4 other great ideas for a fifth anniversary!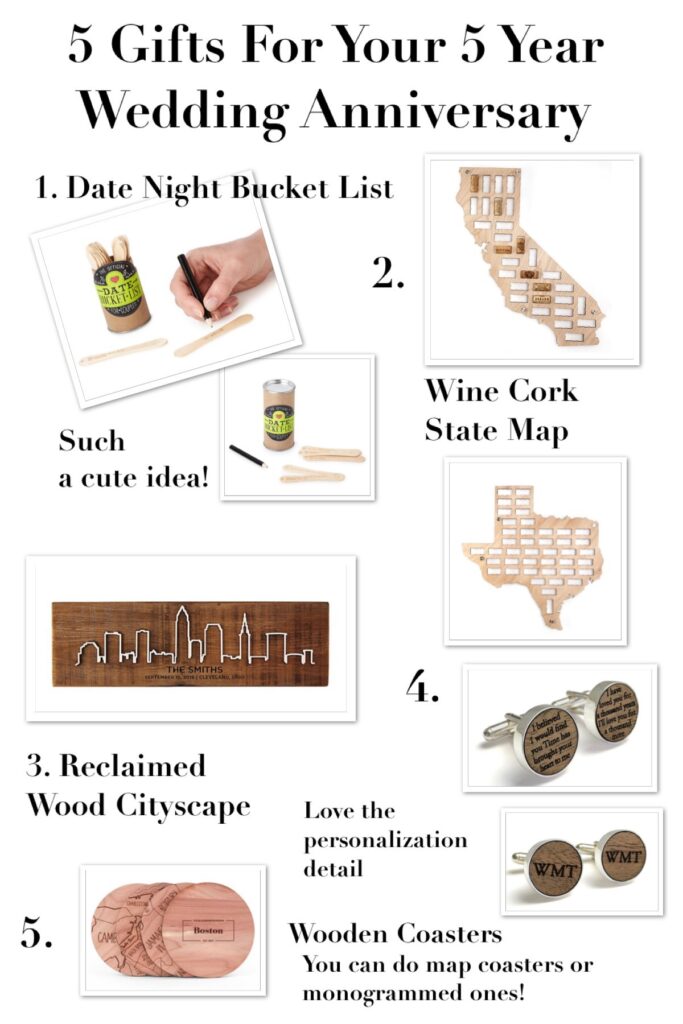 Can you guess which gift I gave Brandon? Just kidding. I won't make you guess! I gave him number 3. The reclaimed wood with the Houston cityscape. It is personalized with "The Weavers". I thought this was such a great gift being that our love story and family all has grown in Houston.
Obviously, it was too big to sneak into my suitcase so I had to print it out and put it in his card. I'll show you guys ours as soon as we get home! In addition to the traditional gifts I get him every anniversary I can't help but get him other gifts too. If you know me, you all know gift giving is like one of my top 10 favorite things to do in life! 🙂 Plus he totally deserves it! I got him a University of Houston Jacket and baby Weaver got a matching University of Houston Jersey. I also bought him these Rayban glasses because baby broke his, lol. And my most favorite thing to shop for this year was this Gucci tie. He wears ties all the time and doesn't have any designer ones so he absolutely loved it and was so surprised!
We get to spend a few more days having fun in the city. Baby Weaver and I may even convince Brandon to take a horse carriage ride around Central Park today 🙂 I hope you guys enjoyed this post and I hope it was helpful! Please let me know if you have any questions!
xo, Roselyn