Still smiling from our girl's weekend trip to Nashville earlier this month! If you are looking for a fun, quick, weekend getaway with your crew, I highly recommend Nashville!
Where We Stayed:
We stayed at the Thompson Nashville which is between music row and downtown. This part of the city is called "The Gulch". It was walking distance to a lot of restaurants as well as popular Nashville stores like Kittenish and Uncommon James! The rooms were spacious, the staff was so nice and the rooftop bar is amazing so that is a bonus!
How We Got Around:
We took a short Uber ride or walked to most of our destinations. Alice drove in from Memphis so she did drive us to drool over the beautiful homes of Nashville. And since we did have her car, we were able to take the short drive to the sweet town of Franklin to have breakfast on our last day, do some shopping and stopped at Leiper's Fork Distillery to pick up some of the husband's a bottle of Tennessee whiskey!
Where To Eat:
We got so many recommendations on where to eat and I am so sad we didn't have time to hit up all of the restaurants! But let me tell you, we did not have one bad meal! I would highly recommend making reservations when you can.
5th & Taylor– holy smokes still thinking about my filet! This restaurant has such a cool vibe and everyone loved what they ordered! I highly suggest the beef filet and brussels sprouts!
Josephine – on Saturday morning we went shopping on 12 South where Draper James and a ton of other boutiques are located so we made reservations at Josephine. Brunch was delicious and so were the bloody mary's 🙂
Marsh House– also in the Thompson Hotel and known for their seafood. Not all of us were seafood lovers so we passed on dinner here but we did pop in for some pre-dinner drinks!
Burger Republic*- we grabbed a bite here the day we landed because it was right across the street from our hotel, we were starving and it did not have a line LOL but goodness, we were shook at how good the food was! I got a salad but don't be fooled, it was basically a blue cheese burger on a bed of lettuce lol and it was so dang good!
Other restaurants that were highly recommended but we didn't have time to get to: 400 Degrees, The Southern, The Optimist, Butcher & Bee, Prince's Hot Chicken, Geist and STK. Clearly there is no shortage of restaurant options in Nashville!
Where To Have A Drink:
Ummm, like the entire city is ready to party so we did not have trouble finding yummy cocktails LOL. Below were some of our favorite stops!
Hampton Social– was such a fun spot and I definitely recommend when in Nashville for a girl's trip! Such pretty views and DJ had us non stop dancing! If you caught our stories the first night, you can see how much fun was being had!
L.A. Jackson– This rooftop bar is located at the Thompson Hotel! Also amazing views and delicious craft cocktails. The crowd was so fun!
Pinewood Social – this was a nice, laidback scene. We got to chat over drinks without having to yell over music LOL. You can even bowl here! Super fun to chill out with friends.
Miranda Lambert's Casa Rosa – We stopped in because, duh! Miranda Lambert 🙂 and everything is pink and decorated with flowers! There is also a restaurant upstairs.
But honestly anywhere on Broadway looks like it would be a good time! We got there at 10am thinking it would be a little slow but it was was poppin'! Bachelorette and Bachelor parties were already in full force and even the popular 3 story bar, Honky Tonk Central, was already packed! In addition to bars, there's a ton of tourist attractions, restaurants and shopping on Broadway.
White Limozeen – This is an indoor/outdoor rooftop bar and restaurant located at the top of The Graduate Hotel. White Limozeen is named after Dolly Parton's 1989 album and song. The Graduate Hotel Nashville has dedicated this rooftop pool and lounge to the country music icon. You can even find a larger than life Dolly Parton statue made out of pink chicken wire. Also poolside, you will find pink fringed umbrellas and oversized floral daybeds.
An important thing to note is that The Graduate Hotel and the rooftop space, White Limozeen, operate as different businesses so even if you are staying at the Graduate, you still need to make reservations to visit the pool and lounge area.
Our friend Alice was staying at The Graduate Hotel one more night so we were able to check out her room and the rest of the hotel. All of the interior decor is so fun! They describe their hotel decor as "a funky jewelry box" and that is exactly what it's like! So playful and eclectic! I'm kind of sad we couldn't stay the last night with Alice, haha! This is definitely another hotel option when in Nashville! The only thing I would say is that it is a little pricier than the Thompson Hotel and further out from all of the other restaurants and shopping.
Nashville Outfit Round Up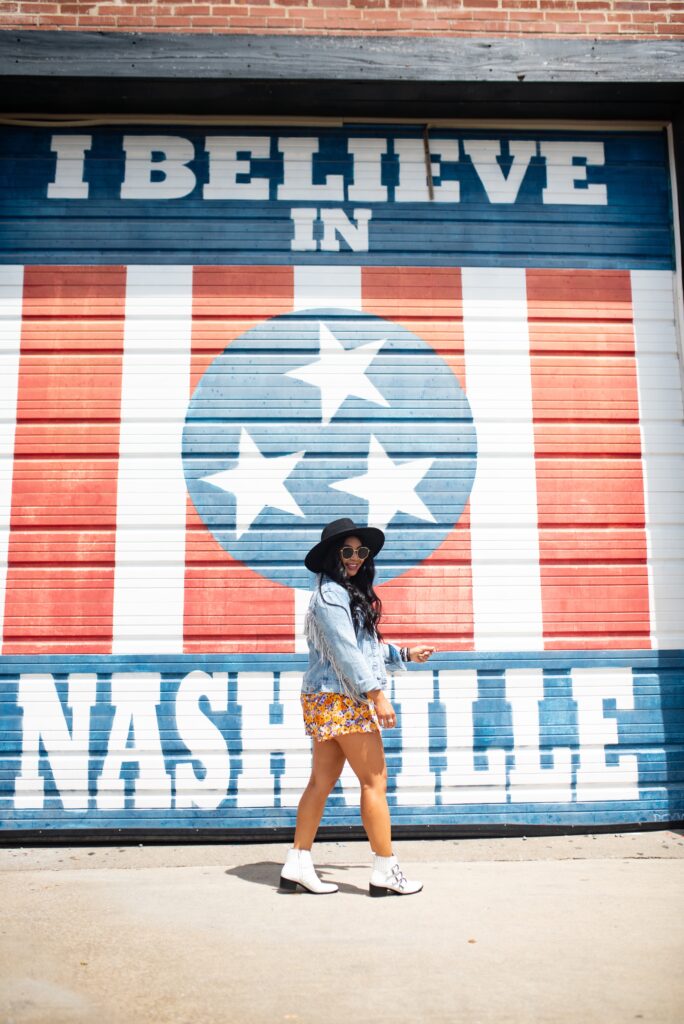 Many of these pieces I've had for a while so I am linking similar options below that will get you the same look!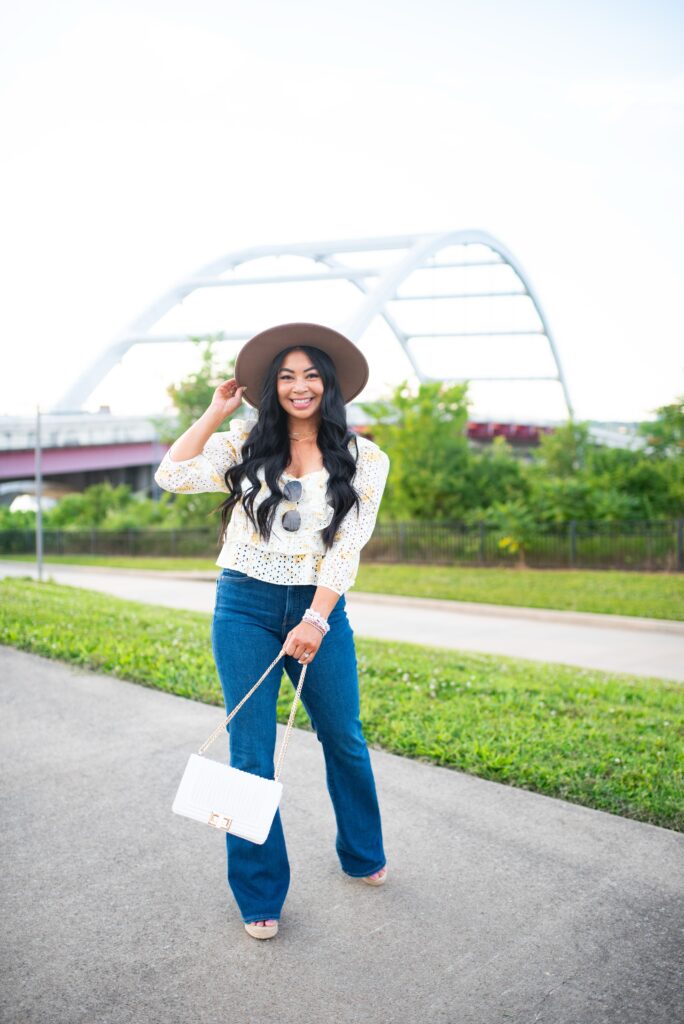 Shop this look: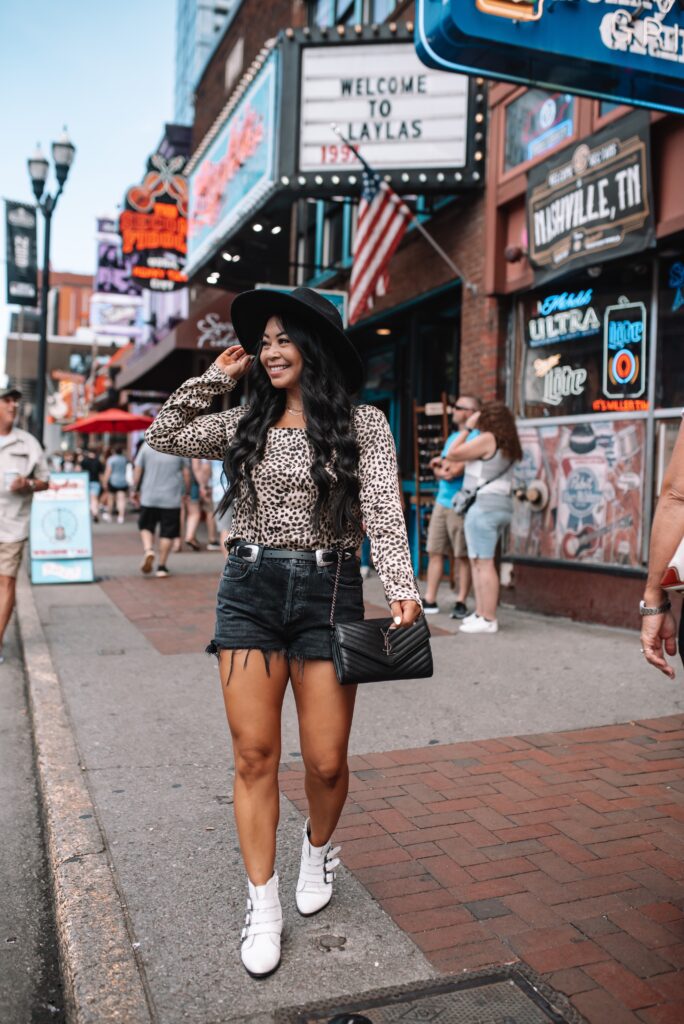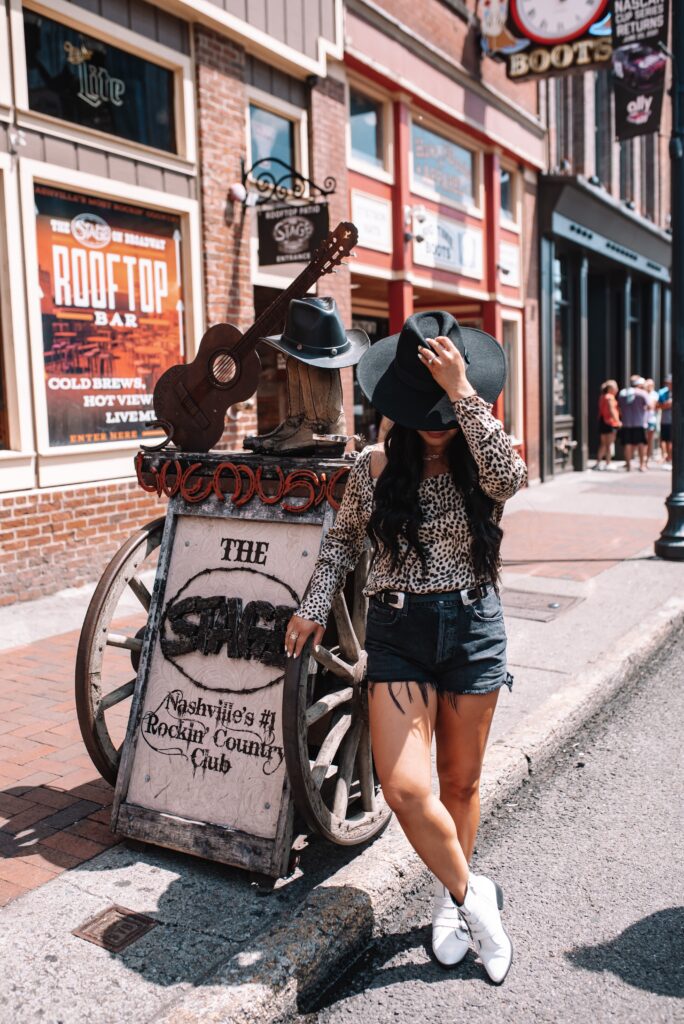 Shop this look (This top is available at H&M in store but currently not online. Linking a similar look here: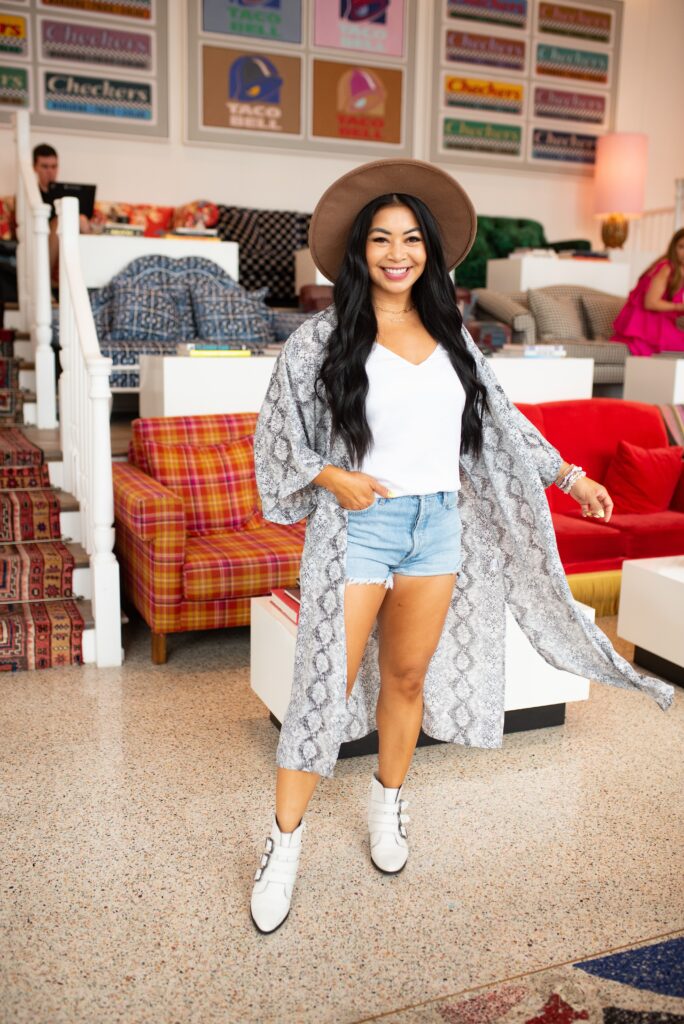 Kimono is old but linking some other cute ones here: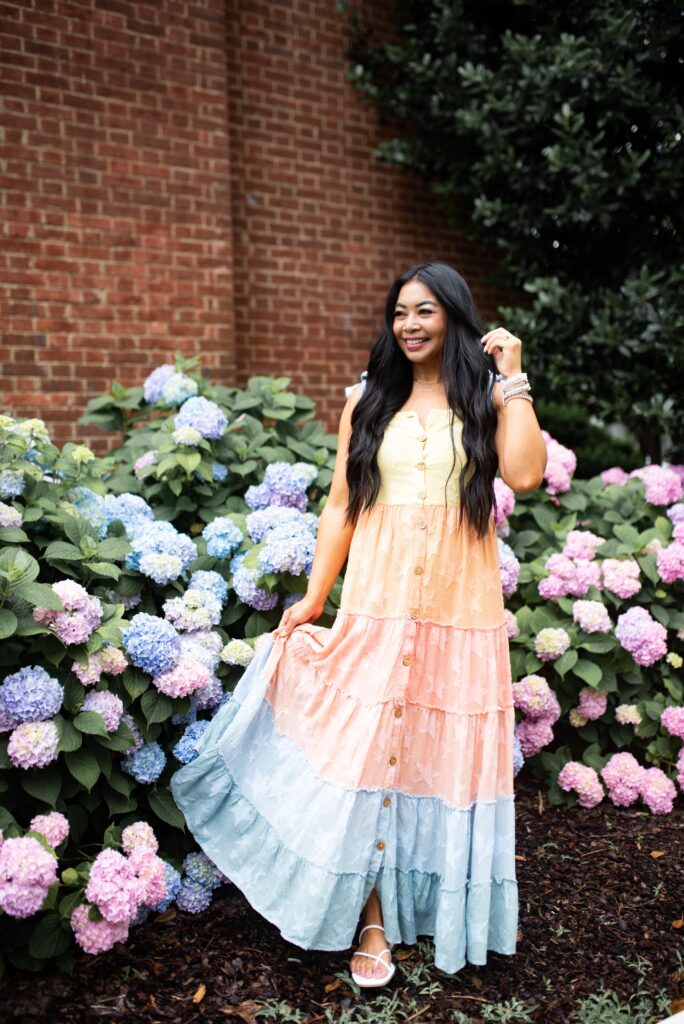 I snagged this dress from Vici collection when we were shopping in Nashville. I am wearing the small here.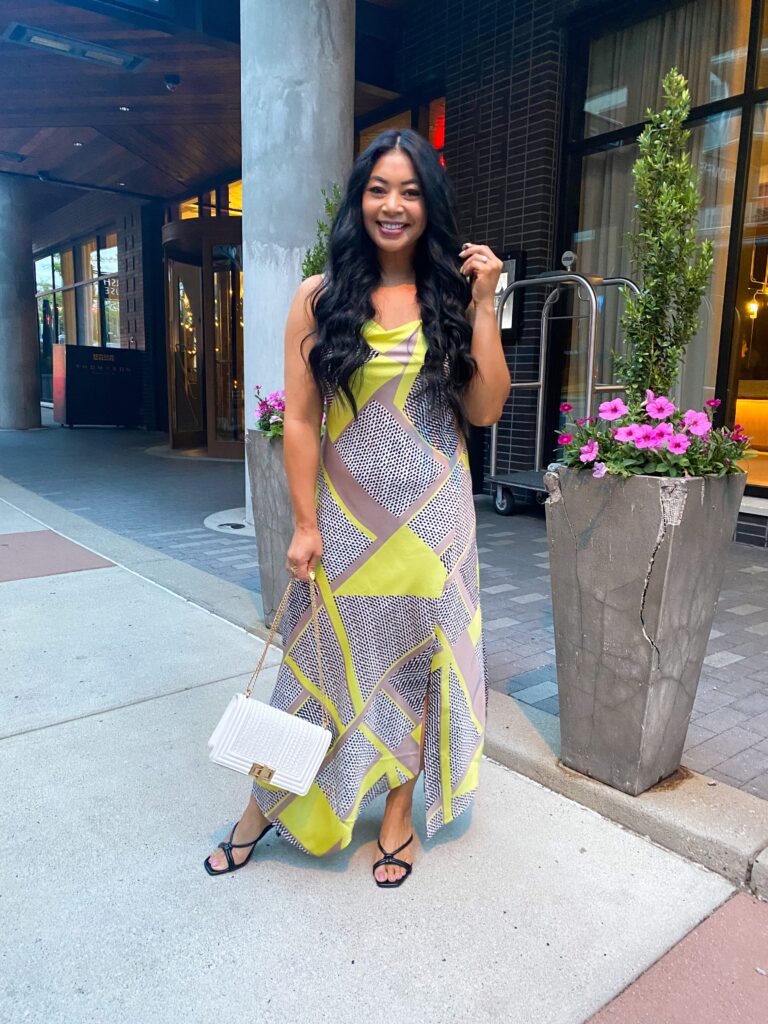 Shop this look: