Cindy and I shared 3 delicious appetizer ideas on IG stories Sunday. Not only were they surprisingly delish but they were extremely easy to make and also inexpensive. Many of the ingredients you may already have in your house.
I did a swipe up to the exact recipes but many of you were saying the link wasn't working for you so I am going to put all the details here as well as some alterations we made!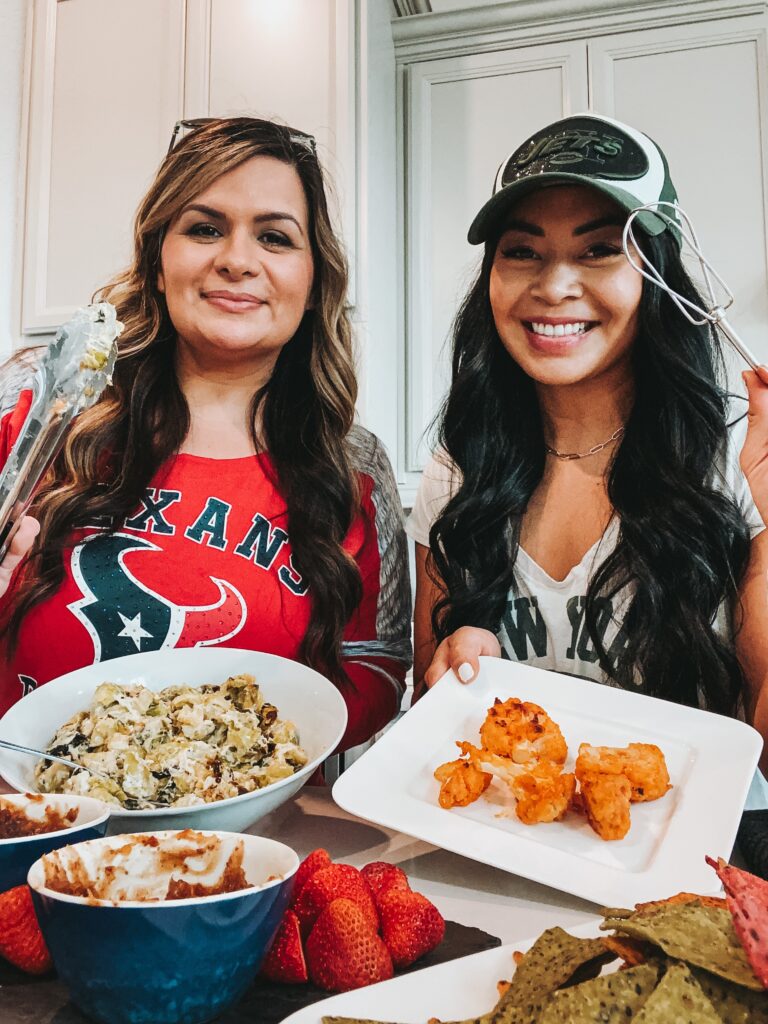 If you make any of these yummy apps for game day I'd love to hear!
Buffalo Cauliflower Wings
Ingredients:
1 head of cauliflower, cut into florets
3/4 cup flour
1 teaspoon ground paprika
1 teaspoon onion powder
1 teaspoon garlic powder
1 teaspoon salt
3/4 cup buttermilk
2 tablespoons butter, melted
1/3 cup Buffalo Sauce (we used Frank's!)
How To Make The Wings:
Preheat the oven to 375°F and line baking sheet with parchment paper or these silicone lining sheets. Set aside.
In a large bowl, combine the spices, salt, and the flour. Add the buttermilk and stir until combined. The mixture will be pretty thick!
Add the cauliflower florets to the batter, coating each piece evenly in the buttermilk mixture. Place the coated cauliflower onto baking pan, leaving room between each piece. Do not overcrowd them.
Bake for 20 minutes and then flip the cauliflower over so both sides get an even bake. Bake for another 20 minutes on the other side!
While the cauliflower bakes, make the buffalo sauce. Combine the buffalo sauce with the melted butter and whisk to combine.
When the cauliflower is done, add the florets into the bowl the hot sauce mixture is in and toss to ensure the cauliflower florets are evenly seasoned.
***If you want them a little more hard and with a crunchy finish, I highly suggest broiling them for 2-3 minutes at the very end (after the florets are tossed in the sauce). ENJOY!
Healthy Caramel Date Dip
Ingredients:
15 dates
6 tablespoons almond milk
1 teaspoon vanilla
How To Make The Caramel Date Dip:
Mix all ingredients together in a blender until a smooth consistency. THAT'S IT! Only one step! That's my kind of recipe LOL.
Just a friendly reminder that it will be a smooth consistency but not as smooth as caramel. I just wanted to point that out because I kept thinking ours wasn't right. I also want to note that I LOVED this date dip with strawberries but not my fav with red apples. I personally think it goes better with a sweeter fruit! Let me know what you think!
Cheesy Brussels Sprout Dip
Ingredients:
1 pound brussels sprouts, trimmed and quartered
1 tablespoon olive oil
Salt and Pepper to taste
2 cloves garlic, unpeeled
1/2 teaspoon thyme, chopped
4 ounces cream cheese, room temperature
1/4 cup sour cream
1/4 cup mayonnaise
3/4 cup shredded mozzarella
1/4 cup grates parmesan
How To Make This Delicious Cheesy Brussels Sprout Dip
Preheat oven to 400 degrees.
Toss the brussels sprouts in the olive oil, salt and pepper, spread them out in a single layer on a baking sheet along with the cloves of garlic. Roast in oven until golden brown, about 20-30 minutes. Flip halfway through. **Do not overcrowd the baking sheet when roasting the brussels sprouts or they will steam rather than roast.
When brussels sprouts are down roasting, take them out of the oven and squeeze the roasted garlic from the skins. Mix everything (the rest of the ingredients from above and the roasted brussels) and place in a baking dish and bake at 350 degrees in oven until lightly golden brown on top and bubbling on the sides, about 15-20 minutes.
Optional: cut up pieces of turkey bacon and toss on top before you bake for the last 15-20 minutes.
Overall, I was so surprised about how easy all of these game day recipes were to make! We spent about $50 when we were picking up the ingredients for these recipes but it could definitely be less if you have a lot of the spices in your pantry already. Which I did not LOL.
Let me know if you make any of them!