I had a pile of empty product bottles on the bathroom window seal as a reminder to write a new "love it or leave it" post and each week Brandon tells me he's going to throw them all away if they stay there much longer so here we are 🙂 A new love it or leave it post!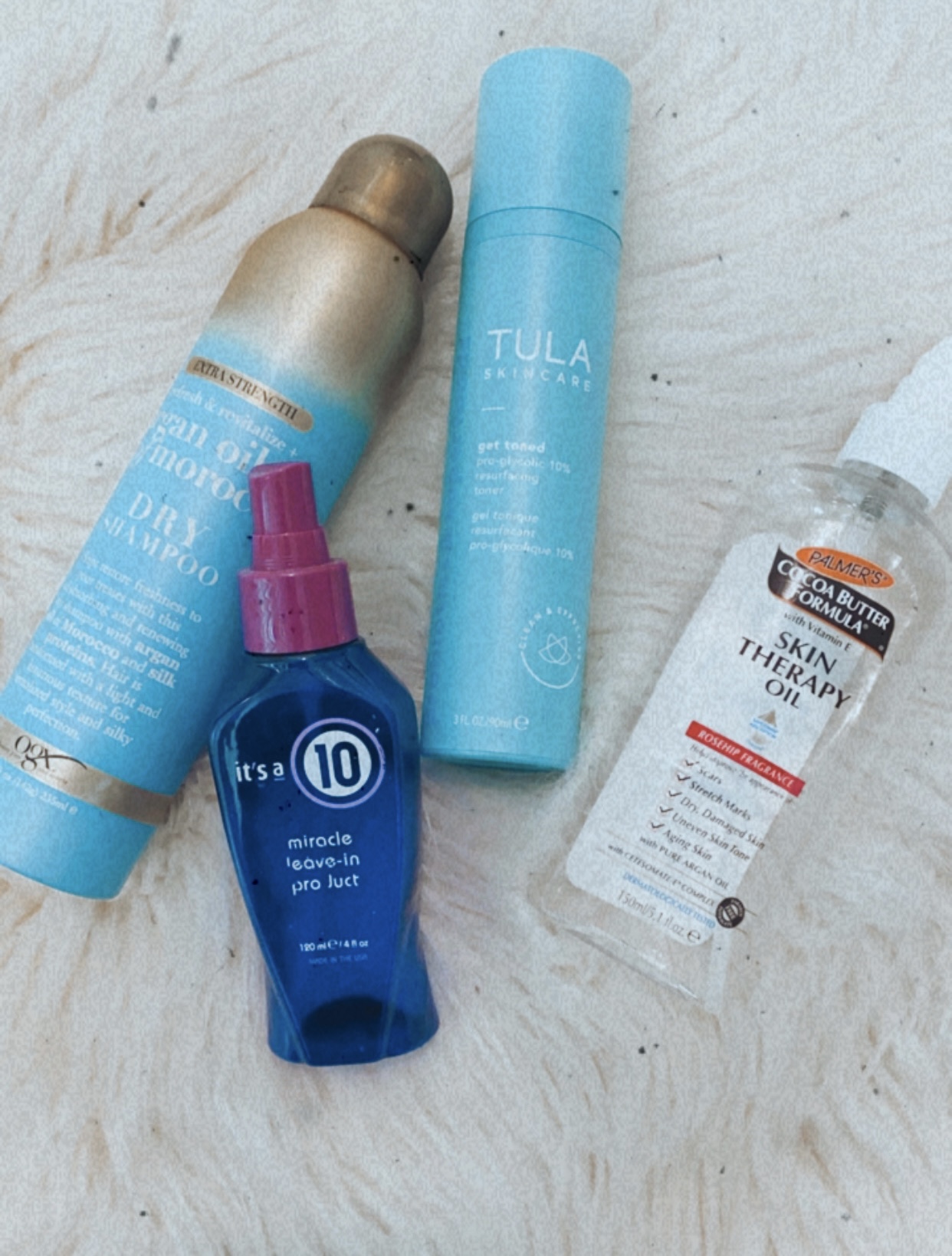 Palmer's Body Oil: Palmer's Cocoa Butter Formula Skin Therapy Oil is formulated with an exclusive blend of Cocoa Butter, Vitamin E, Pure Argan Oil, Natural Oils and Cetesomate-E Complex. It is preservative-free, phthalate free and a lightweight formula.
What It's Supposed To Do: Helps improve the appearance of scars, stretch marks, dry, damaged skin, uneven skin tone, fine line & wrinkles.
How To Use: Pump a a few drop into your hands and rub into area of choice. I actually use a few pumps with a pump of body lotion, mix together and use on my legs, arms and stomach.
My Opinion: I just purchased my 3rd bottle of this if that tells you something! The oil is ultra hydrating without feeling or looking greasy! It also has helped the appearance of some dark marks I had on my legs due to scaring. I highly recommend!
Tula Pro Glycolic Toner: This alcohol-free pH balancing & resurfacing treatment gel features a blend of probiotics & glycolic acid to powerfully, yet gently exfoliate, helping your skincare absorb better & leaving skin looking smooth & even. 
What It's Supposed To Do: Exfoliates & resurfaces skin for a radiant glow. Helps improve skins smoothness, hydrates and conditions skin.
How To Use: After cleansing, apply 1-2 pumps onto a cotton pad & wipe evenly over face. Use daily, AM & PM.
My Opinion: LOVE it! Prob my top favorite product from Tula if I am being honest. It has hyaluronic acid which hydrates skin and glycolic acid which helps exfoliate and resurface skin but it's so gentle and does not irritate your skin. You can use my code ROSELYN15 to try this product out if you want!
OGX Extra Strength Dry Shampoo: Blended with Argan Oil of Morocco and silk proteins to refresh hair.
What It's Supposed To Do: Help revitalize hairstyles by absorbing oil and adding a light scent.
How To Use: Shake well before and during use. Spray on lifted sections of dry hair, 8-12 inches away from roots. Massage through roots to absorb excess oil. Brush through hair to distribute product evenly.
My Opinion: If you have been able to join me for a "get ready with me" on stories, there's a 99.9% chance you have seen me use this product. This is truly my holy grail dry shampoo and ya'll know I am serious about dry shampoo. I have tried many that I have liked but for the price and performance of this dry shampoo, hands down recommend this product!
It's A 10 Miracle Leave In Product: A nourishing treatment that can be used alone and/or as a restorative styling product that leaves hair soft and bouncy.
What It's Supposed To Do: It's a 10 Miracle Leave-In product repairs dry damaged hair, adds shine, smoothes & controls frizz, seals & protects hair color, detangles, prevents split ends, stops hair breakage, creates silkiness, enhances natural body, flat iron & thermal protector.
How To Use: Whenever I wash my hair, I spray it directly onto my wet hair and brush through then let me hair air dry,
If your hair is already dry and you are wanting to get rid of frizz, just spray two pumps into the palm of your hands and run your fingers through your hair.
My Opinion: Not only does it help with protecting your hair from any heat treament (curling wand, blow dryer, etc.) but I feel like it helps my hair hold curl better so that's a win in my book! Seals and protects hair, prevents split ends and stops hair breakage? It's a 10 out of 10 from me! Get it? LOL
I just realized that I don't have any products today that I am not repurchasing LOL. These 4 products will all continue to be in my beauty routine! Which ones do you want to try or which have you tried?

Shop products featured in this post: