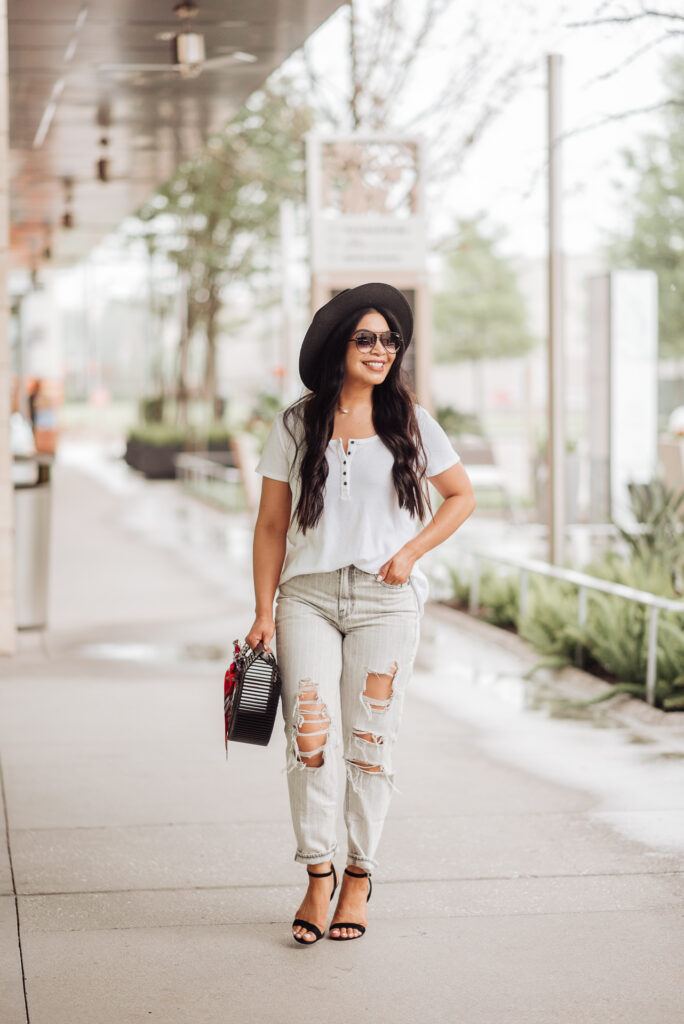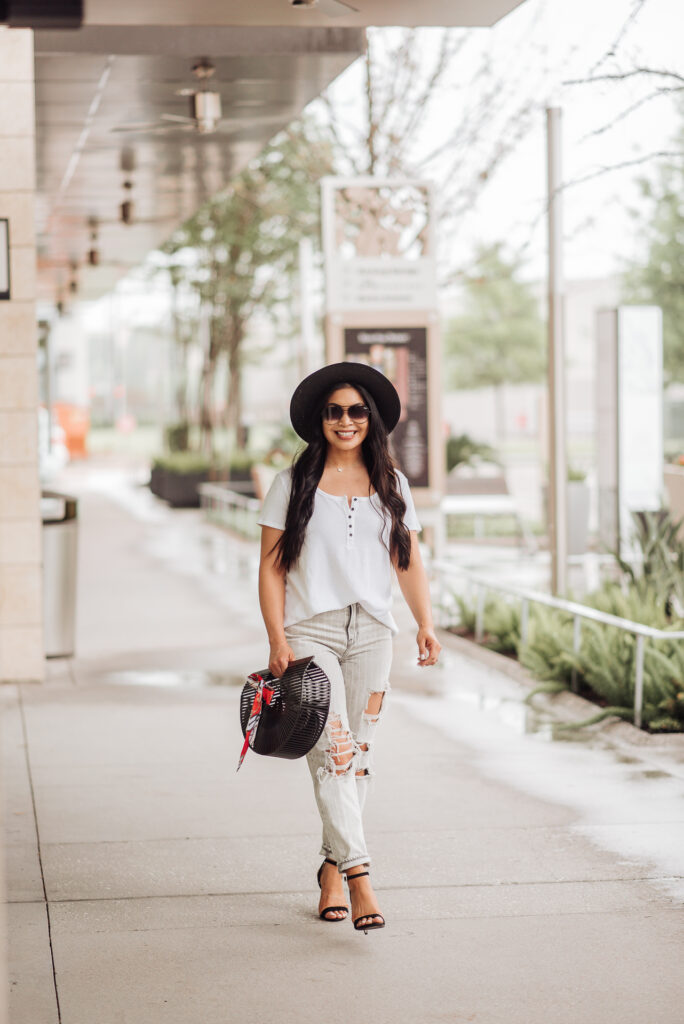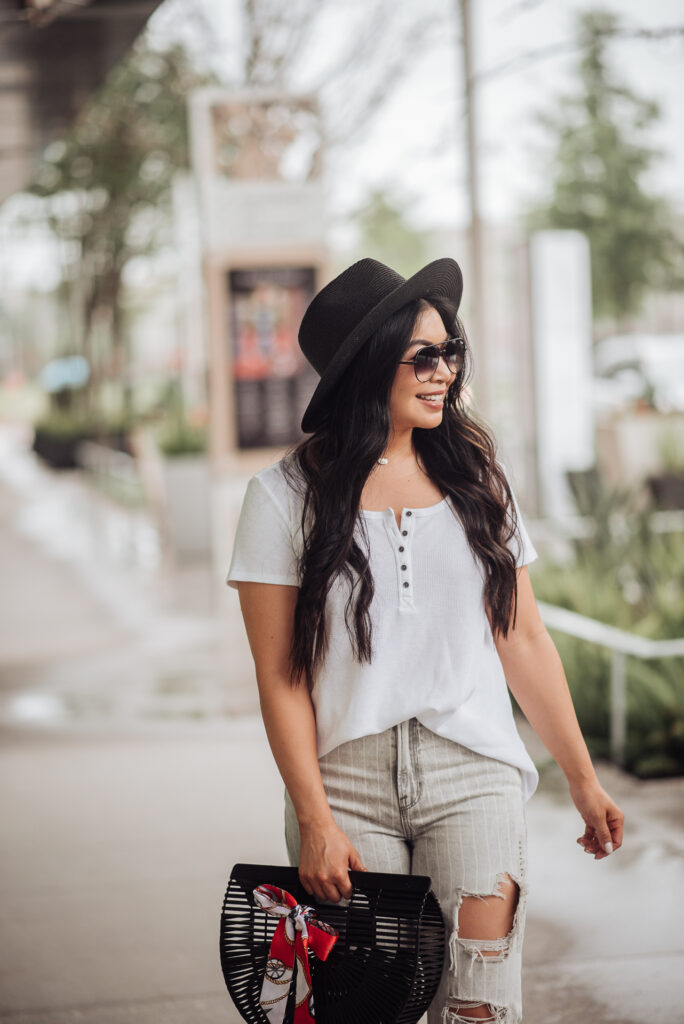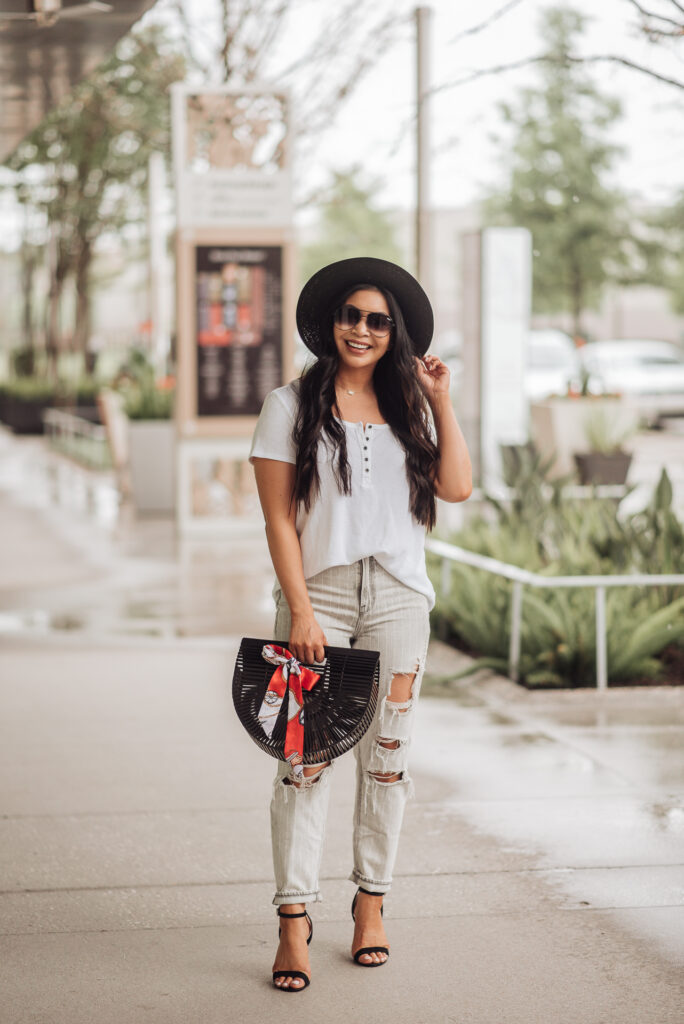 Outfit Details: Henley Tee: American Eagle | Mom Jeans: American Eagle | Heels: Vince Camuto | Handbag: Amazon (such a great designer dupe and it comes with 2 scarves!) | Sunglasses: Quay | Hat: Walmart
How cute are these mom jeans?! So cute right?! I also just saw that they now come in a light blue color here. I am wearing a size 4 short and they fit great! I am wearing a size medium in the top but I would recommend sizing down in this top as it is already has an oversized fit. I am probably going to grab a size small too!
I shared this designer dupe bag on my Instagram last week. The quality is so great you guys and it came with 2 scarves. All under $40!
Did you all have an amazing weekend! I sure hope so! We got to hang with our church fam and also celebrate one of my dear friends at her birthday party! Since she is a mama too a ton of her mom friends were there with their kids and it got me thinking…
You know that saying "real friends will accept you for who you are"? Well now that I'm older and a mom the saying should really be "real friends accept you no matter who you kids are." LOL am I right?! As adults we are in complete control of our emotions and reactions. As a tired and hungry toddler? Not so much! 🙂
I'm going to be honest, these past couple of days have been rough. Baby Weaver is a very opinionated little one and is not afraid to tell you when he doesn't want something or want to do something. He's actually always been like that but lately he's been communicating in tantrums. It's super fun. 🙂 I know it's just a phase but one day I was running into the grocery store with him and he had a major meltdown because I couldn't find the car grocery cart. You know the one that looks like a race car with a steering wheel? The one that apparently ruins a child's life if you can't find it? LOL. Yeah, that one. 🙂 Well, it took him a good 2 aisles to calm down but during those 2 aisles I was receiving some major judgey eyes from some people. I'm guessing they were not parents.
This weekend, at my girlfriend's house, baby Weaver started crying because he wanted something like to be both inside and outside of the trampoline at the same time LOL. Literally I have no idea why he was having a moment but my friend Marget walked up and was like "omg, him and Sofia are just alike" and literally that just made me feel a million times better! I know my child is not the only one that is going through this phase but sometimes it feels like it! It's so nice to be surrounded by mama friends!
At about 7:30pm all kids of all ages were beginning to have the tired meltdowns and to be honest, that made me feel really good too LOL. Ahhh, it's not just us. And if you needed to hear this today, it's not just you. It's okay that your sweet baby boy (or girl) goes sour sometimes. Well, it's not really okay but it's normal LOL. Surround yourself with a mom tribe who gets it! That's what helps me at least!