It's no secret that I LOVE New York City. I remember going to New York for the first time when I was working as an Assistant Buyer and thinking "I belong here". 🙂 A city with implants from all over the country, a city that never sleeps with an endless amount of restaurant options and coffee shops? Umm, yes please!
Fast forward to 2019. I still have a tremendous love for the city but me in 2014 gallivanting around the city doing whatever I wanted when I wanted is much different than making sure your toddler is having just as much fun while not interfering with nap time 🙂 so today I am sharing 8 fun things to do in New York City with your toddler as well as delicious kid friendly restaurants Brandon and I enjoyed and also toddler approved!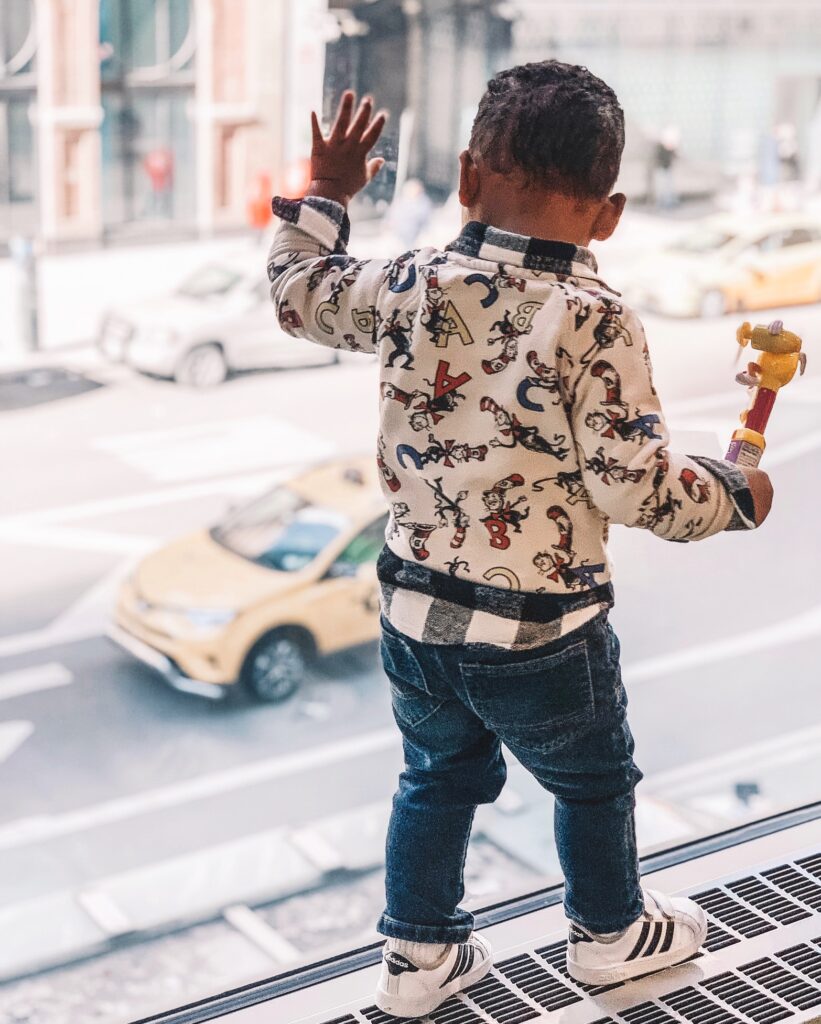 8 Things To Do In New York City With Your Toddler
Visit Central Park – If you followed along on our recent trip to New York, you saw that we made a trip to Central Park almost everyday! We stayed at the Parker New York Hotel (which I would highly recommend) and it was like 2 blocks from Central Park which worked out perfectly. We would walk there and let baby Weaver run free. Did you know that there are 16 different playgrounds in Central Park? In addition to the carousel, horse carriage rides and zoo, this 800+ acre park is perfect for toddler fun at no additional costs.
Time Square Characters – No matter how many times I have gone to New York, I always feel like my trip isn't complete without a visit to Times Square. We took our little guy there to see the street characters. He enjoyed stalking Elmo from afar but I don't think he could grasp why there were so many elmos and minnie's in one place. LOL
M&M World – While you are in Times Square make sure you stop into M&M world and taste all of the fun and different flavors. I mean who doesn't enjoy chocolate? I know i do and baby Weaver definitely did too!
Visit The High Line – I am laughing as I type this because I read on so many sites that The High Line was a must see and also kid friendly. And it is, however you should probably go on a day that it isn't snowing LOL. I promise it wasn't snowing on our Uber ride there, or else I would have saved it for another, sunnier day! It has great views of the city, stroller friendly and a ton of seating areas and grassy areas where I could totally see enjoying a picnic with your family would be so much fun! When we went, it started snowing and Brandon was like "great idea babe" lol. The next time we go in warmer weather I'll definitely be taking the family back and I'll show him it was actually a great idea 🙂 Fortunately, baby Weaver fell asleep on the ride over to The High Line so he actually slept in the stroller with his warm blanket while Brandon and I walked (in the snow) and took in the views. The High Line is actually a mile and half long park designed around a no longer in use railroad track.
Ice Skating – This was one thing that we had on our list but didn't end up doing. If you go during the ice skating season, skating would be fun in Central Park, Rockefeller Center or Bryant Park.
Visit One World Observatory – This is another stop I always make an effort to see when in New York. The top of the One World Observatory is the highest view point in New York City and offers spectacular 360 degree views all over Manhattan and beyond but also so many emotions go through my mind when visiting the site of the September 11 terrorist attacks in New York. They have done such an amazing job honoring those who perished and the heroes who responded. Seeing the architecture of the One World Observatory and The Oculus is mind blowing. You can pay your respects and take in the architecture designs while your little ones enjoy the outdoors. The Oculus also has a ton of shopping and restaurants.
Coney Island- It was way too cold for us to take a trip to Coney Island while were there but in warmer weather, this would have definitely been a stop for us! Coney Island is filled with different attractions for all ages, rides and carnival food! Basically a toddlers dream come true!
City Treehouse – Typically this is not something we would do when visiting a new city but one of the days we were in New York the wind was brutal and we wanted to take baby Weaver somewhere to play that wasn't a crowded museum. I'm so glad we gave City Treehouse a chance. They had a "treehouse" with a slide, interactive water activities, an art room, a baby room with instruments and a room that was set up for gymnastics type play with a soccer goal and basketball hoop. Baby Weaver loved it and not gonna lie we kind of did too, haha! When no one else was in the gymnastics room Brandon was kicking the soccer ball so hard into the goal baby Weaver literally laughed like it was the funniest thing he had ever seen in his life. Like who is the bigger kid here? 🙂 This place is located in Chelsea so we were able to walk to delicious restaurants from there.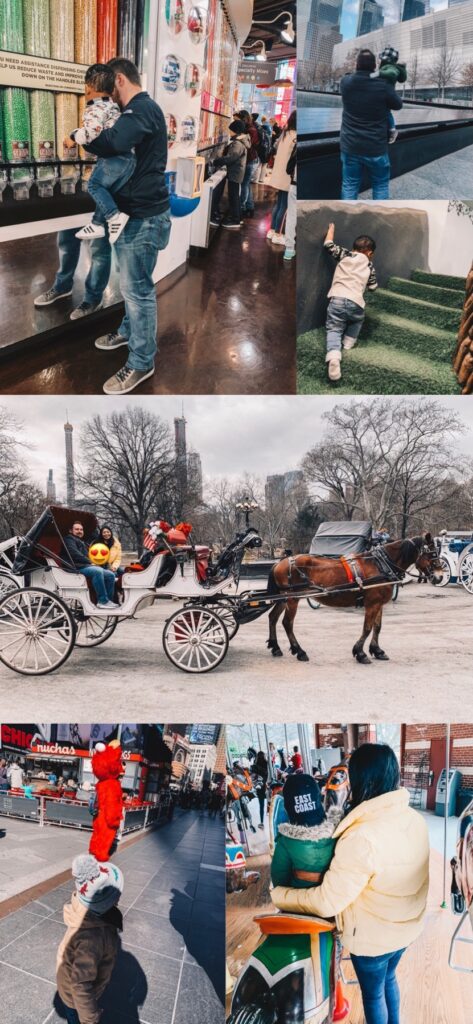 Toddler Approved New York City Restaurants:
One of the things I enjoy the most about traveling, is trying out new restaurants! On this trip I felt like we were on a burger tour, lol, but honestly not mad about that. Baby Weaver has been really into hamburger patties and fruit lately. Basically that's all he wants, haha. I remember walking into 5 Napkin Burger and Brandon saying "this boy really likes his $15 burgers" LOL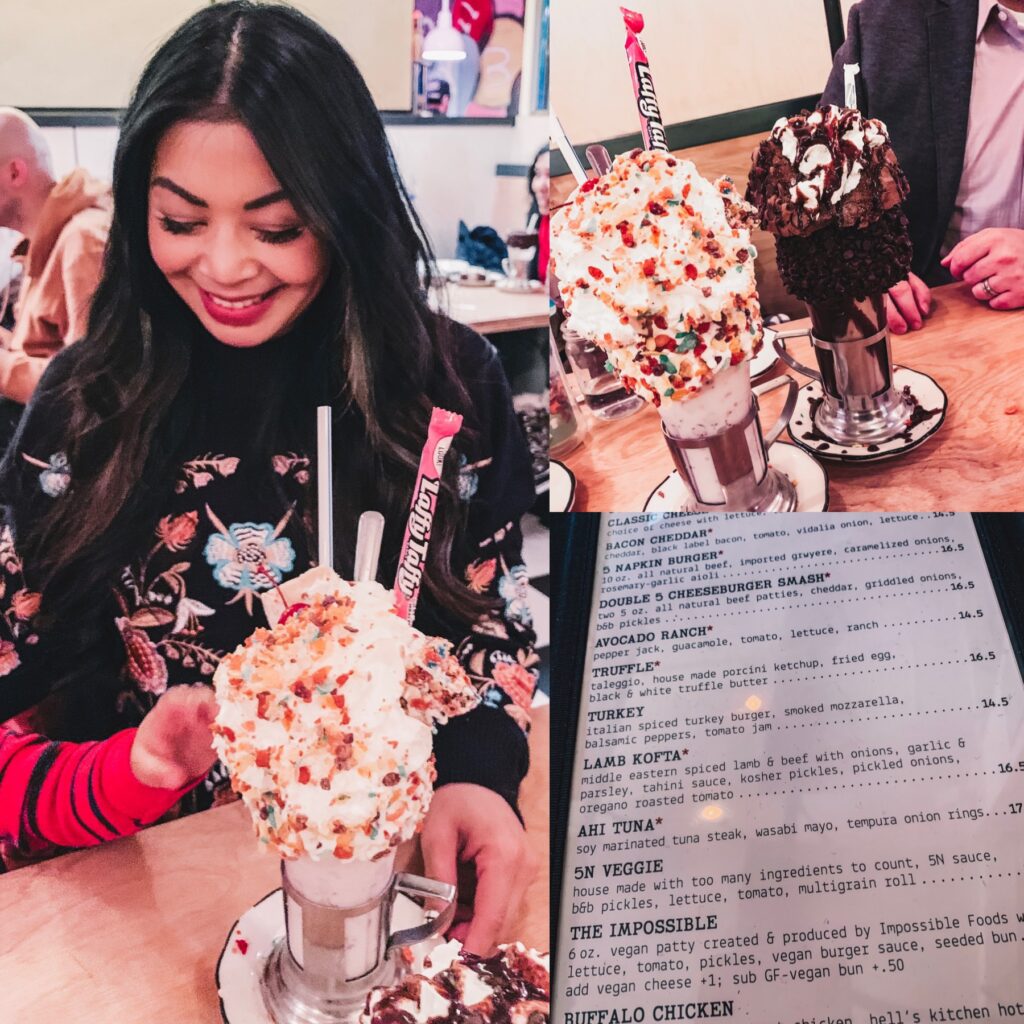 Other places we ate at and enjoyed but I wouldn't exactly say they are the best places for a toddler are below. I mean they are "kid friendly" but probably not a toddler favorite, if you know what I mean. Breakfast at Le Pain Quotidien, Brunch at The Plaza & Norma's, dinner at Fogo de Chao.
Actually to be honest, I was the only one who liked Le Pain Quotidien, lol. The latte and avocado toast were so good. Brandon's reaction was "I don't like places that just make basic things sound fancy. Just tell me it's scrambled eggs and cheese". LOL
I hope this post is helpful in planning your trip to New York City! Let me know if you have any questions!
xo, Roselyn