Hi babes! I've been crazy over the Huda Beauty lipstick lately that I've bought so many shades I figured it was time to share with you all! I mentioned in this post that I started using Huda Beauty lipstick after fashion week but I've basically bought all the remaining colors since then LOL.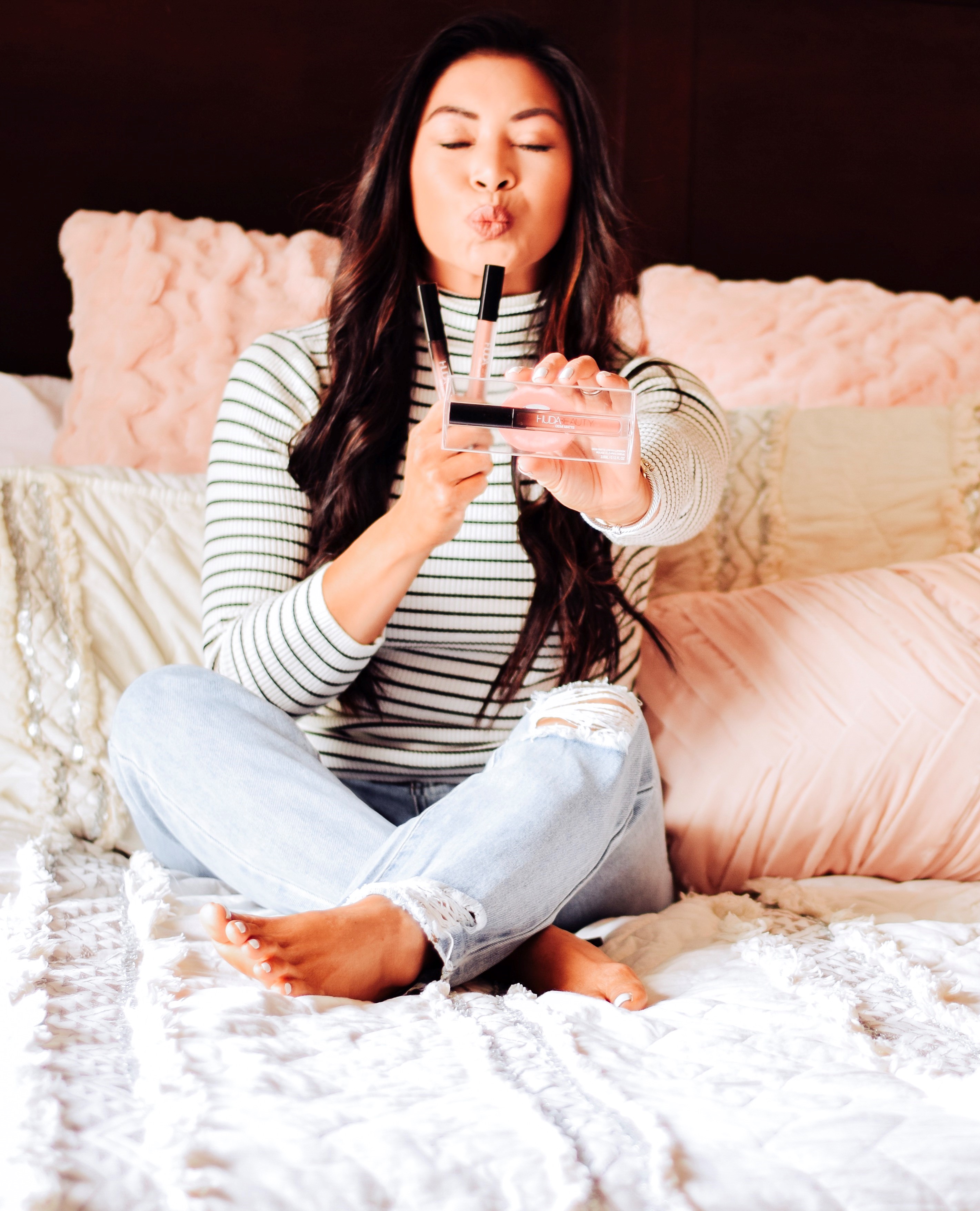 Here are my top 5 colors that have been on rotation:
Demi Matte – SHEro – Peachy Nude – I love this one for everyday at the office
Demi Matte  – Day Slayer– also a great everyday nude but a bit darker than SHEro
Demi Matte – SheEO – A brown Nude
Demi Matte- Game Changer – Light Coral
Demi Matte- Lady Boss – A vibrant berry pink – Perfect for date night
They also have a ton of colors in the Liquid Matte. I have this lipstick in the shade trendsetter but because my lips tend to get dry the demi matte formula has worked better for me! It's a matte finish with a touch of a glossy look which I love! The liquid matte is a straight matte. Both great but if your lips get dried out easily like mine the demi matte is the way to go!
Also, how fun are these names? Can I just be hired by a beauty company to name their lipstick shades or nail polish colors? #dreamjob LOL
Let me know if you guys have tried Huda Beauty or what your current favorite lipstick is!
Also, SURPRISE! I've team up with some great bloggers to give one lucky person a $1,000 gift card to Nordstrom! Please see details below.
xo, Roselyn
To make your holiday shopping a little bit easier, I've teamed up with a group of bloggers to give you
a chance to win a $1,000 Nordstrom Gift Card!
To enter: complete the steps in the rafflecopter below. The more steps you complete,
the more entries you receive, and the better your chance at winning!
This giveaway runs until Tuesday, December 11th at 12am PST
Winner will be announced here. Good Luck!
*this giveaway is in no way sponsored by Nordstrom.